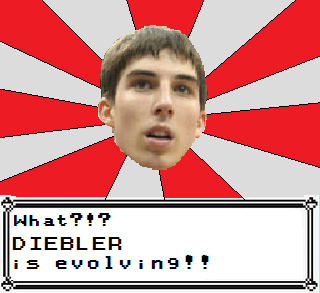 Jon Diebler is, according to Ken Pomeroy, the best offensive player in college basketball. He is hitting an insane 50% of his three point attempts, averaging over 12 points a game, and even making over half of his two point field goals. He is the basketball equivalent of a B-17 bomber, and has on several occasions taken over games entirely by himself. If Ohio State wins a national championship, Jon Diebler will a huge part of the reason why.
I love Jon Diebler.
Now, anyway. Four years ago, though, I hated Jon Diebler with every inch of my being.
I asked myself, how could a kid who was the winner of Mr. Basketball in Ohio, be this bad? How could a kid, who averaged over 41 points per game as a senior, have a field goal percentage of barely 30%? How could a kid, who was the all time scoring leader in Ohio high school basketball history, not even manage to make 29% of his three point attempts?
It was infuriating. The one item that Jon Diebler was tasked with on the 2007-2008 Ohio State men's basketball team was hit threes with semi-regularity, which he utterly failed to do. 166 of his 207 shot attempts were threes. Only 48 actually went in. Of course, exacerbating the problem was that the main scoring threats on the 2007-08 team were a giant, immobile, and heck while we're throwing out adjectives, lazy 7 footer by the name of Kosta Koufos who may or may not have wanted to be actually be there and a guy in Jamar Butler just trying to hold the whole thing together.
Butler actually took more threes than anyone that season, hitting them at a decent 38% clip. Still, Jamar's semi-success in this regard only served to make Diebler look worse; every brick put up by Diebler could've been a higher percentage shot in Jamar's hands. That team would eventually go on to cruise through the lesser of the March Madnesses and Jamar Butler would point out that "this is what happens when you put an NCAA tournament team in the NIT."
Maybe. But in that team's 13 losses, Jon Diebler's complete ineptitude was mind boggling: he made 15 threes in 73 attempts, good for 20.5%.
"...this was the last straw upon the back of many a moderate man."
In the next two seasons Jon Diebler would enter into a kind of basketball purgatory. His shooting got better, much better, but he was still far too inconsistent to be anything more than another cog in the machine. There were games where he would show flashes of brilliance; 27 points and 7 for 10 from three in a win against Iowa in 2008, a similar game later on in the season in a loss to Northwestern, 22 points and 6 for 12 from three in a win against Florida State in the following season, and so on. But there were also games like the loss against Purdue in 2009, where he went 2 for 10 from three and scored all of 6 points, or the loss to Minnesota in the following season, when he went 1 for 8 from three and scored 7.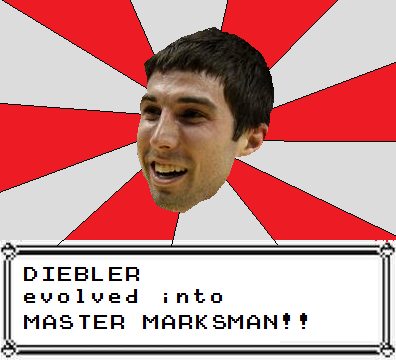 It would be wrong to characterize Diebler's play as "bad" during his sophomore and junior seasons; he hit over 40% of his threes, averaged roughly 12 points per contest, and was generally among the best free throw shooters on the team. But with the emergence of classmate Evan Turner, Jon Diebler found himself thrust into even more of a supporting role. In fact, despite playing dramatically more minutes, Diebler actually took a lower percentage of his team's shots while on the floor as a sophomore and junior than he did as a freshman. It seemed like "space-eater and sometime deep threat" was going to to be Diebler's MO for the rest of his career.
Then the last 7 games of his junior season happened.
"Just like the sun coming up yonder out of the sea, pushing rays of light ahead of it."
In 6 of those 7 games, Jon Diebler played out of his mind. In those six games, he hit 47% of his threes, averaged 18 points a game, shot over 50% overall, and looked like a completely different player than the guy who just a few years beforehand was making roughly the same percentage of threes at Matt Terwilliger. That seventh game was a killer, though. In it, Diebler went 1 for 7 from three and scored a total of 3 points, as Tennessee edged OSU by three points in the NCAA tourney.
I think the Jon Diebler that we're seeing this year is a guy who isn't going to let that happen again. He is averaging slightly fewer points per game than he was last year (not that you would know it from his games against Penn State and Wisconsin). But by being massively efficient in his game, hitting 50% of his threes and knowing when to let his teammates get him the ball during critical moments in the game, Diebler is now much more than just a cog: he is the dagger in the chest of opponents that OSU fans have always hoped he'd be when he came on campus as a freshman.
So, Mr. Diebler, I salute you sir. You worked yourself to the bone for four years, and in the end have become everything we could've imagined. Thanks for proving me wrong.
"...we fight, we die, for a simple thing. Only that a man can stand up."