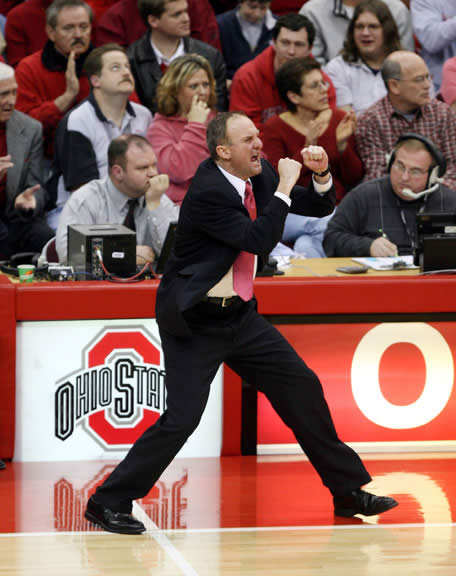 The Villain was gone. Together with the Shark he had faded into oblivion, and the stunned populace was left to wonder, "What now? Where do we go from here?" Much crying and gnashing of teeth ensued, as fans of the Ohio State men's basketball team wandered the earth in a daze, hoping beyond hope a new savior would arise before vicious Hoosier and Spartan fans consumed the world in their nihilistic wrath. Points, rebounds, assists. All were needed, yet in desperately short supply.
Watching the riots on a monitor twenty floors below sea level, in a bunker, stood two men. One, a bald man of few words. The other, a young upstart with a large booty and a soul full of pure rock fury.
"We must rebuild. But who will lead us in the rebuilding process? Man, it's got to be someone with an inside the paint presence and a sound offensive and defensive system to lead us to a new land. No, not Matta and Sully, we don't have the cognitive capacity to lead OH ALRIGHT WE'LL DO IT"
And when they joined forces (along with a grizzled veteran, a plucky defender, a spitfire shooting machine, a deadeye sniper, and Legolas the Elf) they formed a team the likes of which has never been seen!
And they called themselves... Tenacious B.
***
Okay, it wasn't that dramatic. Evan Turner leaving after his Junior season was definitely a blow to the Ohio State men's basketball team, but they also had an incredible recruiting class coming in, and many in the media were predicting that OSU might even be better than they were in the 2009-2010 season. As it turns out, those fancy pants media types were right on the money, a fact that several different statistical measurements show in addition to the glaringly obvious: the undefeated record. What is interesting, however, is in what ways the current OSU team is better than the team from last season, and why I think that this team is much better equipped to make a serious run in the NCAA tournament.
For the purposes of this post, we will be using data from Ken Pomeroy. I've mentioned before that Pomeroy, Gasaway, and others have essentially created basketball sabermetrics, and if that seems daunting, it shouldn't. Like baseball sabermetrics, the Pomeroy stats rely on huge sample sizes to create statistical formulas to better understand offensive and defensive prowess with greater clarity. In baseball, innings and at bats are used as the base statistic for pitchers and batters, respectively. For college basketball, offensive and defensive possessions are the base stat. You can read about these stats in greater detail here and here, but in this post I will explain what these stats mean as I use them.
The first and probably most important misconception that I want to dispel here is the idea that Jared Sullinger has wriggled his way directly into the void created by Evan Turner, which at first blush might seem like would be the case. After all, Sully is averaging 18 points a game while last year Turner averaged 20.4. What is different though is how these two players have been used. %shots is a stat that measures what percentage of of his team's shots that a player takes while he is on the court. Last year Turner's %shots mark was an unsurprising 30.7%. This year, Sully's %shots mark is only 25.4%, and in fact, William Buford has a higher %shots while on the floor at over 26% (hilariously, Deshaun Thomas sits at 31.7%).
What this says is two things: one, Jared Sullinger is a highly efficient player who gets to the line often, and two, the 2010-2011 team is much, much less beholden on one player to lean on offensively. Simply put: if you have a starter who is taking over 30% of his team's shots while he is on the floor, you run the danger of watching your offensive slow to a crawl if the main contributor goes down. We saw this happen last year when Turner got injured, and BYU will likely become the poster child for this idea as Jimmer Fredette has a %shot of 35.5%. Ohio State in 2011 doesn't have this problem.
Another stat, Adjusted Offensive Efficiency, measures the amount of points scored per 100 possessions, and in this respect the 2011 squad is actually doing better than last year at a rate of 121.1 points versus 118.6. So on offense, the results are much the same as last year, but with the benefit of having multiple scorers to pick up the slack of the other guys.
But what really sets this team apart from last year is defense and rebounding. Last year Turner and company were allowing just a shade over 90 points for every 100 opponent possessions, which was a good for 24th in the country. That's nothing to sneeze at, but the 2011 team is only allowing 85.9 points for every 100 opponent possessions, good for 2nd in the nation. Due to Aaron Craft being such an incredible defensive presence right out of the gate, we sometimes forget that David Lighty is an amazing defender in his own right, and having these two guys on the court at the same time is a huge, huge advantage.
The Offensive Rebounding %, or the percentage of potential offensive rebounds collected, was not particularly good last year. Evan Turner was a terrific rebounder, but despite having 50 more total boards in 2009-2010 than he did in 2008-2009, he only had 6 more offensive rebounds than he did the year before. By comparison, Jared Sullinger already has 16 more offensive rebounds than Evan Turner had in all of last season. Off. Reb.% last season? 30.1%, good for 263rd in the country. This season? 36.2%, or 45th in the country.
What all of this adds up to is a team that rebounds better, distributes the ball more, and is better defensively than last year. It has all of the inherent strengths of last year's  team, but with few of the same weaknesses. So I'm sold. The 2010-2011 Ohio State Buckeye basketball team is easily one of the top teams in the country, and has the potential to make the people that's in the streets, very, very happy.