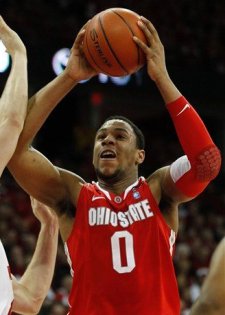 Playing their first game of the year following a loss, all eyes will be on how well Ohio State responds to Saturday's 71-67 loss in Madison. Typically, having to take on Sparty after such a painful game would be of huge concern but this year's version of the Fighting Izzo's has failed to meet expectations and while they destroyed Penn State last Thursday, they come in having lost five of their last seven contests.
That said, I don't think Ohio State's loss to Wisconsin has done anything to alleviate the pressure. If anything, the loss makes tonight's game that much more of a must-win from a confidence standpoint and something tells me Izzo's group may be getting ready to go on one of their patented late season charges. Keep an eye on how Ohio State starts the game. How they play in the first 10 minutes could dictate how the following 30 unfold.
Though Sparty has been the cream of the B1G crop for much of Izzo's tenure, Ohio State has faired very well against them over the years, especially at home. MSU leads the all-time series 58-50 but the Buckeyes are 36-16 in Columbus and boast an 18-8 record against the Spartans when ranked.
| # | Name | PTS | REB | ASST | POS | # | Name | PTS | REB | ASST |
| --- | --- | --- | --- | --- | --- | --- | --- | --- | --- | --- |
| 44 | William Buford | 13.9 | 3.8 | 3.2 | G | 1 | Kalin Lucas | 16.2 | 2.1 | 3.5 |
| 33 | Jon Diebler | 11.1 | 2.2 | 2.5 | G | 11 | Keith Appling | 5.8 | 2.2 | 1.2 |
| 23 | David Lighty | 12.3 | 3.9 | 3.4 | F | 15 | Durrell Summers | 13.2 | 4.3 | 0.5 |
| 0 | Jared Sullinger | 18.0 | 10.3 | 1.4 | F | 23 | Draymond Green | 13.2 | 8.5 | 4.2 |
| 52 | Dallas Lauderdale | 4.6 | 3.8 | 0.2 | C | 10 | Delvon Roe | 7.0 | 5.5 | 1.1 |
Opponent
It's been a grind for Michigan State all season long. Playing the nation's 7th toughest schedule, Sparty hasn't won more than three straight at any point this season and they seem to be at a crossroads of sorts. In late January, Izzo booted guard Korie Lucious off a team that was already thin on the perimeter with Chris Allen not welcomed back for his senior year plus the lengthy recovery from a torn achilles that has tempered the effectiveness of point guard Kalin Lucas. The diminutive Lucas currently sits 6th in scoring during conference play and 11th in assists.
While Lucas is still a dynamic player and recent outings suggest he's getting closer to 100%, the team's best overall asset is Draymond Green. The versatile 6'7" Green is coming off a triple double (15/14/10) against Penn State and currently sits 12th in the conference in scoring, 3rd in rebounding, 6th in assists and 1st in steals. With Delvon Roe having tweaked a knee at the end of the win over PSU, Green will likely matchup with Jared Sullinger at times defensively.
Unbelievably, 6'5" senior three point specialist Durrell Summers still has eligibility and comes in mired in an 8/27 shooting slump over his last three games including a 3/12 stinker in Madison two games ago. His struggles from distance this season (37.8% 3FG) are a microcosm of the Spartan attack, currently ranked last in the B1G in FG% at 42.1%. 
If Roe can't go, or is limited physically, Izzo will fall back on his typical bench of tall, tough baseliners. Garrick Sherman, a 6'10", 240 lb. giant has averaged 11 minutes over the last two games after failing to play more than seven minutes in the prior seven games. Another big, 6'9", 270 lb. Derrick Nix earned his first start of the year in the blowout loss to Bucky and a name that should be familiar to Buckeye fans, 6'10" freshman Adreian Payne, has seen increased minutes off the pain over the last three outings.
Keith Appling is turning into a standout freshman, starting 14 of the last 15 games. Out of Detroit, he isn't a big scoring threat - he's only reached double figures once in conference play - but he's become a defensive stopper of sorts and helped hang a 3/14 shooting night on Talor Battle last week.
Statistically speaking, Sparty is doing its typical work on the glass ranking 3rd in the conference in Rebound Margin (+3.5) and 2nd in Offensive Rebounds (12.2) but they rank last in 3FG Defense allowing teams to shoot over 42%. Knowing Ohio State is shooting a league leading 43.3% from distance, Izzo will need to have a better plan to slow OSU's perimeter attack.
Buckeye Breakdown
As someone who was firmly in the camp that believed OSU didn't need to lose a game to heighten their chances of winning the title, I'm still incredibly curious as to how the team will respond to the loss in Madison. If they come out flat and give Sparty hope, it could turn into the type of physical war that Izzo loves to win. Conversely, if the Buckeyes come out with a controlled yet pissed off mindset, they could build an early lead that the poor shooting Spartans can't overcome.
On one hand, I'd almost invite another close game. Though I know the real problem at Madison was Ohio State's inability to stop Wisconsin's ball screens giving Taylor the green light to take over the game with his shooting and passing to open shooters, I keep going back to what I was afraid might hinder this team down the stretch - the lack of clearly defined go-to offensive guy in tight spots. The fact OSU made exactly two field goals in the final eight minutes, one of which was a fallaway triple from Sullinger with :04 left, is a bit concerning. It seemed as if none of the seasoned perimeter players really wanted to seize the moment nor did any of them look toward Sullinger in the paint. Late in the game, I kind of expected Matta to let Buford bring it up and work off some ball screens of his own but it seemed the offense really lacked an identity and I don't think that's just something to say when the shots don't fall. Playing devil's advocate, OSU has certainly won 24 games, some of them close in the last five minutes, without an unquestioned go to guy but against the toughest opponent in the toughest environment to date, the offense couldn't get it done. A close game tonight would give the Buckeyes another opportunity to execute when it matters most.
On the other hand, it would be great to see the team come out on fire defensively and have that lead to easy baskets in transition. Additionally, this group needs to get back on track from distance so Sullinger has more room to operate. As Baptist noted yesterday, OSU has gone cold from distance over the last four games shooting just 34.6%, allowing opponents to rack up a 96-54 points edge from beyond the arc. Lighty has been most culpable hitting only 1/9.
How Matta decides to match up against Sparty will also be interesting tonight. Though Craft has struggled to play consistent defense lately, he still gives OSU the best chance to slow Lucas, which is obviously critical to beating the Spartans. Still, with Delvon Roe committing to playing despite the knee, and the wave of bigs Izzo likes to use to impose his will on the glass, there's a good chance Dallas plays more than the six minutes he saw in Madison.
Etc
Since Matta became head coach, OSU is 115-10 at home, including a 33-1 mark over the past two seasons.
No opponent has scored over 66 points in Value City Arena this season.
If you want more info on Sparty in prep for tonight's tip, visit the truly exceptional MSU blog The Only Colors.