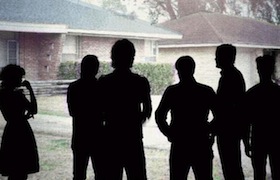 So besides that, how wast the play Mrs. Lincoln?
Losing to Wisconsin is starting to prove to be quite the bitter pill to swallow, though I can't quite put my finger on exactly the reasoning behind it.
Losing to Texas twice-in-four years? Meh. Not a real rival, particularly when the opposition cared about the home-and home infinitely less than the insecure "TEXAS SUXORZ!1!" students/townies who caused so many Horns fans to go home with sensationalized stories of their horrible experiences in and around the Shoe (thankfully the fanbase has experienced a bit of class renaissance in time since). I certainly had my own selfish personal reasons to enjoy winning in a stadium I'd grown up going to games in. Following the late game Vince Young to Limas Sweed connection, I was privileged enough to spend an entire year getting grief from friends from back home plus getting to watch the team I grew up rooting for and disassociated myself with in place of my college of choosing win a national championship just two years removed from my severing ties and moving on (not the kind of fan whom believes in having second favorite teams). Yet even I don't harbor great resentment nor particularly care that the rubber match didn't particularly fall Ohio State's way. A tackle here, a drop passed there. Who knows, right?
What about falling at the hands twice in a half year to Florida? Priming bias. Complete happenstance the football and basketball teams were de-pansed by their Gator counterparts in a span of roughly 4 months. Sure, the context surrounding the UF loss cut deep (incredibly deep), but the subsequent loss to the defending national champs stocked to the brim with lottery caliber talent was, while certainly dissappointing, anything but a gut punch.
For whatever reason, I feel my anti-Wisconsin fervor goes far deeper.
The 2003 Rob Reynolds choke of a choke game. The 2007 night after MNC catastrophy followup. Probably other basketball games I don't recall out of my my mind burying them deep in a place to spare me the post traumautic stress. And then we come to the 2010 football game. For whatever reason at the time (in spite of my pessimism that the 2k10 Bucks weren't exactly long for the national title race), that one cut unbearably deep. In hindsight and in context, losing that game didn't really matter near as much as it could. It also provided a once in a lifetime experience in New Orleans and the chance to get a 40-year-old monkey off our collective backs, so unquestionably a mixed blessing at worst. But at the time? Goodness. Pass the hemlock.
Saturday afternoon? I'd be lying if I said it was unsurprising. Ohio State was even road dogs at a number of major Vegas books. But just simply the sheer way it all went down. Holding a relatively late 47-32 advantage and having it fade in seemingly the blink of an eye. And the whole broadcasting the Wisconsin football montage just before kickoff? The whole experience certainly felt awfully spleen jabby. I can't pretend I won't be ecstatic when Ohio State brings the force of a thousand suns in the season finale and again this fall in The Shoe. DeVier Posey and Gene Smith are certainly on-board with how I envision the not-too-distant future playing out as well.
Oh, and Happy Monday Skull Session to you and yours (and Happy Valentine's Day; if my reminder spared you a night on the couch, you can thank me at the tailgate next year). 
Empty Room. Wisconsin authorities are looking into the post-game revelations from Buckeyes star Jared Sullinger that he was spit on by classless Badger court stormers and again before the game began. While it's phenomenally improbable anything substantive will actually emerge from said investigation, going through the motions is certainly a decent gesture for the athletic leadership to carry out. Even with technology, the odds of pinpointing anything in the post game malaise is unlikely at best, and the odds that a guilty soul would fess up is even less probable. Besides, if there's one aspect of Jared Sullinger that commands respect besides his game, it's how laid back and grounded the guy actually appears to be. If crying over spuilt milk is beneath him, it probably should be from the fan sense as well. That's not to say we still can't laugh giddily when he throwns down 30 and 15, Sunday, March 6th. Bulletin board material is pseudo science at its worse, but hell hath no fury like a scorn eighteen year old looking to avenge a loss that was one outlier incalculably hot stretch from never happening in the first place.
We Used To Wait. Polls? A blind beauty pageant in a sport that actually crowns their champion on the floor. While it's likely Pitt, who's national best resume will probably give them the momentum necessary to ascend to the top spot (unless of course Kansas being #2 and Ohio State being #1 and Kansas winning and Ohio State losing causes polling fail of the highest order), will carry the flag as hoops' lipstickiest pig for the forseeable future, RPI projections still hold the Buckeyes in high regards. TeamRankings' RPI projections have the Buckeyes firmly fastened at three, behind only Kansas and BYU (JIMMER!1!!1!). Worry not; pending a completely uncharacteristic meltdown in the next three weeks, Ohio State's one seed still seems destined at this point in time.
Ready to Start. ESPN Rise has the results of Nike SPARQ's Ohio combine which contains the metrics of a number of Ohio State potential targets in the 2012 class. Amongst them Brionte Dunn, Ifeadi Odenigbo (who will unquestionably become my most hated name to type ever this side of Chimdi Chekwa should he commit), Adoplhus Washington, V'angelo Bentley, De'van Bogard, Dwayne Stanford, and Corey Smith. The 40's seem "slow", but given how artificial and poorly timed a number some of those figures out there can be (*cough* Florida Gators *cough*), there's probably a logical, circumstance grounded reason as to why those figures look the way they do. Compare the guys instead to their peers for a better sense of how well they cut it over the weekend. The defensive end/linebacking projected Washington's 40 inch verticle may also have many of you amateur recruitniks bumping him up a spot or two on your wishlists.
City With No Children. Speaking of Texas, the Austin American Statesman's Kirk Bohls and Randy Riggs have a fascinating look into the trainwreck that was the 2010 Texas football season. Your boy inexplicably actually lucked into a bargain basement priced season ticket this year. And while I only actually made it two of the games due to conflicts with tOSU ones, rest assured, it was every bit the disaster they describe and then some:
Importantly, the coaches and staff all had a role in the collapse. As a group, they missed or ignored most warning signs along the road. Those warning signs pointed to problems, among them:

• A severe depression hangover from the loss to Alabama in the national championship game on Jan. 7, 2010. It was an exhausting disappointment to Brown, who had worked so hard to get his team to the championship and who told confidantes he was certain his Longhorns would beat the Crimson Tide.

• Brown had become withdrawn from day-to-day coaching, taking on a role akin to a CEO. He was disconnected from his team and his coaches.

• As the year progressed, fractures within the coaching ranks widened to the point where defensive coordinator Will Muschamp got into a heated argument with offensive coordinator Greg Davis after the loss to Iowa State.

• UT's recruiters had overestimated the talent of incoming players, particularly on offense. Coaches had resorted more to watching tapes rather than scouring the 1,400 high schools in Texas for the type of players that brought the Longhorns nine straight 10-win seasons.

• A switch to a running offense that the team was not built for.

• A lack of dedication in summer conditioning and training, culminating with an eye-opening struggle against Texas State in a 7-on-7 game in July.

• A shift in attitude by coaches, and players, from confidence to entitlement — a sense that the team was guaranteed victory and prestige.

• A lack of on-field competence.

One former player summed it up this way: "UT was just unprepared for the 2010 season. Coaches and players alike."
While as fans and observers there's probably very little we could do (God forbid) a similar fate ever unfold in Columbus, none the less, the read should be mandatory for coaches at top programs nationally to try and nip nightmare fuel snowballs like this from ever getting out of hand.
Deep Blue. The Oracle has spoken. This Fall's AP Top 10 will play out with 9 of the 10 teams he names making the cut. Unfortunately at this point, we're left to hope Ohio State will be that outlier who sneaks their way in as presently Dr. Steele (PhD football seerology) has them on the outside looking in from the 11th spot. Given that it's 2011 and you're reading Eleven Warriors, 11 feels like it could be the start of a beautiful thing, doesn't it? Also, while I'm hardly one to question his divine powers of clairvoyance, Texas A&M? 6th? Really? I guess it's time to remind ourselves that sometimes he tests us to discard the doubters and keep but the true believers in his flock. But until those glossy size 6 font printed pages are in our hands in June, we'll certainly take whatever heavily researched insight we can possibly get.
The Suburbs. Arcade Fire broke the glass ceiling for indie-alt bands everywhere last night by winning entertainment's least substantive award ceremony's highest honor. Either that, or the verified that all the haters were right all along. No, never! Rock on, Win BROtler. While the album is probably my least favorite of their discography, there's little doubt in my mind it's the group's most cohesive, polished, and mature effort to date. Unquestionably the best of the weak competition it was up against, it none the less merrits a precursory listen (also available on Amazon for instaneous download/consumption for just $5) if you enjoy things that are good even in the least.
Here comes the collection plate (Mountains beyond mountains). We added a donate button. Background is here. Give you if you want to, if not carry-on. But, please at least consider it.