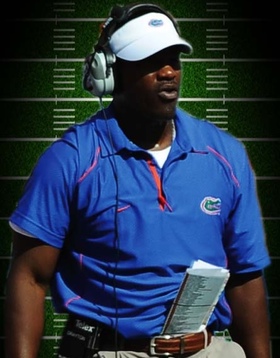 Florida running backs coach and assistant recruiting coordinator Stan Drayton had been linked to the open wide receivers coaching position vacated by Darrell Hazell for a little over a week now. Here's our take on the rumor last last week:
Technically, the position is still open for four more days, but one source we trust is saying [Drayton] has already interviewed for the spot and will be named the new wide receivers coach on the 23rd.

It's an interesting choice for a few reasons, primarily because Drayton just accepted a position on Muschamp's staff and he's been a running backs coach for most of his career, but he is also a Cleveland native and has experience working with receivers from his stint as the offensive quality control coach for the Green Bay Packers from 2001-03.

Drayton held the same position on Urban Meyer's staff from 2005-07 before moving on to Tennessee for the 2008 season and then on to Syracuse to coach the running backs in 2009. Bringing him in would obviously help with recruiting in the southeast and his pro experience coaching special teams (also with the Packers) would help a staff that struggled with coverage last season.
We were a little off with the call for an announcement on the 23rd, but it appears an agreement was struck between Ohio State and Florida to keep things hush until after Signing Day as Drayton was still hard at work recruiting for the Gators. A gentlemen's agreement between the two staffs, if you will, if for no other reason than the fact that both the Buckeyes and Gators were actively recruiting four-star receiver (and current Gator commit) Ja'Juan Story.
Last night, we received an email from a second trusted source saying Drayton to OSU was a "done deal" and soon after, The Plain Dealer's Doug Lesmerises followed up with a confirmation. On top of what he brings as a position/special teams coach, the Cleveland John Marshall graduate is relatively young at 39 and is an incredible recruiter. With his extensive ties to the Florida prep community, this hire could start to pay big dividends right away, especially if Story decides to follow Drayton to Columbus.
The (Twitter) reviews are in. How fun was last night's 87-64 romp over the Boilermakers? Fun enough to give the northern half of the state of Indiana a case of butthurt. We've been impressed with this OSU squad all season, but despite entering last night's contest as the #1 ranked team in the land, some in the national media are just now starting to appreciate what we have. The praise on Twitter was quick and effusive.
ESPN's Andy Katz:
Ohio State's performance is as dominant as we've seen this season. Ohio State clear No. 1 at this juncture in season.
Fox's Jeff Goodman:
Gotta say I feel pretty confident right now about my preseason pick of Ohio State to win the national title after watching this thrashing.
ESPN's Pat Forde:
I hear ya, Dan Dakich. Ohio State terminating any debate about who's #1.
That's the level of domination we're seeing in Columbus. A Chicago vs Toronto Sega Genesis NHL level.
I'll go on a limb and guess Ohio State is #1 in kenpom when the tourney starts.
Even former Georgia wide receiver A.J. Green is a believer:
OHIO ST bball team is the truth...
The show now hits the road for a 6:00pm matchup with the Wildcats in Evanston Saturday night (ESPN2).
Stank you, sir. Former Buckeye linebacker Anthony Schlegel was named an assistant S&C coach earlier this week and he wasted little time endearing himself to Buckeye fans everywhere. Asked by reporters what some about some of his goals at Ohio State, he offered up this gem:
"I want to teach them to have the stank, so when they go on the field they are there to dominate people. It's that attitude and the stank, that's what I'm trying to feed them."
What's "stank", you say?
"Hunting hogs in Texas, a big boar hog has a stank. You know that he's there because of the smell. When you go on the field or you walk by them, I want people to know these guys have the stank and they are here to dominate for 60 minutes. I just want that to be contagious so they can get a whiff of that."
PERFECT.
What's the difference between an NLI and a GIA? If you didn't know, the Bylaw Blog has you covered. Basically, recruits sign two documents on Signing Day, a National Letter of Intent (NLI) and a grant-in-aid agreement (GIA) which actually covers the scholarship portion of the deal. In light of Andy Staples' excellent piece on the NCAA's "toothless rule" limiting NLIs to 28, Bylaw Blog correctly points out that schools are still free to award as many scholarships (GIAs) as they want as the rules are currently crafted to cap NLIs at 28 for a given year (excluding early enrollees). What's needed is something like the following:
GIAs to Current SAs with Eligibility Remaining Next Year + Signed Scholarships by Prospects ≤ NCAA Limit
That setup wouldn't eliminate abuse, but would require schools to be under the limit of 85 scholarships at any given time during the year. This not only would help protect prospects, but also current student athletes currently under scholarship  and sounds like a step in the right direction. 
Random bits: Tom Izzo has suspended backup guard Korie Lucious for the remainder of the season for "conduct detrimental to the program"... 12 Iowa football players were hospitalized with what's believed to be a "a kidney condition brought on after an excessively intense offseason workout"... Once more, just for giggles: Sullinger for three.