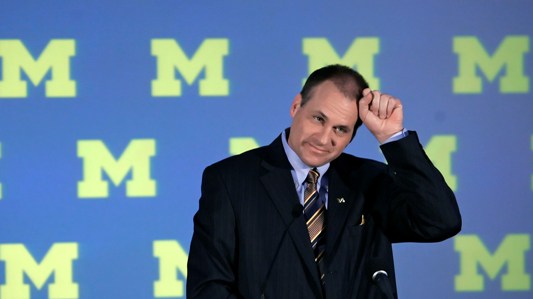 Despite my strong inclination to keep the Sugar Bowl celebration train rolling, I think we at Eleven Warriors would be remiss if we didn't make mention of the firing of the Dear Leader Richard A. Rodriguez, the once head coach of our most hated rival, the Michigan Wolverines. I, like many of you, have taken great joy in the struggles that Michigan has faced in the past three seasons, but in this post I want to take a more serious look at what this firing means for Michigan as a whole, and where that program needs to head from here.
Now, normally this is where I would do a 180 and do an extended riff on Michigan football actually being a front for laundering money from an extensive monkey knife fighting league or something, but in all seriousness I hate it when Michigan sucks as badly as they have for the past several years. Part of what makes Ohio State fun to root for is that we have this eternal rival that exists for us to transfer all of our internalized Midwestern rage on to once a year, culminating in a maelstrom of hatred that is cathartic as it is fun. When that rival is bad, consistently bad, it diminishes the rivalry and makes it that much less enjoyable to be a part of.
So I'm not sad to see Rich Rodriguez go. He has made a ton of mistakes in terms of hiring, scheme, and personnel that have been his own undoing. But what I want to concentrate on here is not the coach; I am far more interested in the reaction of the Michigan AD, Dave Brandon, the players, and the fans. Let's start with the fans.
To begin with, I think the Rodriguez hire was a generally positive one from the perspective of Michigan fans, if not overwhelmingly so. Rodriguez had a great run at West Virginia, and I spoke to several Michigan fans who were very confident that his offenses would be very successful in the Big Ten. Even Brian at MGoBlog (though he now says he was ambivalent about it), called the hiring of Rodriguez "everything a Michigan fan could want in a hire" and "...manna from heaven" in the wake of the long debacle that was the search for a coach after Lloyd Carr left, and in fact Brian has probably been his biggest defender during his tenure.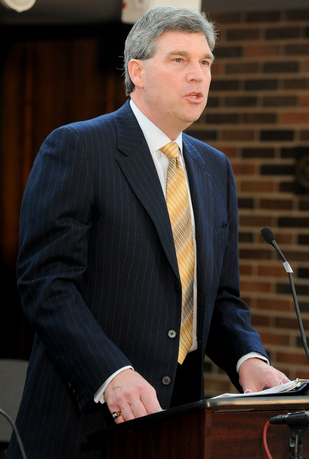 Some people were concerned that he would be a bad fit for Michigan; in other words, he was not the "Michigan Man" that the program apparently requires. It's possible that those people might feel emboldened after today, but this is a mistake. Right now Wolverine fans need to realize two things: first, that Rodriguez absolutely deserved to be fired. Ask yourself: how much better would Michigan have been under his tenure in 2011? The defense would (and will) still be very bad. Defenses have figured out how to contain Denard for the most part. What's the ceiling on this team? 8-4? Maybe? That should never be the goal in year 4 of a head coach at Michigan.
The second thing fans need to understand is that after Rodriguez, zero ties to the University of Michigan should be required of whoever takes his place.
Dave Brandon knows this. In his press conference he more or less outright dismissed the idea of Jim Harbaugh coming back to Michigan, and frankly he is the only "Michigan Man" out there right now who should even be considered. Brady Hoke, while not a bad football coach by any means, is not the man for the job and likely wouldn't even be considered had he not coached at Michigan in the past. Les Miles, despite all the hell bloggers like me love to give him, is also a fairly good coach, but right now Michigan needs a steady, proven winner who can stabilize the program without the eccentricities that Miles comes with.
If I'm Dave Brandon I put out an ABP for Gary Patterson immediately, and hound him until he gets a restraining order. As an OSU fan Patterson at U of M would scare the hell out of me, but the man is an excellent, consistent coach, and would fit in perfectly with the culture in Ann Arbor. With TCU moving to the Big East I see Patterson to Michigan as fairly unlikely at this point, but that is the kind of coach that they need right now. Forget finding a "defensive coach" (Bud Foster himself could come in and that defense wouldn't be any good next year) or a "Michigan Man," find an established winner who can steady a program that is clearly in flux.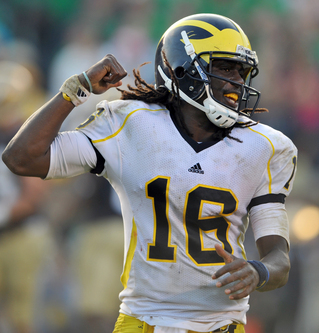 The reaction of the players will probably be the most interesting thing in all of this. None of them have really seemed to express a huge amount of affection for their coach (although Twitter could easily be proving me wrong as I type this), and many of them just seem to be sick of losing. The collapse in their bowl game was surprising even to me, and speaks volumes about where that team is mentally. There will be a lot of speculation about whether Denard and others will transfer, but they should take the same advice Carr gave to Ryan Mallett: wait it out. Not just to see the scheme, but to see if the new coach is someone who can reinvigorate that program.
Again, in all honesty I hope this whole process is successful for Michigan. I'm sure some of you will disagree with me on this, but I want the Wolverines to be good. For the sake of the rivalry, for the sake of the Big Ten, and for my basic general enjoyment of college football.
So, to Dave Brandon, Michigan fans, the players, and administration: find someone good. Stop tripping over your own hangups, reservations, or personal rooting interests in past coaches. The Rich Rodriguez era is finished. Time to start over, and don't screw up this time.
Again, sorry for the break in the celebrating; rest assured that in the coming days (and weeks... and months) that we will be talking nonstop about finally ripping that 300 pound gorilla off our backs. Stay tuned for as much post bowl coverage as you can handle.