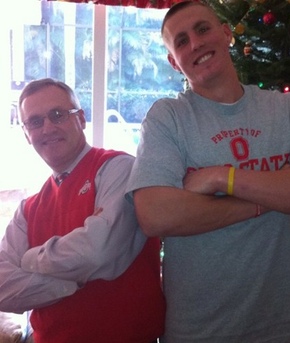 If you follow us on Twitter, you saw this pop up last night, but it's simply too good not to lead with this morning. To the right is the photo currently gracing early enrollee Jeff Heuerman's Twitter account. What makes this photo amazing, besides Tressel's "DAVE LIFE" pose, is that it was presumably snapped in December of 2009 in a Michigan Man's house of all places. Heuerman's father, Paul, played basketball for the Wolverines in the late 70s and early 80s, followed by a brief NBA stint before going to law school.
As if the profile picture isn't enough, Heuerman touted Tressel's swag on Tuesday and then spent part of Wednesday encouraging Reid Fragel to bulk up. Oh yeah, he also loves to block.
Bravo Jeff, you're well on your way to becoming our favorite member of the loaded 2011 class.
The meat market comes calling. Eight Buckeyes have been invited to the NFL combine: Saine, Homan, Rolle, Sanzenbacher, Torrence, Chekwa, Heyward and Hines. Among those not invited are Dex Larimore, Bryant Browning and a certain all-conference guard that spent the first part of his career in Ann Arbor.
While Larimore will likely have to go the UDFA route to make a club and Browning needs a great Shrine Game to have a chance at being a late pick, I'm shocked Boren wasn't invited to Indy. As a three and a half year starter at Michigan and Ohio State, Boren was named honorable mention all-Big Ten as a sophomore before going on to earn 1st team accolades after his junior and senior campaigns. Prior to the start of the 2010 season, he was projected as going no later than the fourth round of the draft by most services, but it appears questions about his height and technique have surfaced and may prevent him from getting a chance to show NFL scouts what he's capable of doing.
An NFL committee will meet and decide to invite a handful of additional players later this month, so he still has a chance to attend, but what once looked like a guaranteed draft day payday is in jeopardy.
So Longo. Yesterday, Ohio State confirmed reserve offensive lineman Sam Longo had been released from his football scholarship, freeing him up to seek playing time elsewhere. A legacy (his father Gene was a linebacker for Earle Bruce) with an impressive offer list coming out of high school, Longo never hit his stride in Columbus, taking a redshirt in 2009 before seeing action in just one game -- Eastern Michigan -- this past season. By the time the Sugar Bowl rolled around, he was buried on the depth chart behind Corey Linsley and Jack Mewhort, with Marcus Hall looming.
The departure does help a bit with the numbers game, opening up a spot in the scholarship count for Glenville's Aundrey Walker, who could help provide depth at guard with the departures of Boren and Browning. Walker just returned from a visit to USC where he found things to his liking, but word is come Signing Day, he'll be a Buckeye.
The state of Michigan is bleeding quarterbacks. First came the news that Tate Forcier's days with a wingless helmet were over with a rumored destination of Montana, and then last night, word emerged out of East Lansing that the highly-touted Joe Boisture was moving on. Though he was considered one of the nation's best pro-style quarterbacks in the 2010 class, you can't help but wonder how good he really was considering he finished his senior year of high school with twice as many interceptions as touchdowns.
Revenge for 4th-and-10, 70-48, etc. I wrestled competitively in my younger days, so I have a soft spot for the sport and I am generally excited by the work OSU's Tom Ryan is doing with the program. As recently as three years ago, the Buckeyes were runners-up in the NCAA championship and are coming off an 8th place finish in 2010. This year, however, has been a completely different story. Decimated by injuries, OSU currently sports a 2-5 record (which includes  an ugly 42-3 loss to up-and-coming Penn State) and will be traveling into Hell Saturday attempting to snap Iowa's 69-match winning streak. The last time Ohio State beat Iowa was 1966 and barring a miracle, that won't change this weekend.
TI-GAH BAIT You'll forgive LSU fans for being a little down these days. Not only did they secure the long-term services of a coach they didn't really want, but they now have a replacement for embattled offensive coordinator Gary Crowton: former Louisville coach Steve Kragthorpe. He will have some talent to work with this fall in Baton Rouge, including former Cincinnati Princeton star Spencer Ware, Russell Shepard and four of five offensive linemen back, but as Doctor Saturday points out, Kragthorpe's Louisville squads joined Buffalo as the only schools to suffer multiple defeats to Greg Robinson while he was at Syracuse. There's also a pretty depressing chart if you're into depressing charts. Or taunting friends that are Tiger fans.
Random bits: Former tackle Ivan Douglas' national championship ring is back up for sale on eBay -- yours for only $20k... 11W: 1, Buckeye Grove: 0 as the NCAA gods smiled favorably on Luke... Despite starting the season on the bench, A.J. Hawk is getting some love in Green Bay after leading the team in tackles...  Have an extra $10 and want things to not suck so much? Consider giving to the Playoff PAC.