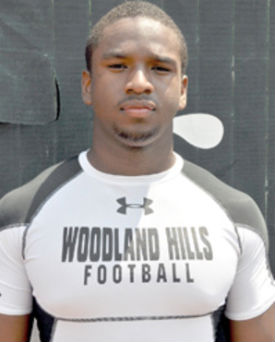 Yes, that's right. National Signing Day is just three weeks from this Wednesday and Jim Tressel and the staff are trying to put the finishing touches on a recruiting class that is currently ranked among the top 10 in the country. With 20 commitments on board already, the Buckeyes are looking to add 3-4 more and have a very high level group of players still considerig coming to Columbus as their college destination.
The first domino to fall will come today as Woodland Hills (PA) LB Ejuan Price announces his college decision later this afternoon. Price has listed OSU and Iowa as his favorites most of the way, but Rutgers has sneaked in as a suprise third team in contention. The cousin of Dorian Bell, Price has made many trips to Ohio State and it has been long thought that he would eventually choose Ohio's capital city in the end. Of course things can't hurt when Jim Tressel and Luke Fickell are set to visit Price in his home today, before the announcement goes public. After playing things close to the vest and a few weeks of it looking like he might get bumped out of the class, my guess is that Price will make the decision to don the Scarlet and Gray known to the media, shortly after telling Tress and Fickell in person.
Two other star linebackers in the mix are Curtis Grant and James Vaughters. Grant visited OSU in December and just this past weekend visited his other top team, the Florida Gaotrs. Grant's UF visit went really well, but the current rumblings as of now still hold the Buckeyes on top by a slight margin, with visits to UNC and Virginia on tap in the coming weeks. He will announce his decision on Signing Day (February 2) and as of now I expect the Bucks to come out on top, although anything can happen in the recruiting world.
Vaughters is a current commit to Stanford and the Cardinal did well by naming offensive coordinator David Shaw as Jim Harbaugh's replacement. Vaughters' familiarity with Shaw certainly helps the schools' cause, but one thing that may hurt is that defensive coordinator, Vic Fangio, joined Harbaugh as a member of the 49ers staff. Vaughters' family is from Ohio and he grew up a big Buckeye fan, so his visit to Columbus on January 28 certainly won't be a charity case. The stud from Georgia visited Paolo Alto this past weekend and will make the trip to Gainesville this upcoming weekend, before heading up to the Buckeye State to give OSU the last crack. As of now things appear to be leaning in Stanford's way, but don't be surprised if a switch to the good guys happens after his official visits are completed.
OL Aundrey Walker has had Michigan State and Ohio State on top for sometime, but took a visit to USC this past weekend and REALLY enjoyed it (including taking in a Lakers game----shady?????). Walker has visits left to Penn State and Florida State, and will likely play the Glenville waiting game, but I still expect him to end up in the OSU two-deep next fall. Walker's Glenville teammates QB Cardale Jones, WR Shane Wynn, and DL/LB Andre "Tank' Sturdivant have been mentioned for some time as well, but none hold Buckeye offers and it looks like the ship may be sailing there. Sturdivant has actually scheduled a visit to OSU for January 28, despite holding no offer, and if any of the three have a chance of squeezing into this class, it would be Tank.
WR Ja'Juan Story seems to have hit it off with head coach Will Muschamp and offensive coordinator Charlie Weis after his visit to Florida last weekend, but will take one more visit and that is to Ohio State this coming weekend. While Story seems to be pretty firm on his verbal to the Gators, getting him on campus is huge and gives the Buckeyes a real chance. Story will be visited by both Florida and OSU in-home this week, before flying up to Columbus on Friday. It definitely helps OSU's odds that Story has struck up a nice friendship with two early enrollees in Ryan Shazier and Braxton Miller, but what may help even more is if Ohio State can hire a wide receiver coach before Story's visit on Friday. With a gun to my head, I'm calling Story to Florida, but with extreme caution, as I have a good feeling this weekend's visit will go very well.
Finally, everyone wants to know about Jadeveon Clowney. Clowney, the nation's top defensive end and overall player, said a month ago that he would visit Ohio State on January 28th. That visit then became a toss-up between a bunch of schools, and now it appears that visit probably won't happen. I have always thought that Alabama and South Carolina lead for Clowney, with Florida State picking up steam already. Sorry if you got excited late in 2010, but it appears Jadeveon has no interest in leaving the south, and will likely end up a member of the Gamecocks (my pick), Crimson Tide, or Seminoles.
As of today, I'm picking the Bucks to finish with Price, Grant, and Walker, but if Story and/or Vaughters want in as well, the staff will make room. If the Bucks can close on three of those five, it would be a tremendous finish, and even adding one of the Glenville guys or longer shots like ATH Darius Jennings (UVA) or LS Bryce Haynes (Notre Dame) would be solid as well. I believe this class will finish in the top five in the country once again and Buckeye fans will finally admit that Jim Tressel CAN close when it comes to recruiting.