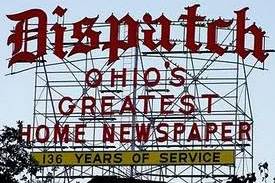 A friend of 11W for quite a few years, Buckeye basketball beat writer Bob Baptist of the Columbus Dispatch was one of our early interviews. Despite being a highly professional dude, he sat down with us against his better judgment to offer some insight way back in March 2008. Undeterred, he agreed to come back for more. In this latest version of Talkin' Hoops, Bob discusses his thoughts on Jared Sullinger, Aaron Craft, which teams will challenge OSU for the conference crown, the All-Baptist Buckeye team and more. As you'll see, he's not just a hoops know it all, he's also a pretty funny cat. You can catch Bob making sweet love to the English language while breaking down all the action on the hardwood at Dispatch.com and on his Hoops & Scoops blog. Big ups to Bob for making time for small-timers like us (especially when we were cutting our teeth way back when) and for all he does to keep the world informed on all things Buckeye basketball.
With what you've seen thus far, which two or three teams will challenge Ohio State for the regular season conference crown?
I still think Michigan State will come around. Faith in its track record, I guess. But I don't know how it's suddenly going to manufacture the toughness and winning edge, sense of urgency, it obviously lacked for much of the nonconference season. I picked Minnesota and Purdue to tie for second in the Big Ten preview in The Dispatch on Sunday. Minnesota has depth and grit but lacks top-tier talent. Purdue lacks depth but has grit and two top-tier players (JaJuan Johnson and E'Twaun Moore). It sure could use that third one, though, sitting on the bench with his bum knee (Robbie Hummel).
Obviously, Jared Sullinger came in amid tons of hype and he's put up the numbers to match. After 13 games, what has surprised you about his overall skill set?
He has great feet. I didn't see him play enough in high school to see all his assets, and his feet are incredibly quick, especially for a kid his size. Dropping 20 pounds during preseason conditioning obviously didn't hurt him. Someone tweeted me during a game that one of the TV announcers called him a "dancing bear." I haven't heard a better description.
Coming in to the season, there was great concern over whether or not Aaron Craft could handle point guard duties. He's clearly passed the test thus far but if you are Thad Matta, what things would you be concerned about as the freshman gets set to begin conference play?
He's going to face better point guards in the Big Ten than he's faced so far. Older, quicker, smarter. They will test his ability to run an offense on one end and stay between them and the basket on the other. But Craft is smart, above all, so I suspect he will be a quick study and adjust accordingly.
As a true pimp of journalism who has been with the Dispatch since the late 70's, what's your take on the emergence of blogs like ours? You've been great to us over the years but there has to be some things about blogs that piss you off, right?
Not you guys, but in general: Lack of accountability regarding what is reported. Perfect example was the ChicagoNow report on Christmas night saying Jim Tressel would retire after the Sugar Bowl. Some guy named Tab wearing a Blackhawks jersey, holding his young son, standing next to the Stanley Cup, was the "journalist" who reported this. All he did was create a lot of unnecessary work on a family holiday for guys like me (not me, but like me) who work for ethical publications that, nowadays, have to attempt to verify and confirm whatever piece of crap someone in cyberspace throws up on a wall.
Using only OSU players that you've seen during your 33 years covering the team, what's your All-Baptist starting five? Who's coming off the bench? The coach is...?
Well, I am old, but it's only my 14th year on the beat (Ed note: w/ Dispatch over 30). But off the top of my head, how's this for 13 scholarships?
Starters: Conley, Redd, Turner, Jared Sullinger, Oden
Bench: Penn, Brown, Darby, Foster, Lighty, Butler, Dials, Johnson
Head Coach: Matta
Is Tom Hamilton the white Gus Johnson?
I seldom hear Hammy during basketball season. But I listen to him religiously during the summer with the Indians. I turn the volume down on Gus.
The non-conference slate has produced a steady diet of blowouts meaning Ohio State hasn't yet been forced to execute over the final four minutes of a tight ballgame. When that time comes, would you go to the freshman in the paint or lean on veteran like Lighty or Buford to score in crunch time?
I'll sound like a coach here, but with this group, you take what the defense is giving you. Which will probably be the poorest free throw shooter.
Do you think Deshaun Thomas has ever met a shot he didn't like? If so, what shot was it? Jagermeister?
Since he's underage, I'll go with tetanus.
There's been plenty of chatter about Thad's current team being better than last year's version. The key argument for the 2010-11 squad seems to revolve around having increased balance and more of presence inside offensively but it's also hard to argue against having a guy like Evan Turner as the cornerstone of your team. What do you think of these comparisons?
This team is better, right now, because of the inside option with Sullinger and the balance resulting from it. Much tougher to defend, and a better defensive team because of a better bench and the ability to play two legit bigs at the same time.
Did you know Florida Gulf Coast had a hoops team until you peeped them on the schedule this year?
I didn't know Florida Gulf Coast had a university. I thought it was all sand.
Michigan State has played another tough non-conference schedule while the Buckeyes have feasted on a fairly steady stream of cupcakes. In your opinion, which scheduling school of thought is better when it comes to peaking in March? What factors must a coach consider along the way?
I don't think a tough non-conference schedule makes any difference come March. I think the Big Ten more than gets its teams ready to face March. I think the non-conference schedule does help prepare a team going into the Big Ten. That's why there's a little voice on my shoulder telling me something crazy could happen at Indiana or Iowa.
If you could pluck one guy for another conference team and place him on the Buckeye roster, who would it be and why?
JaJuan Johnson. Him and Sully playing 28-32 minutes a game next to each other? Oh, my.
Which Big Ten city do you most like to chill in? Why?
I'm never anywhere long enough to chill, unless you mean freeze my behind off. In that case, they all qualify. As far as having a good time, I really like Indianapolis for the Big Ten tournament.
What two or three games do you think present the greatest chance for Ohio State to rack up their first loss?
at Illinois, at Minnesota, at Wisconsin, at Purdue
Finally, which Ted is worse - Hillary or Valentine?
Kaczynski.
Well played, sir. Well played.