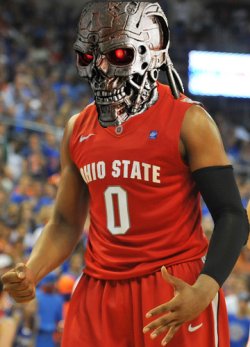 Fresh off a 79-57 stomping of South Carolina behind 30 points and 19 boards from Jared "Big Ten Freshman of the Week" Sullinger, the Buckeyes welcome UNC-Asheville to the Schott for the third time since 2008, beginning a stretch of three games in seven days to finish up the non-conference slate.
Ohio State is 3-0 all-time against the Bulldogs with the last outing showcasing a fool's gold coming out party for B.J. Byron Mullens that preceded a major Buckeye crash and burn against Huggybear's Mountaineers.
While no one would argue the Bulldogs have a punchers chance of beating Ohio State, they are an experienced group comprised of four junior starters that saw significant minutes against Ohio State in the December 2008 match up. Winners of two straight, UNC-Asheville evened their season record at 5-5 with victories over nearby Montreat College and Division II foe King College TN.
| # | Name | PTS | REB | ASST | POS | # | Name | PTS | REB | ASST |
| --- | --- | --- | --- | --- | --- | --- | --- | --- | --- | --- |
| 44 | William Buford | 12.3 | 4.8 | 3.7 | G | 3 | J.P. Primm | 16.5 | 4.4 | 4.4 |
| 33 | Jon Diebler | 13.0 | 2.1 | 2.5 | G | 2 | Matt Dickey | 16.7 | 4.0 | 3.0 |
| 23 | David Lighty | 11,6 | 4.2 | 4.1 | F | 4 | Chris Stephenson | 9.5 | 3.4 | 1.7 |
| 0 | Jared Sullinger | 18.5 | 9.6 | 0.8 | F | 32 | Quinard Jackson | 6.7 | 2.7 | 1.0 |
| 52 | Dallas Lauderdale | 5.2 | 5.4 | 0.1 | C | 33 | D.J. Cunningham | 11.4 | 9.7 | 0.8 |
Opponent
Entering with an RPI ranking of 269, UNC-Asheville is a guard dominated team led by a pair of 6'1" juniors in Matt Dickey and J.P. Primm. Dickey leads the Bulldogs in scoring at 16.7 per game on the strength of 38% shooting from distance while Primm throws in 16.5 ppg behind 40% from beyond the arc. Primm is also a facilitator dishing out 4.4 dimes per contest compared to 3.0 from his running mate. Dickey scored nine points in the December 2008 clash as the Buckeyes held him to 3/8 from the floor and Primm faired even worse connecting on just 2/11 shots finishing with eight points. Dickey is coming off a 21 point game (6/12 FG) against King College with Primm adding 17 (6/11 FG) in that contest. Both have reached double figures in nine of 10 outings.
Complementing the star guards will be 6'10, 240 lb. sophomore center D.J. Cunningham. The big man is coming off a 20 point, 11 rebound effort his last time out and he pulled down 18 boards earlier this season against a school called USC Upstate. Of course, it's probably worth a mention that USC Upstate is ranked 265th in rebounding. Cunningham will have his hands full with Sullinger and Lauderdale and I suspect he has slow feet considering he's already fouled out of two games and racked up four fouls in four other contests.
Chris Stephenson, a 6'3" junior guard, offers some punch at 9.5 points per outing including 12 (5/9 FG) in a 15 point loss at Georgetown back in late November. Another junior, 6'5", 240 lb Quinard Jackson figures to be the fifth starter after averaging 12.3 ppg in his last three outings but 6'9" Jon Nwannunu and slender 6'4" guard Jaron Lane will also see action.
For a blowout, the game could at least be a fun watch as the Bulldogs prefer an uptempo pace (80.4 ppg).
Buckeye Breakdown
With a cupcake sandwiched between the South Carolina victory and a meeting against a talented Oakland squad during Christmas week, Thad Matta's charges need to guard against a potential dose of complacency. Not that the Buckeyes couldn't get away with sleepwalking through this one but momentum is a fickle beast that they'd be best served to keep on their side with conference play a mere 10 days away.
Virtually everything is going right for a Buckeye squad currently ranked 8th nationally in both points per possession and fewest points allowed per possession. They lead the conference in scoring margin (+23.9) and turnover margin (+7.2) and place 2nd in rebounding margin (+7.2). Sullinger ranks 6th in scoring and 2nd in rebounding while the Buckeyes boast four of the top 24 scorers in the conference. They continue to display excellent ball movement ranking 18th nationally in assists with Aaron Craft's 4.6 per good for 5th in the conference. On the perimeter, Jon Diebler ranks 1st in the conference with 3.30 Made 3FG per game while Dallas Lauderdale leads in blocks (2.50).
Interestingly, one key cog in the machine scuffling a bit is David Lighty. The versatile senior has failed to reach double figures in four straight games after hitting the mark in each of his first six. Shooting just 42% from the floor on the young season, Lighty has struggled mightily in his last six outings connecting on a dismal 13/41, or 32%. Of course, the glue-guy has still proved invaluable playing stellar defense while dishing out 16 assists over his last three games. Not that Matta or anyone else should be worried but it would be nice to see Lighty get his shot back on track before the trip to Bloomington.
William Buford has reached double figures in four straight but is another guy looking to find his stroke. He's shooting his typical 44% from the floor - doable for a scoring guard - but he's yet to dial in from distance hitting just 31% of his triple tries (38% last year). Even more shocking to me is that the WB has only attempted nine free throws in nine games (67%) after making 3.1 trips to the line per night a season ago. Before too long, I have to believe Buford will get back to being more focused on getting into the lane.
Now 10 games into his new role with three left before Big Ten play begins, I'm interested to see if DeShaun Thomas will show some signs of growth. His shot selection has been sketchy for much of the season but he was at least making some of those poorly timed tries in November. In four December contests, Thomas is shooting only 24% (6/23) though he has pulled down 13 combined rebounds in his last two outings. Clearly, he's having trouble adjusting to not being "the guy" on offense. That said, whether or not he can mature into a trustworthy contributor in conference play, especially on the road when foul trouble could eventually become an issue, looms as a key factor for the success of this team.
With what should be a fast paced tilt, tonight could be the night we see Lighty, Buford and Thomas turn in solid outings in support of Sullinger as the Buckeyes easily move to 11-0.
Etc
With Sullinger's five Frosh of the Week honors and one from Thomas, Buckeyes have claimed the award each week thus far.
Sullinger's 19 boards against South Carolina set the single game record for Value City Arena.
Craft has committed only three turnovers in his last three games (11 assists).