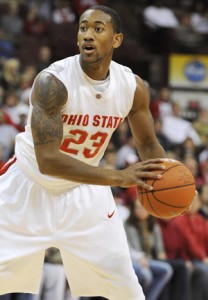 Shaking off a shooting slump that saw him fail to reach double figures in four straight games and shoot just 32% over the last six, David Lighty broke out of his offensive funk with a 29 point performance to key Ohio State's 96-49 blowout victory over UNC-Asheville tonight in the Schott.
Lighty's night started quickly as he scored 11 straight OSU points to open the game (4/5 FG) giving the Buckeyes an early 11-2 cushion. That was just an appetizer as Lighty would continue his outburst with a driving baseline jam, a three from the left wing, and later back to back slashes through the lane before capping his 23 point 1sthalf explosion with another triple putting OSU in front 46-20 with 2:10 remaining. The Buckeyes would eventually cruise to a 48-24 halftime lead.
The senior from Cleveland finished the opening stanza 9/12 from the floor and 5/7 from distance in 18 minutes of action. The red hot Buckeyes also got nine 1sthalf points from William Buford on 4/7 shooting and five more from Jon Diebler on 2/3 shooting helping the Buckeyes connect on a blistering 59% from the floor. With the perimeter guys on fire, Jared Sullinger attempted just four shots in the opening half chipping in four points and eight caroms to go along with three assists. By the time Sullinger scored his first point at the 12:32 mark, OSU held a commanding 23-10 lead.
The Buckeye defense was its usual lockdown self holding the Bulldogs to 39% from the field and 25% from deep (2/8) while yielding just eight points in the paint. OSU also turned 10 Bulldog turnovers into 14 points in the first 20 minutes of play.
As we've seen a few times already this season, Ohio State left their intensity in the locker room giving up a 10-2 run to open the 2nd half but Lighty would stem the tide hitting his 7th triple of the night giving the Bucks a 53-34 lead with 17:15 to play. Four minutes later, Lighty put the finishing touch on his evening draining a three from the wing, his 7thof the night, sparking a 23-5 blitz that pushed the Buckeye lead to 81-45 with 6:33 left in the hardwood assault.
William Buford led Lighty's supporting cast with 14 points on 6/12 shooting while Deshaun Thomas reached double figures with 13 and tied a career high with eight boards. Thomas showed improved shot selection (5/8), now if he can just sustain it.
Content to watch the wings get their stroke on as the Bulldogs doubled the post, Sullinger finished with nine points and a monster 16 rebound effort to go along with a season high five dimes. Diebs had a relatively quiet night with nine points (3/6 FG) while Aaron Craft tossed in seven points, tied a career high with eight rips and tossed three assists and three steals against only one turnover. Jordan Sibert added seven points and three steals in 14 minutes.
En fuego, the Buckeyes shot 57% for the game including 46% from downtown (11/24). Defensively, they won the glass 42-25 and forced 21 Bulldog turnovers.
The win moves OSU to 11-0 with a date against the Oakland Golden Grizzlies slated for Thursday night at 8:00pm.