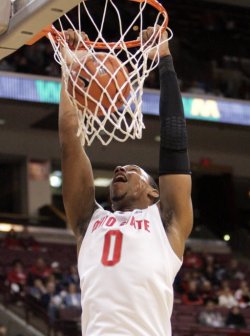 Ohio State once again rode a dominating effort from Jared Sullinger, easily dispatching the cold shooting South Carolina Gamecocks 79-57 this afternoon in Value City Arena. In front of a regional CBS audience, Sullinger blew up for 30 points and 19 rebounds in 30 minutes of action erasing any doubts as to exactly who is the best freshman in the country.
Sullinger barely needed any help but he got some anyway as William Buford scored 12 and Jon Diebler added 11.
The Buckeyes got off to another fast start answering a Malik Cooke triple that put South Carolina in front 3-2 with an 18-3 blitz fueled by nine points from Sullinger giving Ohio State a 20-6 lead with 10:41 left in the half. The 'Cocks would get as close as eight after a Ramon Galloway threeball cut the lead to 22-14 with 5:55 remaining but the Buckeyes answered with an 11-2 burst that saw Dallas Lauderdale rock the rim off a nice feed from David Lighty before Diebler picked Galloway's pocket and went coast to coast for the hoop and harm. Then, the opening act of the Jared Sullinger Experience closed with a fury as Sully putback a Deshaun Thomas miss giving him a dub-dub in the first half and OSU a 37-21 lead. After a Buford dunk and another SC turnover with 2.6 seconds to go in the half, Sullinger took the inbounds pass, turned right and nailed a 25 footer as time expired giving OSU a comfortable 42-21 lead at intermission.
Sullinger was in full beast mode racking up 18 points (6/11 FG) and 10 boards in 16 minutes of 1st half action while Diebler added eight and Buford six. Ohio State's game plan to go right at the Gamecocks paid off as they scored 20 of their 42 points in the paint while turning nine SC turnovers into 13 points. The stifling man to man defense held SC to 27% from the floor including just 1/6 from South Carolina's leading scorer, Bruce Ellington.
The Gamecocks tried to get back in it opening the 2ndhalf on a modest 7-1 run to close the gap to 43-28 with 18:21 to play but the Buckeyes used another run, this time a 20-7 whitewashing paced by Sullinger increasing the lead to 63-35 with 12:01 left. The big man got the run started with a bucket in the paint before finding Buford for a wide open three. Moments later, he would convert a layup off a slick pass from Aaron Craft into a three point play before capping the run with two free throws after getting mauled pulling down yet another rebound.
When the smoke cleared on yet another blowout victory, the Buckeyes harassed South Carolina into 38% shooting and 15 turnovers while winning the glass 43-31. Besides Sullinger's 19 caroms, Lauderdale and Thomas added seven apiece with Lighty chipping in five with five dimes.
Ohio State was far from lights out offensively hitting a pedestrian 43% from the floor and just 25% from downtown (4/16) but they used Sullinger's hot shooting (10/17) and a 21-3 edge in free throws made to keep the Cocks at bay.
The win improves Ohio State to 10-0 on the year with UNC-Asheville set to visit the Schott next Tuesday night at 8:30pm.