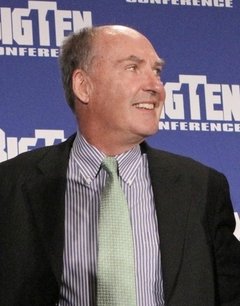 Big Ten! Big Ten! Big Ten! Eh, there's really no way to chant that without sounding like someone you don't want to spend any time with, but boy did the Big Ten come up big on night two of the ACC-Big Ten Challenge.  After getting off to an 0-1 start in the series thanks to the Gophers laying a home egg against Virginia Monday night, the league proceded to go 4-1 last night to take a commanding 4-2 lead in the series.
You know all about the Buckeyes' win over Florida State in Tallahassee, and that was expected from the nation's second-ranked team, but Illinois' 79-67 win over North Carolina wasn't a given (though Harrison Barnes going two-for-something is starting to be), nor was Northwestern throttling Georgia Tech or Michigan knocking off Clemson on the road.
The league was essentially a 25-footer in the waning seconds away from going 5-0 on the night (rough week for the Hawkeyes) and now need to take two of five tonight to capture the event for the second-straight year after that hellacious 0-10 start to the series.
Michigan State winning in Durham is a tall order, but not impossible for a coach like Izzo, so our best bet is Purdue rebounding to drop Virginia Tech in Blacksburg and Wisconsin taking out NC State at home. Penn State gets Maryland at home, but we're talking about Penn State basketball and Indiana is off to a 6-0 start, but I'm not sure they have what it takes to beat (a mediocre) Boston College on the road.
Cam Newton will win the Heisman and he probably deserves it. Trust me, I hate, hate, hate the fact that a guy that may have accepted six figures to play college football will capture it's most coveted award, but based on what we know right now, he deserves it.  Note the key word "know" in the previous sentence.  There have been a mountain of allegations, but ultimately we don't know anything more than we did at this time last month.  If the NCAA later finds that Newton violated rules, he'll be forced to return the award (as Reggie Bush would have before he voluntarily gave it up), but it would be a real tragedy if voters passed on Newton and the allegations later turned out to be unfounded. Granted, I think the smoke leads to some fire, but it's just not there yet.
Meanwhile, Auburn has shielded Newton from the media since the scandal broke, but he will have to speak at this weekend's SEC Championship game or the Tigers could get the fine-hammer from Commissioner Mike Slive. No worries, the ever-noble Gene Chizik declined to comment when asked whether Newton would be available to the media.
The story of Block-O, now with a happier ending. Pryor's tweet following the announcement of the all-league teams Monday night might have drawn all of the attention, but what really stood out to me was Mike Adams being tabbed by both the coaches and media as a first team offensive tackle. Here's a guy (boom, MADDEN'D) that came to Columbus as perhaps the most-hyped line recruit since the great Orlando Pace, yet he entered this season in a battle for his position with Andy Miller (a three star tight end coming out of high school) after struggling with some maturity issues in his first two years on campus.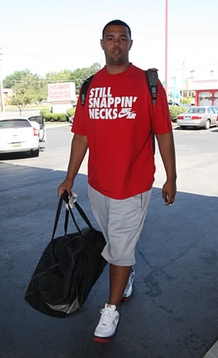 After having a quietly excellent year on the field, he's now reaping some of the postseason accolades and will enter his senior season as one of the top tackles in the nation, joining fellow Brew Crew members JB Shugarts and Mike Brewster on a line that resembles what we imagined when the three of them were inked in 2008. Shugarts can probably stand to work on his, ahem, eagerness to get off the line, but the three of them will form the nucleus of what should be the Big Ten's best line next season. Kudos, Big Mike.
(Speaking of Twitter, does anyone have a good idea as to why the Athletic Director at Ohio State is tweeting from a protected account? Shouldn't Gene Smith be an advocate for the university through this medium instead of hiding behind a locked account? I guess I could understand somewhat if it was a private personal account, but when the handle is @OSU_AD, there's really no reason for it not to be public.)
The Big Easy is a partier's dream. With things looking more and more certain that the Buckeyes will be headed to New Orleans to play in the Sugar Bowl, there are some things you, as a good fan, should probably start to research.  First, naturally, would be flights and hotel rooms, but there's no need to stop there.  You must also plan how and where to drink.  After all, you'll be hanging in one of the few cities in the United States where there's no concept of open container violations.  To assist you is this handy-dandy flowchart: Where to Drink in New Orleans.  Your liver can thank me later.
Playoffs?! Don't talk about playoffs! You kidding me? The OHSAA will host football championships this weekend and while most eyes will be on the D1 final pitting Braxton Miller and Huber Heights Wayne against Kyle Kalis and Lakewood St. Edward, the other four five finals are sure to entertain as they always do. Lucky for us, The Buckeye Battle Cry has the action covered with a focus on Buckeye recruits or targets.