Hello everyone, and welcome to your morning Skull Session. For me, Monday was fairly uneventful as far as Mondays go, and then I remembered that we play Penn State on Saturday! Yeah! HATE WEEK! I look forward to this game all year, and after 51 agonizing weeks of waiting it is finally here. In the next four days I will try and direct all of my being toward beating That Team Over East, and I'm sure every man, woman and child in State College, PA will as well. The long and storied rivalry between the Penn State Nittany Lions and the Ohio State Buckeyes echoes throughout the annals of college football history, and it is no exaggeration to say that this is probably the singular most important game in the history of organized sport.
Some interesting facts about the OSU/PSU rivalry:
In the past 10 meetings, OSU is 7-3 against PSU. This is probably a clerical error and does not reflect the true importance of the rivalry.
Nobel Prize winner Roy Glauber once posited that should PSU ever win back to back games against Ohio State, the combined smugness of the Nittany Lion fanbase would be enough to power El Paso for three months.
A "Nittany Lion" is actually just a mountain lion with a fancy name, which is kind of like calling a man a head coach when he's really just an adorable figurehead.
In 2008, after winning their first game in Columbus since joining the Big Ten, Penn State fans celebrated by producing several hoodies and shirts commemorating that win. Mysteriously, the next year no shirts were made, and in 2010 most PSU fans don't seem to be buying blank tees from Wal-Mart for silk screening. How very odd.
Anyway, this weekend should be fun for one of the teams involved. Unless it's raining, in which case Ohio State will still have fun, but will be wet.
Depth Chart! Well, as per usual, it takes a bit of digging to get to the bottom of what's really going on with the depth chart (pun 100% intended). The good news is that Ross Homan and Dorian Bell being listed as starters is actually not a straight up fabrication and they will return from their respective injuries this week. The other news, although not bad news, is actually something I forgot to mention last week; it appears that Boom Herron and Brandon Saine are no longer listed as "OR" and by that I mean that Boom appears to have locked up the RB role for realsies in the eyes of the coaches. Couldn't be happier for the dude, he has played really well as of late and earned the right to be called the #1 RB.
Everything else remains the same, including the lineup in the secondary. I have some concerns about the safeties, but at this point we are pretty much out of options.
Speaking Of The Secondary... Tyler Moeller recently talked about his chances of getting a 6th year of eligibility from the NCAA, and he's feeling optimistic. So are most OSU fans, so there's nothing particularly new in this article (and let's be honest, if the NCAA doesn't grant him a 6th year then they are literally being run by some kind of Dickensian supervillian), but this part did pop out at me:
[Purdue linebacker Jason] Werner applied [for a 6th year] last December and was given the word in February. He said the paperwork included a statement of purpose he had to write about why he deserved another year.
"Dear NCAA,
Some jackass in Florida sucker punched me in the head. I almost died.
Love, Tyler"
Usually When College Kids Yell For Jugs This Isn't What They Mean The Lantern has a cool profile on freshman walk-on longsnapper Nick Piening, who was apparently noticed by students for showing some remarkable hustle in retrieving the kick off tee. Oh, and sure, some schools get a dog to do that, but here in Ohio we've outsourced enough jobs, okay? Also Nick got his nickname of "Jugs" from the Senator himself, who said that he was automatic as a Jugs snapping machine (which is apparently something that exists?). Anyway, big ups to Jugs, and we'll definitely have to be on the lookout for him from now on.
My Dog Does This Sometimes, Too Recently someone in the comments brought this to my attention (step forward to claim your prize), and it is pretty incredible, so please enjoy this video of Les Miles eating some grass set to the song "White Rabbit" by Jefferson Airplane:
I have yet to hear any reason from anyone as to why Miles would do this, except maybe as an effort to worm his way into my heart by doing increasingly crazy Mike Leachian stunts.  Know this, Mad Hatter: you have a long, long way to go before your buffoonery becomes endearing. But that doesn't mean you shouldn't try.
Matt McGloin, Per Google Image Search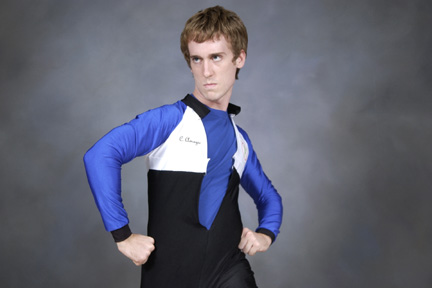 Looking good, young man. Looking. Good.