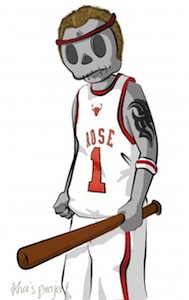 Good Monday, sirs, Pam ladies (I see you Angel). I hope your bye weekend was as enjoyable as mine. With most of the Ohio State'ish action this past weekend reserved for either the shooty hoop variety or taking place amongst alum, we lead with a certain Villain:
 Villain goes Super Villain With Sixers star Andre Iguodala sidelined with an injury, the 2009/2010 Naismith Award winner Mr. Evan Turner decided to take the occasion to show that he's beginning to get this whole pro basketball thing. The Villain recorded his first career double-double of the 14 point, 10 rebound variety. While the 5 turnovers is definitely something ideally you'd love to see dissipate, those cynics declaring the number 2 pick in the 2010 NBA Draft to already be a "bust" after a rocky virgin Summer League experience and mediocre pre-season may have jumped the gun just a tad bit.
 Strong safety issues? Anyone watching the late afternoon matinee Colts/Eagles game undoubtedly caught Kurt Coleman's brutal collision with Colts wide receiver Austin Collie. For those that didn't, view at your own discretion. Multiple tiered controversy broke out almost immediately amongst those viewing. Intent? From my vantage, there couldn't have been anything less malicious from Coleman's vantage point. The safety was trying to put himself in position to make the play and at the high rate of speed these freakish athletes sometimes operate at, the unfortunate collision resulted after Collie first was hit by another member of the Eagles.
The esteemed Ken Gordon immediately pointed out this was yet another example of a high speed helmet-to-helmet type hit involving Coleman in the last several years. The Tyson Gentry tragedy was a play that took Coleman sometime to get over (and understandably so) where as this particular in-game sequence against Illinois last season certainly seemed far more by design:
That being said, anyone's who's had the pleasure of knowing/covering Coleman would attest that you won't meet a better guy. The Illinois play was certainly inexcusable, but to think there was intent in the Colts game would be beyond stretching reality. Even further, the "defenseless receiver" penalty was absolute bunk. Just because a guy gets hurt in a freak sequence certainly doesn't mean he wasn't trying/able to shield himself (Colley attempted to). If ultimately the league goes as far as to suspend Coleman, they're completely out of their minds.
 Fwa? The University of Michigan marching band evidently had a halftime show that appeared to be written/directed by the fine boys over at 4chan this past Saturday. The results were as such:
A non-sequitur Brutus Buckeye violence historical re-enactment? Most unchill. I suppose all's fair in love and ridiculous halftime entertainment. The plot was a bit difficult to follow i have to say. My recommendation going forward would be have Greg Robinson coordinate things, you know, so at least the plenty of holes would be predictable.
 Gallimaufry? Gallimaufry: