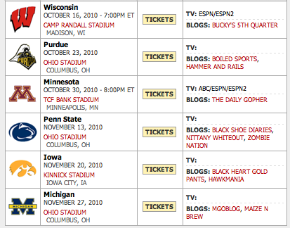 With Ohio State's victory at home against Indiana and Alabama's loss to the Gamecocks, the Bucks sit at #1 in both the AP and Coaches poll. Their 6-0 record is impressive thus far, but they are only halfway there, as six more games lie ahead and all likely need to be wins if OSU wants to reach Glendale to play in the BCS National Championship Game.
While it's easy to say that Jim Tressel's team should take care of business the rest of the way, it will not be easy. The Buckeyes are sure to be the favorites, both in their games at home and on the road, but in the Big Ten nothing is guaranteed and the added pressure of being the nation's top ranked team adds to the challenge.
The obvious tough games are at Wisconsin next week and the final two games at Iowa and home against Michigan, but with such high stakes at hand, the team cannot afford to sleep on any opponent. Let's take a look at the remaining games on the 2010 schedule and what the Buckeyes need to do in order to earn a coveted ticket to The University of Phoenix Stadium at season's end.
Wisconsin 
The Badgers were downed by the Spartans two weeks ago, but bounced back and took care of Minnesota 41-23 this past weekend. It's becoming clear the way to beat Wisconsin is to stop their two-headed monster of a running game that includes returning Big Ten Offensive Player of the Year, John Clay, and emerging freshman, James White. In six games, Clay has amassed 692 yards and 9 TDs (6 ypc), while White has 485 yards and 8 TDs, while averaging 7.7 yards per carry. With the Buckeye defense allowing just 79.8 yards per game on the ground, expect Wisco to be forced to beat OSU through the air, a task that wont be easy with the unproven play of QB Scott Tolzien.
As for the Buckeye attack, expect Tress to continue to use his trust of Pryor throwing the ball to the team's advantage. A well-balanced attack is the way to go against a Badger defense that is allowing only 18.1 points per game and 301 yards of offense per contest. The Bucks need to keep Wisco on their toes and the use of Pryor's arm and legs are essential in attacking Bucky next weekend.
Purdue
The Boilermakers are depleted by injury as their best three offensive players (Ralph Bolden, Keith Smith, Robert Marve) are all out for the season with injuries. The defense is still solid, but with an inept offense, it's tough to be productive when you're on the field so often. Purdue is averaging just 21.8 points per contest this season, a number you shouldn't expect to see this weakened offense reach against the Bucks in two weeks.
The Buckeyes will attack the Purdue defense through the air, as they have allowed over 200 yards per game to opposing quarterbacks. They have also allowed about 150 per on the ground, so expect Boom, Zoom, and co. to get theirs once a decent lead has been built up. Overall, this should be an easy one, especially with the revenge factor.
Minnesota
The Gophers have dropped five straight and Tim Brewster is clearly getting frustrated. This team should be better than it has been as their offense is actually pretty good (407.4 yards per game), but it seems the coach has just lost his team at this point. Looking at the numbers, the Gophers have allowed over 30 points and 400 yards on defense, stats that will certainly lose you ball games. 
The only thing going for Minny is that the game is at home and at night. The crowd will be amped up and this is ultimately the team's national championship. Before the season many thought this was a trap game. Now, the Gophers will just be lucky to cover the spread. Don't sweat this one out too much, but the team cannot lose focus against anyone.
Penn State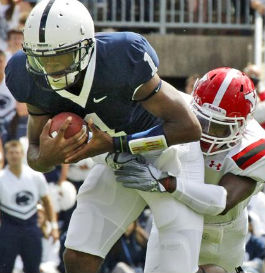 The Nittany Lions were who I thought they were and they showed it this week, getting thumped by Illinois in Happy Valley 33-13. Joe Pa's team just isn't ready to compete for the conference crown yet, particularly on offense, where freshman quarterback Robert Bolden is struggling to find consistency. Penn State is scoring just 19.2 points per game and Bolden has thrown only 4 TDs against 7 INTs. You absolutely cannot expect to win games like that, especially when your supposed dark horse Heisman candidate, Evan Royster, doesn't seem capable of carrying the team on his back (just 64.7 ypg).
On defense PSU looks good, allowing under 300 yards and just 15 points per game. The bad news for Penn State fans is that those numbers are boosted by outings against YSU, Kent State and Temple, and I think OSU is just a little bit more dynamic than those squads when they have the ball. It will be interesting to see how "Linebacker U" performs against solid offensive units in Minnesota, Michigan, and Northwestern the next three games before they take on the Bucks.
Penn State seems to always play the Buckeyes tough, but with the game being in Columbus and a bye week prior to this game for Ohio State, expect the Buckeyes to take it by at least two scores. And that's being generous.
Iowa
I think Iowa scares me more than any other game on the remaining schedule. I know the Wisconsin game is at night and the crowd will be tough to play against, but my gut tells me Iowa is going to be a little bit more difficult to take down. THe Hawkeyes want revenge for last season's pseudo-Big Ten Championship game and their defense is stout as always, allowing 12 points per game to opponents. This game being played in November can allow for some extra motivation, as it may once again decide the conference champion.
While we know the defense will come to play, the offense is something of a crap shoot. Ricky Stanzi has thrown for 1,226 yards and 10 scores against 2 interceptions in five games, but looked shaky in their toughest outing, at Arizona. The running game is just okay this year as Adam Robinson is the only one left in a group that was supposed to be dominant with Brandon Wegher (left team) and Jewel Hampton (out for season). The offensive line is still solid, but definitely more penetrable than last year's elite unit (see the last series of the Arizona game). 
Overall the Bucks are going to have the bring their "A-game" to Iowa City on November 20. The offense is pretty solid and the defense is outstanding. I think the Buckeye defense is going to be just fine against the Hawkeyes, but you know Kirk Ferentz is going to bring the heat against TP and the offense. A well-balanced attack will be key to success here and you have to pray and hope that Mike Adams and JB Shugarts can somehow contain Adrian Clayborn. 
Michigan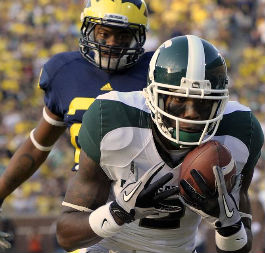 Ah, our good friends up north. How does it feel to be brought back to reality? It seems it is indeed possible to slow down Denard Robinson, even if he can't be completely stopped, but the dude is Michigan's entire offense so if he is contained, a victory is sure to be in line. The UM defense isn't helping out at all either, allowing over 430 yards per game and over 300 of those coming through the air. Michigan now stands at 5-1, but with games against Iowa, Penn State, Illinois, Pudue, Wisconsin, and OSU, I can easily see Rich Rod finishing 6-6 or 7-5, barely squeaking into a bowl for his first time in Ann Arbor.
OSU cannot come into the game like last year and not hit the gas pedal against this team. Their defense is too bad not to exploit through the air early and often, and this year Terrelle Pryor can actually sling it. Plus, I will give their offense props in the sense that Denard is capable of taking one to the house on any snap, so you have to build up a sizable lead and just keep scoring like Woody would have done. I think Denard breaks one big run and maybe Michigan gets another score and a field goal, but JT turns evil once again and perhaps puts the final nail in Rodriguez's coffin.