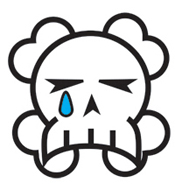 And I wish that it would rain… Life barrels on like a runaway train. Sun still rises, et al. Welcome to the first day of the rest of what may feel like a wildly out of your control Big Ten title hunt. Like it or not, the championship goes through Iowa City (the IC as all the beautiful, tanned people who live there refer to it) as the Hawkeyes play host to Wisconsin and Michigan State in consecutive weeks. Logic would lead me to believe Iowa splits the pair, but who wins what I haven't the foggiest. I'd gone on record in our internal list serve as stating Ohio State would fall to Wisconsin (not to say the soul punch first quarter hasn't left me dead inside like Sayid), but I'm also picking at barely a 45% clip on the season college football wide, so let's call a spade a spade and enjoy the chaos.
And I'm sorry, but it just ain't working out. Looking for a job? The University of Minnesota has one available, and it's evidently pretty freaking easy to score an interview for. I give you Minnesota athletic director Joel Maturi:
"To be honest, I'd never heard of Tim Brewster."
See? You too can take a budding Big Ten fringe bowl team and run them into oblivion.
Maybe so, maybe no As for who's on deck at Minnesota? GopherIllustrated.com's ($$$) super exclusive hotboard name drops the following go getters as potential replacements for WhiteFlagOfSurrender4Brew:
-Mike Leach (former Texas Tech Head Coach)

-Mark Mangino (former Kansas Head Coach)

-Mike Bellotti (former Oregon Head Coach)

-Jim Harbaugh (Stanford Head Coach)

-Mike Stoops (Arizona Head Coach)

-Randy Edsall (Connecticut Head Coach)

-Chris Petersen (Boise State Head Coach)

-Gary Patterson (TCU Head Coach)

-Troy Calhoun (Air Force Head Coach)

-Kevin Sumlin (Houston Head Coach)

-Larry Fedora (Southern Mississippi Head Coach)

-Al Golden (Temple Head Coach)

-Leslie Frazier (Minnesota Vikings Defensive Coordinator)

-Jeff Jagodzinski (UFL Omaha Nighthawks Head Coach)

-Brady Hoke (San Diego State Head Coach)

-Darrell Bevell (Minnesota Vikings Offensive Coordinator)

-Jim McElwain (Alabama Offensive Coordinator)

-Gus Malzahn (Auburn Offensive Coordinator)

-Kevin Wilson (Oklahoma Offensive Coordinator)

-Mike Markuson (Ole Miss Co-Offensive Coordinator)

-Shawn Watson (Nebraska Offensive Coordinator)

-Brent Venables (Oklahoma Defensive Coordinator)

-Mark Stoops (Florida State Defensive Coordinator)

-Paul Chryst (Wisconsin Offensive Coordinator)
Strike through the name Minnesota and you have the extremely unabridged version of the coaching candidates dossier for every BCS conference school with a vacancy for the next 2 years. Harbaugh and Bellotti strike me as all but impossible, but you may as well throw as many Gopher duckets as the board of trustees will authorize towards the aforementioned and force him to say no. I know home dude's burned his fair share of bridges at UM, enjoys a challenge (San Diego), and sleeping conference giants (Stanford), but it's still quite the stretch to think Stanford to Minnesota isn't anything more than a lateral move.
A name not listed is besieged Georgia HMFIC Mark Richt, whom some have insinuated could pull a Tubby and go to a place like Minneapolis where he'd be more greatly appreciated. While pretty fantastical in and of itself, Richt would likely have a football equivalent ceiling, though that's not to say he wouldn't be embraced and cherished in a way he hasn't been in Athens in two plus seasons. That being said, I'd still file this one in the impossible dream filing cabinet for the indefinite future.
One prominent name (whom with the concept of MarQueis Gray running his offense shakes me to the core) is none other than Pirate at-large Mike Leach. If 'Sota winds up facilitating landing his pirate ship in one of the Great Lakes, the Gophers instantly turn into one of the toughest mid-season outs on every conference power's schedules. I'm willing to wager landing Leach would take a statute clause being in his contract this time around, however.
You know the ills of the world, they can get you down Basketball! It's still a thing! If you hadn't heard or got Inception level drunk (drunk within a drunk within a drunk) and reverse planted the thought, Purdue's all-conference, all-grit Robbie Hummel will miss his second straight season after re-tearing the very same ACL that sacrificed his 2009/2010 season in a practice Saturday morning. Personally, few players in the conference have made my blood boil in recent years like Hummel, but as a fellow human being, you can't help but empathize with the young man for after all the work he'd done in the last year recovering will have to go through it all again. While Purdue's chances at a Final Four/title run are probably shot, the Boilermakers should still be able to make noise in conference and still have a shot to make it a rather solid season in spite of the frustrating set back.