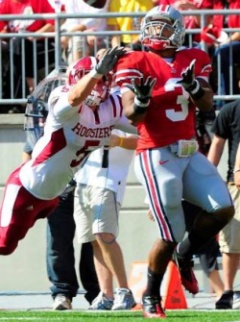 An evolved gameplan
Though both Tressel and Brandon Saine indicated it wasn't totally by design, Saine recorded zero carries yesterday while hauling in four catches for 84 yards including a 60 yard TD off a well executed wheel route on 1st and 10 putting the Buckeyes in front 21-0 early in the 2nd quarter.
Tress and Saine can play coy but I think it's safe to assume that while maybe the intent wasn't to keep Saine from toting the rock at all, there was definitely an emphasis placed on getting him the ball in space, via the pass, to take advantage of Saine's straight line speed.
Saine lined up in multiple positions in an effort to exploit matchups, coming from the backfield on his 60 yard TD and from the slot on OSU's first play from scrimmage, hauling in a 13 yard quick screen as the Hoosier DB's gave 10 yard cushions for much of the half. The quick hitter out of the backfield would be attempted a few more times with varying degrees of success but there's little question through the air is the best way to get Saine touches and it was nice to see the staff work to get it accomplished.
Considering the spotty success of the run game coupled with the freak at the QB spot supposedly nursing a quad, it was also pleasing to see the Buckeye gameplan rely on Pryor's continued evolution as a passer in the pocket instead of sending running backs into giant piles of bodies at the line of scrimmage either due to a lack of push or the backs not finding the hole.
Looking at the numbers strictly when Pryor was on the field, the Buckeyes ran 46 total plays, an amazing 33 of which were intended pass plays. Three sacks kept the actual attempted passes total at 30 and pushed the rushing attempts to 16 but even though OSU supposedly strives for offensive balance, I enjoyed Tressel leaning on the overwhelming strength of his offensive unit exploiting a secondary giving enough cushion to make Sealy proud. The results, albeit against a pathetic defense, included a 38-0 lead and a Heisman showcase for Pryor. Good stuff from the staff. The pass heavy effort has me very curious as to how the plan might adapt on the road against a much better team in Madison this Saturday night.
So much for Indiana's vaunted aerial attack
I wasn't at all worried about Indiana putting up a ton of points Saturday, I think I guessed they would score 13, but I did expect Chappell would throw for over 200 yards, just because of the sheer number of attempts I expected combined with my respect for Tandon Doss and thinking maybe OSU would play off the receivers a bit more. Instead, the Buckeyes played much more press coverage than I figured and they completely locked down Doss.
Somewhat shockingly, Doss was held to one catch for 12 yards and two rushes for -1 yard. That is some impressive defense. Further, the Bullets held Chappell to 16/26 through the air (62%) for 106 yards yards, good for a dismal 6.62 yards per completion on the strength of a dominating first half in which they forced Chappell into 10/18 for 53 yards with two interceptions. Despite already relying on a lateral passing attack, Chappell struggled to find a rhythm thanks to consistent pressure from Nathan Willams and Cameron Heyward. For my money, Williams continues to be the defensive MVP thus far and not only did he disrupt the passing attack, he was a beast in run support recording a 2nd best five stops including 1.5 for loss. What continues to impress me about Williams is just how deadly he is on backside pursuit. He's making a living busting his ass down the line on plays away from his side to the point where he might be the best I've seen at this particular skill during Tressel's tenure.
As usual, he took the field playing like his hair's on fire having a hand in two plays on Indiana's first possession. He held Trea Burgess to a two yard gain on 1st down on one of his patented backside pursuit tackles before stopping Nick Turner on a three yard loss three plays later putting Indiana in a 2nd and 13 they couldn't get out of.
Shortly thereafter, on Indiana's fourth offensive possession following OSU's blocked field goal attempt, Williams was at it again lining up at right defensive end and using a nifty spin move after charging upfield to recover and stop Turner for no gain on 1st down. Even more impressive, from the Leo spot on the next snap, Williams completely snuffed out a Doss end around by rushing upfield, taking on the right tackle and a blocking back causing Doss to cut inside before assisting on the tackle with John Simon. The kid is having a first team all conference season, without question. I feel like I'm writing about him after every game as he continues to dominate thanks to extreme versatility and heady play.
In the secondary, Chimdi Chekwa turned in a solid performance with seven tackles and a pass break up while Jermale Hines added five stops. Orhian Johnson even got into the act with three tackles and a pass break up while Devon Torrence was active with a gift INT, a TFL and a pass break up. Nice work from the secondary as they imposed their will on Indiana's supposedly top flight group of receivers. The D-line must also get some credit here as they punished a banged up Hoosier front limiting the seconds needed to cover receivers.
Pryor's career day
I freely admit it. I didn't see Terrelle's career day coming. It wasn't a question of what he's capable of against a team like Indiana, but whether or not Tressel would let TP drop back 30 times despite the Vest's insistence all week that Pryor was healthy and wouldn't be limited by injury or the game plan. I just didn't buy it - not with Pryor's value to the team, Tressel's media savvy and a date with Wisconsin a week away. I thought this was the week Tressel would make sure TP was fully healed and try to give the rushing attack a boost of confidence in prep for the physical matchup expected in Madison but with the Badgers sporting the nation's 54th best pass defense statistically (22nd rushing defense), Tressel may have plans to once again air it out.
The Vest apparently asked Pryor to eliminate his scrambles while logically refusing to call TP's number on the ground even once in 46 snaps. The result was a clinic against an overmatched defense in which Pryor found eight different receivers in a first half that saw him complete 19/24 for 280 yards and three scores as the Bucks built a 31-0 lead. The 280 yards accounted for nearly 88% of OSU's first half production (320) and Pryor was so hot he hit 11 straight passes in the 2nd quarter. Minus 19 yards in sacks, Pryor's 315 yards of total offense, in 2.5 quarters, vaulted him into 4th place on OSU's all time total offense list.
Though he misfired on a couple including a one hopper to Posey on 3rd and 4 late in the half and a too late, too low quick out route intended for Zoom to start OSU's second possession, Pryor stood in the pocket all day running through his progressions, not once darting from it and he may have only rolled out by design once, to his left, in which he threw across his body to connect with Dane Sanzenbacher on a 14 yard gain to Indiana's 24, setting up a 36 yard FG and a 31-0 lead. Even taking into account the opponent, I continue to be amazed at how far Pryor has come with regard to his grasp of the offense and an improved ability to scan the field and accurately deliver a check down. If he's given proper time to throw, I don't see how this team can lose a conference game.
On the rushing attack...
Ross from AtO published an awesome piece last week discussing the issues with the running game at Illinois, however I think some fans took it a bit too far and totally shifted blame to the running backs not seeing holes. It's probably safe to say there are multiple factors negatively impacting the running game with an inconsistency by the offensive line to open holes and a lack of vision by the backs both causing problems. It's kind of like the chicken/egg dilemma. Personally, I wonder if the inconsistency up front has compromised the RB's faith in them contributing to missed holes and/or what appears to be suspect vision. This offense is currently lacking both an elite line and an elite running back so they'll have to find a way to make do.
With Tressel keeping Indiana's horrid defense off balance throwing on 1st down 17 times in 23 opportunities with Pryor still in the game, the rushing attack still struggled recording 71 yards on 13 carries, a solid 5.46 per carry, however that number shrinks to 32 yards on 12 carries, or 2.67 per, when you subtract Boom's 39 yard TD run. Trust me, I know that run counts in the grand scheme of things but shouldn't 12 for 32 against Indiana make you a little nervous? And are you prepared to say Boom's lack of vision on 11 of those carries (Hall had 1 for 3 yards) was the chief difference between a terrible or successful rushing effort? I don't pretend to be an o-line expert and I only rewatched the game once so I'm curious to see if anyone takes a deeper dive into the cause/effect surrounding this questionable piece of the offense against Indiana.
Spielman's flowin' prose
As usual, Chris Spielman saved ESPN's broadcast making up for Bob Griese's craptacular commentary ("Terrelle Pryor couldn't have made that throw three years ago") with some money soundbytes on a myriad of topics.
Following ESPN stroking their 3D coverage including a look inside the booth to see the announcers sporting 3D glasses, Spielman offered up an emphatic, "It's like robots are taking over the world, man!", causing my side to split just a tad.
Just before the half, ESPN ran a spot about bethedean.com, a site in which you can build your own college, prompting Dave Pasch to surmise Spielman would create a campus with zero academic buildings instead featuring nothing but football facilities. Unfazed, Spielman wryly responded, "I think that's a little unfair, David. I really do...I would have the best weight room in the country, I know that. I'd have a stadium that sat 500,000 and fill it every week." Comedy gold.
In the 2nd half, after explaining the difference between a three technique versus a five, Pasch asked, did you learn this in Jim Tressel's coaching class? Spielman's loving response? "I learned this out of the crib, my friend."
Finally, after Storm Klein was questionably penalized for "targeting the head", Spielman chimed in with the best solution to eliminate such calls, "let's put flags on everybody and call it a day." Good stuff. And to be clear, Spielman is far from a one trick pony in the booth. His old school one liners are classic but the guy is steadily becoming one of the best in the business.