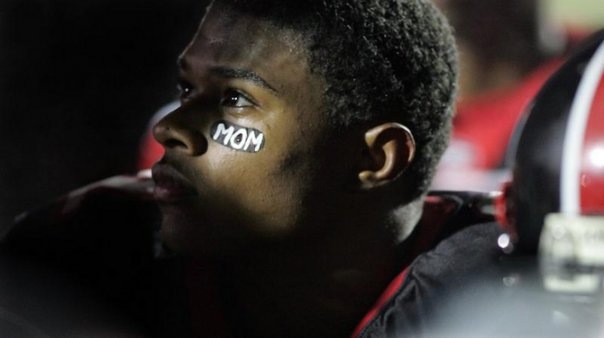 Let's say you're Christian Bryant. You're a true freshman, right out of high school, and through your heady and ballhawking play in the preseason practices you've been rewarded with a second string spot behind Tyler Moeller at the Star position. You know that Star is a somewhat unique position in the 4-3 defense; different schools run different variations of the idea, but at Ohio State it requires a versatile defensive back who can cover someone just as well as he can stop the run. At 5 foot 9 and 175 pounds you may be somewhat undersized for your position, but hell, Antoine Winfield is that size and he certainly hasn't suffered for it.
Then against Illinois, Tyler Moeller is lost for the season and you are suddenly thrust into the starting role, a virtual impossibility at Ohio State for a true freshman on defense. It's possible you react to the news like you've just been attacked by Sharktopus, but it's more likely that you handle it in stride by saying:
Orhian Johnson was telling me throughout, 'You're a grown man now,' so I had to step up. I had to leave a little kid game. I had to grow to be a man.
And during the game you perform very well, recording 5 solo tackles and looking like you've been out there all season. Which is terrific. And hey, next week you get a chance to ease in to Big Ten play a little more against an Indiana team that is more than a three touchdown dog. "Sure it's the Big Ten," you think, "but at least it isn't Denard or Cousins or somebody."
Well, Hypothetical Christian Bryant, I'm afraid you've just screwed up. Because while it is pretty unlikely the Hoosiers will pull off the upset, you, Christian Bryant (5 foot 9, 175 pounds, true freshman) are very probably going to be picked on all game long by the first of many teams who have been licking their chops at the idea of an Ohio State defensive weakness they could exploit. And unfortunately for you, the Indiana Hoosiers are probably the most dangerous team offensively in the Big Ten that no one is talking about.
A few stats, with a caveat:
Indiana averages 39.8 points per game, 3rd in the Big Ten
Indiana is 4th in the country with 348.3 passing yards per game
Indiana averages 42.3 passing attempts per game, but still completes 69.8 percent of their passes
The only teams that have numbers comparable to this are Missouri, Oklahoma State, and Arizona
The caveat is, not surprisingly, that these numbers have come against some terrible defenses. Because of this it might be easy to dismiss Indiana's success through the air somewhat, but here are a few other bits of information that show why Indiana poses a unique challenge to Ohio State specifically:
In five games, Ohio State has allowed 12 passing plays of 20 yards or more
4 of these plays came against Eastern Michigan
Indiana has 17 passing plays of 20 yards or more through 4 games, an average of 4.25 of these plays per game
Ben Chappell has 162 passing attempts and exactly 1 interception in 2010
There are two points that I'm trying to make with these numbers. The first is that defensive lapses in the secondary can happen at any time against any team. Ohio State has given up more than its fair share of long pass plays this year, and Indiana has three WRs who are capable of turning a missed assignment into a huge gain at any given time. Again, Eastern Michigan was able to complete 4 passing plays of 20 yards or more against OSU. Should injuries or even simple rotation cause several untested freshmen to be in the secondary at the same time, they must keep focused or Indiana will make them pay.
The second point is that Indiana has an absolutely legitimate passing attack, regardless of the type of competition they've played. Ben Chappell is completing 71.6% of his passes with a 12:1 TD:INT ratio. That is impressive against anybody, and if he continues to make good decisions with the football, the OSU defense isn't going to be able to rely solely on timely turnovers to get Chappell off the field. Indiana also has the use of three very dangerous WRs in 6 foot 5 Demarlo Belcher (93.75 receiving yards per game), 6 foot 3 Terrance Turner (121 receiving yards against Akron), and 6 foot 3 Tandon Doss (15 receptions against Michigan for 221 yards).
I think an upset is possible here (yes, really), but ultimately I don't think Indiana will pull off the win on Saturday. It's a home game, their defense is terrible, and they are probably going to be way too one dimensional to total the kind of yards they usually do. But Indiana will be a unique test to see just how prepared the Buckeye secondary is to withstand a team with little interest in offensive balance; a team looking to threaten them short, medium, and deep on virtually every play. Hopefully Torrence and Chekwa can remain healthy, and the newest starter on the team can keep his cool as the Hoosiers literally throw everything they've got at him.