Ohio State bashing Purdue's brains in was really the only true rout in Big Ten play yesterday. Indiana-Illinois looks the part from the box score, but mostly the two played a sloppy game that became lopsided largely as a result of the Hoosiers' penchant for turnovers. Meanwhile, MSU and NW squared off in another comeback classic, and PSU-Minnesota was far more of a back-and-forth affair than it rightfully should have been. At the end of the day, it was Iowa-Wisconsin that changed the dynamic in the Big Ten title race yet again.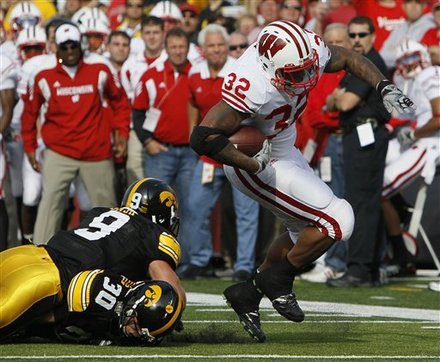 Michigan State 35, Nortwhestern 27
Things looked dicey for the Spartans when they went down 17-0 in the first half in Evanston, but a 35-10 run to close the game kept Mark Dantonio's squad unbeaten. Kirk Cousins was instrumental in passing Sparty out of their deficit, completing 29 of 43 passes for 330 yards and three scores, while Edwin Baker paced the ground attack with 10 carries for 73 yards and the game-sealing score with a little over a minute left to play. Northwestern's desperate last drive ended prematurely when Dan Persa - to that point the hero of the game with three rushing touchdowns - threw a pick on the second play. A rally like this only confirms the seeming anti-Sparty nature of this team, which has eschewed its program's proud tradition of mid-season collapses in favor of actually closing out games like a good team.... so far. The Spartans improve to 8-0, but face their biggest test of the season next week when they travel to Iowa City. Pat Fitzgerald's Wildcats, 0-2 in conference play, get a breather next week against hapless Indiana.
Illinois 43, Indiana 13
Illinois picked off Hoosier QB Ben Chappell four times, two of which were ran back for touchdowns in a 43-13 drubbing in Champaign. Indiana actually outgained the Illini by over 100 yards, but those four interceptions, along with a fumble and a blocked punt, turned what could have been a tighter game than most expected into another ugly blowout. Nathan Scheelhaase completed 13 of his 21 passes for two scores and 125 yards and added another 45 rushing on 6 carries, while Mikel LeShoure added 77 of his own yards on 16 carries. The Illini get Purdue at home next week.
Penn State 33, Minnesota 21
This might look like something approaching domination, but it wasn't. The Nittany Lions gave up over 400 yards of offense to the newly-coachless Gophers, including 299 yards passing and three touchdowns by Adam Weber, but a goal-line pick by PSU late in the second quarter kept this game from being competitive throughout. Robert Bolden was solid in the first half, completing 11 of 13 passes for 130 yards against the porous Minny secondary, but went down with an injury and was replaced by Matt McGloin (who, hilariously, is still ahead of Kevin Newsome on the depth chart). McGloin wasn't terrible, going 6 of 13 for 76 yards and a couple touchdown passes in the 2nd and 3rd quarters to keep the game out of reach. For Minnesota, DeLeon Eskridge racked up 111 yards on 26 carries with a long of just 18. In the end, the Gophers outgained PSU by 100 yards (and thus feel Indiana's pain), and still lost by double digits. Things don't get any easier for the PSU D with a visit from Michigan coming up, and the same holds true for the Gophers, who get the Buckeyes in Minneapolis next Saturday night.
Wisconsin 31, Iowa 30
Another week, another Big Ten unbeaten goes down at the hands of Bret Bielema's Badgers. The Hawkeyes certainly seemed to have things under control with timeouts remaining on their final drive, but after the offense converted a 4th and 1 with twelve seconds left on the clock and got into position to stop the clock with a spike, Kirk Ferentz mystifyingly took the last timeout. Adam Robinson caught a shovel pass on the ensuing play and was tackled in bounds. The final seconds ticked off the clock. Iowa's fans were in shock. Iowa's players were visibly livid. I'm still trying to wrap my head around this one. I suppose the Hawkeyes weren't in ideal position to win it before the timeout, needing to attempt a 50+ yarder by a walk-on kicker to go up 33-31, but the still-dire nature of the potential result doesn't excuse the awful decision by Ferentz, typically one of the smartest, most clock-savvy gameday coaches in the entire country. It isn't often you can say a coach genuinely lost the game for his players, but this could be one of those times. With the win, Wisconsin throws a curveball into the Big Ten title race and makes things all the more complicated for the Buckeyes (the Badgers' toughest remaining game? At Michigan on Nov. 20th). No more "Coach Meathead" jokes for the time being. The Badgers get a well-deserved rest before heading to West Lafayette in early November, while Iowa hosts Michigan State next Saturday afternoon.