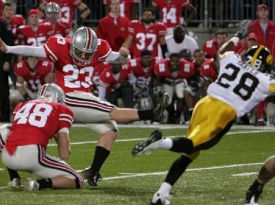 The loss to Wisconsin stings bad, and will for a while, but just like in years past, Jim Tressel's team needs to regroup and refocus their goals for the 2010 season. With the national championship a long shot for the Buckeyes (unless 2007 deja vu goes down), the mission has to be to win a sixth consecutive Big Ten championship. The loss in Madison puts the Buckeyes in a tough spot, as not only do they need to win out, but need some help, no longer controlling their own destiny.
While many things can happen in the next five weeks or so (it is college football we're talking about here), as of today the Buckeyes trail Michigan State, Wisconsin, Purdue, and Iowa in the conference title hunt, with Northwestern just a half game back as well. MSU, as the only undefeated team overall, controls their destiny atop the standings right now, but will have the Badgers, Hawkeyes, Boilermakers, Wildcats, and Bucks gunning for them and will have to avoid the added pressure that comes with that territory. The scenarios are almost endless as to what can happen the rest of the way in Big Ten season, but as things stand today here is what the Buckeyes need to happen in order to at least clinch a sixth consecutive shared conference title.
First, and foremost, Ohio State needs to win out. Beating Purdue next week, taking down Iowa, and demoralizing Michigan (again) will take care of some teams in their way in games that they can control. Playing these teams gives Ohio State the chance to control that part of the conference race and all you can do right now is worry about what you can control. If OSU can roll the Boilermakers, Minnesota, Penn State, Iowa, and Michigan, they will be 11-1 overall and 7-1 in the conference, still needing a little help, but putting themselves obviously in the best possible scenario to win the Big Ten.
As for the competition, Ohio State does not play Michigan State and Northwestern. Sparty goes to Northwestern next week and follows with a trip to Iowa the week after. Those two games will go a far way in determining the final outcome in the standings, but if you're a Buckeye fan root for MSU to lose as much as they can, being that have no control over their track to Pasadena. Northwestern already has one loss and they play a few tough games, including Iowa, in their final slate, so I think they will lose at least one more.
The Bucks need Iowa to win until the match up in Kinnick on November 20. Iowa plays Wisconsin and MSU the next two weeks and beating those teams will help Ohio State big time. After that they play Indiana, NW, the Bucks, and Minnesota, so if they can get by the next two weeks they have a really good chance of winning the conference. By Ohio State beating Iowa, they good guys will own the head-to-head match up in a tie-breaker, but we REALLY need the Fighting Kirk Ferentz's to take down Bucky and Sparty the next two weeks to play in a pseudo-Big Ten championship game in Iowa City.
Finally, the Bucks play Purdue next week and if they win that game, they should be good on that front. They already beat Illinois who has two losses in the conference so they're OK there as well, and Michigan, also with two conference losses, should go down a few more times before the Buckeyes hopefully make it seven in a row in Columbus on Thanksgiving Saturday. I think it's safe to say Indiana, Minny, and Penn State are out of this picture, so it's really up to the Bucks to win out and get some help from Iowa the next few weeks to get out to Cali again this year.
What do you think is going to happen the rest of the way? I know the negativity is high after Saturday's loss, but put things in perspective and know bouncing back and regrouping from these games is what Jim Tressel does best. Will the Bucks run the table the rest of the way? Will they at least get a share of their sixth straight Big Ten title?