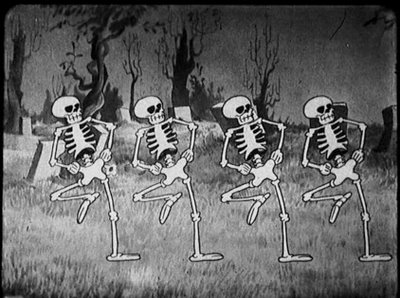 Happy Tuesday everyone, and welcome to your morning Skull Session. If those of you in Ohio just stumbled outside to get your paper and noticed your skin reacting in a strange way to the air, or perhaps some form of vapor emitting from your mouth, DON'T PANIC. You have not stumbled into a Twilight Zone-eque alternate dimension where cats drive cars and fish wear hats and smug people discover, to their horror, that Rod Serling has once again looked up the definition of the word "hubris." No, in fact what is happening is a phenomenon known as "cool weather," and it has numerous advantages that will make your life easier; it allows you to be outside without immediately wanting to go back inside, it permits you to satisfy your innate and unceasing desire to wear flannel, pumpkins are now orange and plentiful, and every day becomes a personal quest to see how much cider a human being can safely drink without permanent brain damage.
So to get you ready for your most assuredly incredible day, here are a few links for you, including some non-OSU injury updates, a scheduling update, and some info on the ramifications of the Dunn commit. But first, as always...
The Briny Deeps Of The Depth Chart Interesting depth chart this week, if only because of how little it has changed despite some injury concerns in the secondary and at TE. To be honest, after seeing how these charts have changed from week to week I think that one thing had become painfully obvious: Jim Tressel and the OSU staff hate, hate, hate divulging any real information about the extent and severity of injuries. The biggest example of this is the situation at TE; Jake Stoneburner is still listed, but now the chart reads "Jake Stoneburner OR Reid Fragel." However, if the reports that Stoney has a high ankle sprain are true, it is pretty unlikely he'd play this weekend. Another example is Travis Howard, who has been listed in the two deep for two weeks despite getting injured against Ohio and then not playing. Could Howard play? Possibly. But there's been no real information either way. Other notes:
Nate Oliver has now worked his way into the two deep, backing up Jermale Hines at Free Safety
This means that Aaron Gant's sole role is now the backup for Orhian Johnson at Strong Safety
The three deep seems to be just as important as the two deep at this point
Dunn And Company As noted in Buckshots, RB Brionte Dunn made his commitment to Ohio State, which means he joins Warren Ball as the second RB in the 2012 class. Both Ball and Dunn are two of the best recruits in their graduating class in Ohio, but there's possibly an even bigger fish next door in Pennsylvania that goes by the name of Rushel Shell, who is being recruited by pretty much every college in the universe. The problem here is that at this point it seems like even Dunn was overkill on the RB front, because by the time these guys get to campus our running back situation will be something like this:
Jordan Hall, senior
Jamaal Berry, junior
Carlos Hyde, junior
Rod Smith, sophomore
Having six RBs on scholarship is enough, in my opinion, and both Dunn and Ball are terrific players. Losing Shell to another school might hurt, but given the attrition we're going to see soon on the offensive line, I'd like to see that scholarship used there instead.
Mark's Heart And D's Knee Mark Dantonio visited Michigan State's practice last Friday and seems to be doing much better after suffering a mild heart attack after a win against Notre Dame. Hopefully the guy can get back to coaching soon, because of course we all love the guy and he is also the most Big Tenniest coach this side of Kirk Ferentz. I always get a warm and fuzzy feeling inside every time the camera catches him frowning against the backdrop of a cold and gray autumn sky. Denard Robinson of Michigan is also apparently back on track and will play against Indiana next weekend, although that's harder to take much joy in, unless of course you consider the fact that Michigan's offense has to be clicking on all cylinders because their defense is so unbelievably bad.
4:30. Time For Milking As first revealed in our forums, the time for the Indiana game on October 9 has been set for noon. This is terrible news for anyone with a hangover and terrific news for anyone lame enough to really enjoy early kickoffs, since it falls right between morning chores and afternoon barn raisings (Illinois on October 2 is also kicking off at noon). But then, the Ohio Amish are... different. You be careful out among them English.