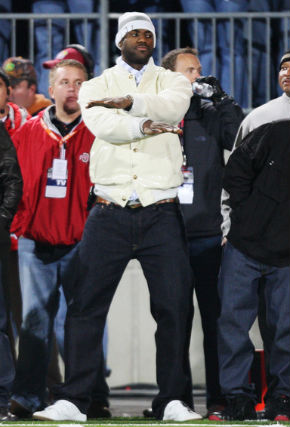 Starting things off, if you haven't already checked out the details for the best tailgate in town on Saturday, you better take a look at the official "Eat Too, Brutus" page. Details are up about the first official annual 11W Tailgate which is expected to be the next best thing of the weekend other than the match-up between the Buckeyes and the Hurricanes. We hope to see you all there and we know there will be plenty of fun to go around. 
 Speaking of the showdown on the field on Saturday was Terrelle Pryor who was available to the media yesterday morning. Adam Rittenberg has some video of TP discussing the Heisman showdown between Jacory Harris and himself this weekend. One thing of note that made me smile is that Terrelle mentioned he wanted to win for the seniors on this team and that he'd be a senior next year. While he continues to say the right things per his "Tressilization", you have to be a little giddy Pryor has returning to Columbus next year on his mind. Other notes from Pryor's talk with the media include his plea to fans not to boo or curse LeBron James at the game on Saturday as he is his "mentor". I'm not a Cavs fan so I don't know how you all are feeling, but keep in mind that LeBron on the OSU sideline could be a pretty good thing for recruiting. Please save all your jeering for after the game if possible!
 Dwayne "The Rock" Johnson may be known for his reign in the WWF (or lately his HORRIBLE movies), but in the Woody Hayes Athletic Center he is currently known for looking like a moron in this video message to Ohio State. Watch it just once, and you can laugh at the comic show the former Hurricanes' linebacker has become since starring as an Academic All-American in Coral Gables. Jim Tressel played the video for the team and I think Jake Stoneburner summed up the feelings about both the video and the guy starring in it by saying "it was kinda obnoxious". 
 While we knew contact with an agent was the reason Georgia wide out AJ Green missed the first game last week, we didn't know the full details of Green's infractions. We now know that Green will be suspended for three more games because he sold a game-used jersey to an agent for $1,000. Green had repaid the $1,000 to charity and seems to be remorseful, while Darren Rovell, taking the side of labor, has an interesting proposal: Georgia should not be allowed to sell AJ Green jerseys until he is reinstated.
 Finally, if you don't know already, Michigan lost another defensive back when Vlad "The Impaler" Emilien transferred from the program. Emilien was once thought to be an OSU lock before the staff cooled on him and he suffered a semi-serious injury before his senior season. He turned his anger towards the staff into a Michigan commitment and seems to finally realize blowing off a head of steam to join Rich Rod wasn't the smartest of decision. While it's amusing to see another bird flee the nest up north, what's even more amusing is that Michigan is trying to fill it's roster by having open walk-on tryouts. All we can do is laugh at this point.