At one point during the action last week, Terrelle Pryor completed 16 consecutive passes against the mascot attacking Bobcats. This broke the Ohio State record which, to me, wasn't as impressive as how he did it. The passes were a collection of primary, checkdowns and hot read receivers based on defensive formation. Glorious is one way to describe it. Growth is another and it got me thinking this Pryor guy is starting to find his groove.
Actually, to most of us, his maturation isn't all that surprising. We see a player who improves with almost every outing despite defenses geared to stop him in one way or another. Doubters exist right around the corner though. After the Miami victory MGoBlog summed up the Pryor this way:
"OSU outgained the 'Canes by about 60 yards, but Terrelle Pryor's 12 of 27 performance has to be worrying."
Sure, if one looks at completion percentage and absolutely nothing else like 233 passing yards, another 113 rushing, no turnovers and a win against a Top 15 team - then, yes, I guess I'm worried. But, we don't so I'm not.
And let's not forget just a few weeks ago, also in the land of replica Delaware helmets, Pryor was voted by his rivals as the most overrated player in the Big Ten. This bit of unintended comedy has been vigilantly tracked weekly by our good friend @Ramzy under the sarcasticly titled The Terrelle Pryor March to the Big Ten's Most Overrated Player® Watch. The season numbers as of this week: 156.62 passer rating, 6 TDs, 2 INTs, 880 yards, 3-0. Not shabby.
Moving away from the good natured ribbing, it's worthwhile to take a look at how Pryor has morphed into a guy we like throwing the ball. It has been only three games bit it's never bad to take a little barometric pressure. One of the things I've noticed is his mechanics are much improved. I'll never be confused with a quarterback coach but I see a player who gets in his drop a little better. His footwork as he goes through his reads is a little more natural and his throwing motion has changed. While he still pushes the ball too much, Pryor is now much more over the top than he used to be. One can actually see him over-emphasize this motion during his warm-ups as a way to ingrain it in his technique.
The improvement is also visible when he scans defenses. No longer are we seeing the confused look of a new quarterback who has little idea of what the defense is showing and even less how to adapt. This is now a player who lives in the film room, checks down to secondary and tertiary receivers as we've seen all games and even changes protection at the line of scrimmage - sometimes to the chagrin of center Michael Brewster. All of these improvements haven't been seen as consistently as they are now which makes for a much more confident player before and during the play.
Yearly Comparison

|   | Pass | % | Yds | TD | INt |
| --- | --- | --- | --- | --- | --- |
| FR | 31-48 | 65% | 353 | 5 | 2 |
| SO | 42-74 | 57% | 613 | 4 | 4 |
| JR | 51-81 | 63% | 715 | 6 | 2 |
This statistics support the changes, too. In looking at his first three games as a starter during each of his seasons, we see improvement nearly across the board. Completion percentage is up year over year as is yardage and TD/INT ratio. His 715 passing yards is second in the Big Ten. Even outliers like the high completion percentage his freshman year can be attributed to competition and limited scope. He simply wasn't asked to do then what he he's asked to do now. 
That's not to say all areas of growth are the same. One area that seems to 'diffferent' is his running ability. This may bring some hissing and gasps but he doesn't look as effortless in his running as he once did, despite Pryor saying he feels as fast as ever. Truth be told, that's some razor thin nitpicking but it seems to be true because yards per carry average is down and he doesn't seem close to breaking free on a long touchdown run.
Terrelle is so much bigger than he was just two years ago and I think this gets lost on fans sometimes. Announcers mention it quite a bit but until you look at photos, you don't realize how much bigger this freakazoid is than he used to be. One can easily see this in his legs where he's quickly closing in on Tebow range. Good for durability, strength and shaking off would be sackers, not as much for speed and quickness.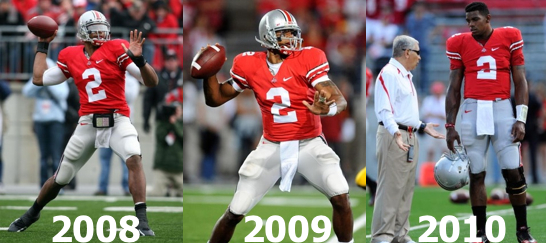 As with anything, improvement is an ongoing, never ending process. From a throwing standpoint, we know not all of his passes are money. I think we can all agree he should probably throw the ball away more as well as not force throws into coverage in hopes of making the spectacular play. But, overall, I'm liking our guy under center and wouldn't trade him for anyone else, 'overrated' or not.