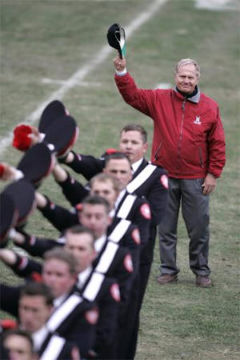 Tonight at 9pm, the Big Ten Network honors Jack Nicklaus at #18 on their list of the top 50 student athletes in Big Ten history based soley on their collegiate playing careers. That last part is pretty important, because if the network were ordering this group based on collegiate and professional careers, the Golden Bear would be a lock for the top three. Tonight's episode, like all Big Ten Icon episodes, will be narrated by the great Keith Jackson and will feature interviews with Jack, Bob Knight, Arnold Palmer and others.
I'm guessing most of you recall only his triumph at the 1986 Masters, if anything, from his non-senior circuit playing days, so I wanted to take a minute and highlight some of Nicklaus' accomplishments, both at Ohio State and during his PGA career.
Raised in Upper Arlington, just minutes away from the Horseshoe, Nicklaus, like his father, were die-hard Buckeye fans. From the time he was six years old until he was 20, he missed only one Ohio State football game, so it's no surprise really, that he was a lock to attend OSU despite being recruited by every major golfing program in the country. Having already won 27 events around the state between the ages of 10 and 17, including five-straight Ohio junior titles, the Bear's athletic skills were never in doubt -- he even held aspirations of playing football or basketball for his beloved Buckeyes. Though Woody would tell Jack's father that he was so good at golf, he'd "keep him as far away from my game as I could," Nicklaus was also recruited by Ohio State to play basketball along with the likes of Havlicek and Lucas.
Ultimately, Jack dedicated himself to golf and that move did not take long to pay off. As a sophomore, playing varsity for the first time (remember the ancient rule prohibiting freshmen from playing varsity athletics), Nicklaus entered the 1960 US Open and finished just two shots behind Arnold Palmer, setting a new amateur record at the event with a score of 282. As a junior in 1961, he won the Big Ten by 16 strokes and also captured the NCAA championship. To top it off, he captured the US Amateur championship (his second) that year, becoming the first golfer to bag both the NCAA championship and US Amateur championship in the same year (though the feat has since been accomplished by Phil Mickelson, Tiger Woods and Ryan Moore).
For his efforts, Nicklaus was named the world's top amateur golfer by Golf Digest Magazine for three-straight seasons from 1959-1961. Today, when a collegiate golfer captures the player of the year hardware, he's given the Jack Nicklaus Award.
As good as Jack was as an amateur, he was better as a pro, capturing 18 majors (six Masters, four US Opens, three British Opens and five PGA Championships) as part of 115 worldwide championships during his 25 year playing career. The 18, long thought to be one of sports' "unbreakable" records before the arrival of Tiger Woods at least, appears to be safe for the near term, thanks to Tiger's unmatched libido. Even more astounding is the number of close calls Jack had in majors, finishing in the top three 45 times. Getting by with blasts off the tee (he set a 20 year record for long drive at the 1963 PGA Championship with 341 yard effort) and a killer putting game. Though he lacked a top-notch short game for much of his career, because in his words, he "didn't need one", it's scary to think about what he could have done had he had one. When asked recently about it, he had the following to say:
"If I were to look back on my work, I think I accomplished probably about 70 to 75 percent of what I could have. Maybe 60 percent. Somewhere in that area; two-thirds of what I could have accomplished. If I had been a really dedicated person, and really worked hard, I think I could have accomplished more."
Widely regarded as golf's finest, Nicklaus might have experienced his top moment 20 years after his career ended when he dotted the "i" at halftime of the Minnesota game in 2006, joining Bob Hope and Woody Hayes as the only non-band members so honored.
I realize this could be a stretch, given the average age of this site's readers (and writers), but if you have a great Golden Bear memory, either from watching him in action on television, or running into him around town, it would be great if you could share it in the comments.