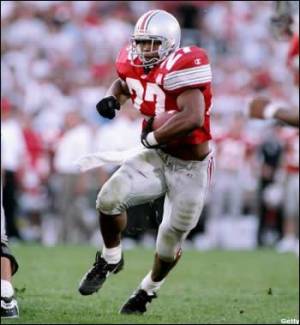 When you think of memorable games from the past, normally you think of bowl games, games against That School Up North, games that go down to the wire, and maybe big upsets. It's unusual for a game that ends with a score of 41-3 to be thought of as one for the ages. But that is exactly what happened on November 11, 1995. And the reason for that can be summed up in one word: Eddie.
Eddie George came to Ohio State after spending 5 years at Fork Union Military Academy. He could have left after the normal 4 years, but decided to stay an additional year, presumably to enhance his resume for college recruiters. As a freshman at OSU in 1992, he made a big splash in a non-conference road win at Syracuse, scoring 3 touchdowns. However, he would soon be in coach John Cooper's doghouse after fumbling twice in critical situations against Illinois. One fumble came at the Illinois 4 yard line, and the Illini ran it back the other way for a TD. The other fumble happened as he was leaping over the Illini goal line. The 14 potential points would have come in handy in an 18-14 home loss. After that, George carried only 12 times the rest of the season.
After spending 1993 as a back-up to Raymont Harris, George established himself as the starting RB on the 1994 team. He had an excellent season in 1994, rusing for 1442 yards and 12 touchdowns. In the process, George solved his fumble problems and said goodbye to the Cooper doghouse forever. Entering the 1995 season, George was a solid running back, but it remained to be seen whether he could take the next step into greatness.
In 1995, the Ohio State football team had high expectations for success. Senior QB Bobby Hoying was considered a Heisman Trophy candidate, and the veteran offensive line returned to open holes for George and fullback Nicky Sualua. But the most excitement was reserved for the passing game, where new QB coach Walt Harris had added lots of new wrinkles to the offense led by OC Joe Hollis. One of those wrinkles was to throw more to the backs, which would put the spotlight on George even more. Over the first few games of the season, it became apparent that George, and not Hoying, was the team's primary Heisman candidate.
Running against the Illini was supposed to be a difficult task. Coming into this, the 10th game of the season, Illinois was ranked 10th in the nation in run defense, giving up barely more than 100 yards per game. Linebackers Simeon Rice and Kevin Hardy were All-American caliber, and both would eventually have stellar NFL careers. But this was going to be George's day from start to finish. He had over 100 yards in the 1st quarter alone, and over 180 at halftime. On Ohio State's first play of the 2nd half, George took a handoff from Hoying and burst through a hole on the left side, then sped down the sideline for a 64-yard touchdown. George finished the day with 36 carries for a new school record 314 yards, to go with 3 TD's. And Ohio State took out years of frustration with the blowout victory in which they averaged over 7 yards per offensive play and did not punt the entire game. 
For the season, George rushed for a school record 1927 yards and 24 touchdowns. He was named team MVP, Big Ten MVP, 1st team All-American, and he won the Heisman Trophy in a close vote over Nebraska's Tommie Frazier. Hoying set new school records for career completions, touchdowns, and 200-yard passing games. He also set the record for 200-yard passing games in a season with 11. In addition to George, WR Terry Glenn, OT Orlando Pace, and DE Mike Vrabel were named All-Americans, with Glenn also winning the Fred Biletnikoff Award and Pace winning the Lombardi Award. Despite their eventual loss to Michigan and the bowl loss to Tenne-cheat, the 1995 OSU team is generally regarded as one of Cooper's best and one of the best offensive teams in the school's history.