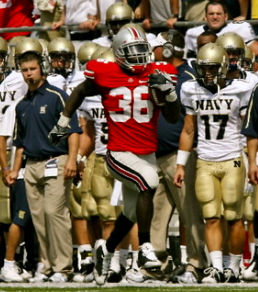 There's something to be said about the mood and mindset of a team heading into a big game. Some teams may go into a game feeling over-confident and get shocked with a back-hand to the face. Some teams go into a big match-up feeling like they don't deserve to be there or feel like they've been devestated by injury or tragedy so badly that they just fold up into a ball and take the beating that's coming to them. At times you feel like the team is going to turn a corner, but in the end gets the life sucked out of them with 16 seconds left on the clock and at other times you feel like you've finally broken through, only to suffer even more heartbreak. And then, there's the time everything finally clicks and you operate on all cylinders to finally get to the untapped potential that your coaches, players, and fanbase have been waiting four years for.
The Ohio State Buckeyes have traveled down a path of internal struggle for the last four years, but finally found the light at the end of the tunnel in the 2009 season. The Buckeye train kept heading towards that light and a new wave of confidence has swept over the program throughout the off-season and now at the start of the 2010 season. People are beginning to feel that this team is unstoppable, a la the 2006 Buckeyes during the regular season, and for the first time in a long time, the fans, critics, players, and coaches all feel differently heading into a marquee game. They feel Ohio State will get the job done. They feel that Miami is the team that will suffer the growing pains. They feel that all the heartbreak, gut-wrenching games Buckeye fans have had to battle through the last four years will finally pay-off in the form of that big time victory against a big time opponent.
Yes folks, Miami is in town this week, and you don't have to go back far to find the last time OSU took on a traditional powerhouse in week two of the season. That happened last year, of course, when #8 Ohio State took on the #3 USC Trojans in a ABC primetime match-up in Ohio Stadium. While the 2009 Buckeye team certainly was talented enough to win that game and at the end of the day should have won that game, they entered the contest in a much different fashion than the 2010 Buckeyes enter their game against "The U".
In week one of 2009, OSU took on Navy and escaped narrowly thanks to Brian Rolle by a score of 31-27. While playing Navy is a totally different beast than playing most teams, the Buckeyes just did not look that impressive. Nobody wanted to admit it at the time, but the results against Navy put a pit in everyone's stomach and set us all up as some foreshadowing that the team needed to make some vast improvements and changes before they were going to earn back some national respect. Florida fans should feel the same way this year, as their team looked horrid on offense in week one of 2010 against a Miami-Ohio team that was 1-11 last season. They will soon learn that while you can project that everything is "fine" on the outside, you know deep inside that something is wrong and you then get a Purdue Harbor to confirm your worries are valid.
Enter 2010, where the Buckeyes have Miami in week two, but have to beat a Marshall team coming off a 7-6 season and a bowl victory. The last time OSU took on the Thundering Herd they needed a Nugent special to come out on top 24-21, so this game could not be taken lightly. It certainly wasn't as OSU rolled to a 45-7 victory, a game in which the defense allowed zero points, just 44 yards on the ground, and looked like they were just munching on an appetizer before their entree of some roast Jacory. The offense came out and put up a whopping 529 yards, while the Terrelle Pryor show continued from Pasadena, as the junior threw for 247 yards and 3 touchdowns against 0 interceptions.
The feeling around the team was different this time around. For the first time in a long time OSU heads into a big game with a tremendous amount of confidence, while at the same time knowing any over-cockiness will lead to disappointment and failure like in past years. The attitude and mindset the team has coming into week two will prove to be extremely important, unlike their counterparts who seem to think beating FCS Florida A&M 45-0 annoints them as kings of college football.
Look carefully this week. You will see a different Ohio State football team than you have in the past. The team knows they need to focus on one game at a time, but also knows that they have something special in the big picture. Unlike flops against Florida, LSU, USC, Texas, and USC again, things will be different about the way Jim Tressel's squad goes about business. I can't promise you they're going to win against the Hurricanes, but what I can tell you is that this team is ready to play their hearts out for Buckeye Nation and with all of their weapons and their heads on straight, I think the fans will be quite pleased with the results late Saturday afternoon.