It appears as if the Tresselization of Terrelle Pryor is complete. We watched it happen with Troy Smith four years ago, and Pryor, now another year wiser and more mature said all of the right things when meeting with reporters at Ohio State's annual media day Sunday evening in the Shoe. Touching on how his experience in Columbus has humbled him, he spoke about the next phase of his career and even went so far as to say he'd be back for his senior season in 2011.
We have video from the event, but are experiencing A/V difficulties, so Doug Lesmerises steps up with the money quote:
"I want to leave a legacy, that's my goal," Pryor said. "That's why I'll be here for four years. I can't wait. I'm so happy."
While that's obviously fantastic news for everyone in Central Ohio not named "Joe Bauserman", it's a little early for that kind of talk and if Pryor has the season many of us go to bed dreaming about, he'd probably be silly to come back. But let's cross that bridge when we get there.
Also of note at Media Day is that tight end Nic DiLillo, left off of the 105-man camp roster was in attendance. Rod Smith, however, was not, though Tressel did say he hoped to have him on campus today. Oh, and Devon Torrence will be rocking #1 this season.
If you're still not sated, Bucknuts has not one, but two pretty awesome photo galleries from the evening. If the sets do nothing else, they confirm Homan, Rolle, Simon and Fellows all have biceps that really should be licensed. That, and Norwell and Shugarts are chill bros.
Earlier in the afternoon, the team held their third practice of camp, and the first open to media. There were no real surprises on either two-deep, with the first-team offensive line reading (from left-to-right) Adams/Miller, Boren, Brewster, Browning, and Shugarts. Backing that group up was Hall, Longo, Linsley, Mewhort, and Kerr. Hall, in particular, is getting a lot of early love for his slimmed-down physique.
With Posey and Sanzenbacher, the Buckeyes have a pretty solid one-two punch at receiver, but adding depth and finding a third or fourth outlet on the edge could be the difference between just another BCS berth, and the BCS berth. With that in mind, many have speculated that this Taurian Washington will finally step up this season, or James Louis or one of the other freshmen will see solid time. Add two more names to that mix: redshirt freshman Chris Fields and true freshman Ty Williams. Posey personally vouched for the hot start Fields is having Saturday night and anyone that has seen Williams knows he is a lot more solid than the string bean/project some of us thought we were getting. If he can pick up the offense, there's no way he'll redshirt this season. He'll be that dangerous in the red zone.
Both Carlos Hyde and Jaamal Berry saw some quality time in the offensive backfield, along with the incumbents, Saine and Herron. I know a lot of us are eager to see what both of those guys can bring to the running game, but with the backfield being so stacked and Tressel having plans to air it out a bit this season, it could still be a while before we get to see what they can do on a regular basis. Pryor showed some good zip at times throwing the ball, but Ken Gordon thinks Guiton may have looked the best among the quarterbacks in the mix to be his backup.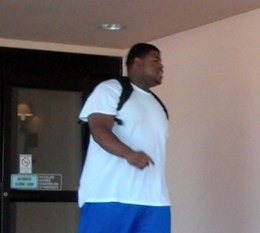 On the defensive front, the first group consisted of Heyward, Simon, Larimore, and Williams, with Fellows, Goebel, Bellamy, and Thomas backing them up.
Again, no surprise, but the starting linebackers were Homan, Rolle, and Sabino, with Bell, Klein, and Sweat backing them up. Jordan Whiting, the man giving Simon a run for widest torso and arms, didn't see a lot of action, with McVey, Jackson, and blog favorite Jonathan Newsome playing with the threes at linebacker.
In the secondary, the usual cast of characters saw action with the first team: Chekwa and Torrence at corner and Hines and Orhian Johnson at safety. Johnson is earning raves from his teammates and appears to be embracing more of a leadership role in the secondary.  Backing them up are Howard and Evege at corner (with Evege still holding the slight lead for the nickel spot) and Gant and Barnett at safety. However, the best news of the day came when Tyler Moeller lined up with the ones at the STAR position. It's going to be a great sight to see him laying wood this year.
Details are starting to come into focus with regards to where some of the younger players are seeing time, and which one them is starting to step up. Verlon Reed is getting looks at wide receiver and David Durham is working at LEO. I already touched on Ty Williams, but Jonathan Hankins is also drawing a lot of early pub on the defensive line.
Again, Bucknuts has a practice gallery if you're looking for some SFW porn. HANKINS MUST FEED.
---
Dick LeBeau, is finally a Hall of Famer. It's long-overdue, quite frankly and could not have happened to a better man. Long before this blog existed, I was fortunate enough to spend time with Dick on a couple of occasions, and you're not going to meet a kinder, more polite, and humble man than the Steeler's defensive coordinator. Consider what he had to say in his acceptance speech:
"When I was at Ohio State, I played for Woody Hayes, the great Woody Hayes. I still learn something almost daily from the current head coach of the Ohio State University, Jim Tressel. Coach Tressel is a textbook on how to conduct yourself at a major college level with integrity."
Pure class.