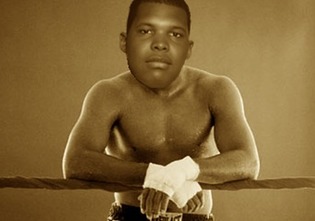 We're officially one week away Tom Osborne first taking the stage with his soon-to-be peers in Chicago and everything that comes with that. Delany will take to the podium and tell us all once again why Nebraska was such a good fit, he'll discuss divisions, the championship game, and everything else that's great. It will be smiles all around, and thanks to the league's bowl success, every third question won't have a subtle (or not-so subtle) SEC angle to it.
Pat Fitzgerald will impress the crowd (again), Tim Brewster will give the motivational speech of the summer, and we might even get Joe Paterno to discuss Twitter again.
We'll also get to talk to three Buckeyes that are not Terrelle Pryor. And that's where you come in. We'll be in attendance (plotting to ice Danny Hope) and thought it would be cool to poll our audience for questions ahead of the event. Not only are Bryant Browning, Dane Sanzenbacher, and Cameron Heyward amazing players and frontrunners for captainships, but they're also three guys with interesting things to say. So in the spirit of crowdsourcing sports interviews, we'll take the best questions you submit in the comments below and pass them on to the guys in Chicago. Make them count -- we're looking for stuff that isn't your run of the mill beat question like "Describe Terrelle Pryor's growth as a leader."
If you have questions for Tressel, Delany or any other coach, feel free to leave those below and we'll try to get around to the best of those as well. With Tressel, we'll want to find out about the status of Rod Smith, Tyler Moeller, and what, if anything, he knows about Jamel Turner's status. I know a lot of us are looking forward to hearing what Delany has to say about divisional realignment and the conference championship game. I guess I was kind of hoping we'd be surprised with announcements on each front next week, but this interview with Barry Alvarez leads me to believe the powers-that-be will be discussing those issues next week instead of finalizing them (Alvarez also throws out the notion of more than two divisions, FWIW).
Lambeau Field and Soldier Field were the latest two entrants to toss their hats into the ring in hopes of hosting a Big Ten championship game. Both outdoor sites, they join Indianapolis (indoor), Cleveland (outdoor), Detroit (indoor) and Minneapolis (indoor), all looking to for a piece of the coin that would come with hosting what will be a heavily-hyped event. My heart is pulling for Chicago (for both selfish and practical reasons), but my mind is saying Indianapolis right now. I imagine the league will have something in place for at least the first couple of games before we get too deep into this season, so we'll have a little more time to debate the weather and rotation angles.
---
ESPN 150 linebacker Trey DePriest took visited Columbus on Friday, but capped his weekend off with a three-day trip to Tuscaloosa, to visit pimp-hating Nick Saban. Fickell and company have made a solid push as of late to lure the Springfield product (and good friend of commit Braxton Miller) to Ohio State, with other sites going so far as to proclaim DePriest an Ohio State lock earlier last week, but everything we're hearing indicates he'll be suiting up for Alabama next season and may have even offered a silent verbal over the weekend. If this does come to pass, the staff, despite their top-notch haul this year, has to step back and evaluate what could have caused the state's best linebacker in back-to-back classes to slip through their grasp.
---
It rankles our southern friends when we rightfully take pride in pointing out the academic differences between the Big Ten and the SEC. They have some excellent institutions down there (Vandy and Florida, just to name two) and take their schoolwork seriously. Just not as seriously or as well as we do. That's just science. And just when we didn't need our point reinforced any further, along comes this gift:
Can anybody tell us why UCF, a thriving, up-and-coming program committed to building a big-time football program, is stuck in Conference USA while Vanderbilt — just because it was fortunate enough to join a major conference during the Great Depression — still gets to reap the financial and ancillary benefits of being in the SEC?
Mike Bianchi, the author of that clearly important question is also the same guy that brilliantly predicted the outcome of the 2003 Fiesta Bowl a week before kickoff:
Mark my words: The Buckeyes players will get hit in the mouth so hard and so often, they'll think Woody Hayes still is coach. These simple, poor, plodding people are getting ready to step into another realm beyond their comprehension. Maestro, cue the Twilight Zone music, please: There is a sixth dimension beyond that which is known to Buckeyes. It is a dimension as vast as space and as timeless as infinity. It is the middle ground between light and shadow, and it lies between the pit of man's fears and the sunlight of his knowledge. This is the dimension of imagination. It is an area that might be called the . . . Hurricane Zone. The Buckeyes will find out in the Fiesta Bowl this season what Nebraska found out in the Rose Bowl last season. They will learn that there is college football, and then there is Miami football. They will learn that there is intensity, and then there is angry, ratcheted-up, wild-eyed Miami intensity.
I guess we could cut him some slack. We were 14-point dogs, after all. But that.. that Vanderbilt question. Seriously?