When Zach Boren committed to Ohio State in Spring of 2008, there were as many grumbles as hearty greetings.  He wasn't a blue chip, highly-coveted player and there was a faction of the fanbase who got a little haughty that he was offered a scholarship at all, chalking up the comittment to his all-Big Ten brother who had just transferred in from Michigan.
So imagine the surprise when the younger Boren not only held his own in practice but won the starting fullback job as a true freshman.  He would go on to collect a total of five starts for the year and a touchdown reception against the Hooisers, which is saying something in this day of college football seeing that a handful of teams don't even list a fullback on the two deep.
Generally speaking, the proliferation of spread offenses has come at the expense of the fullback.  No doubt this is much to the dismay of many who aren't quite fast enough and not quite big enough but it is nonetheless true.  Many coaches favor the additional skill player over the glorified guard and, in most respects, it's hard to blame them.  The extra speed stresses defenses by creating more one on one opportunities that span the field horizontally.
But, don't tell that to Boren.
He, more than anyone, is doing his part to ensure the position isn't deemed prehistoric.  Somewhere in the sweat shrine that is Woody Hayes Athletic Center, he is pushing all 252 lbs of his body to the limit for what may be a breakout year, if a fullback can have one of those.  While many are clamoring for tight end Jake Stoneburner to get more touches, my ace in the hole is Boren.
Although we are used to fullbacks making some noise on the ground, Boren is proving to be a viable receiver.  Looking at which plays resulted in Boren's receptions turned out to be an interesting exercise insomuch as the variety in the formations.
ILLNOIS
Set One Back, Pryor Under Center - Bunch Formation
Result Play action boot to Boren.  Stoneburner stayed in to block and Boren released to the flat where safety makes tackle 6 yards downfield.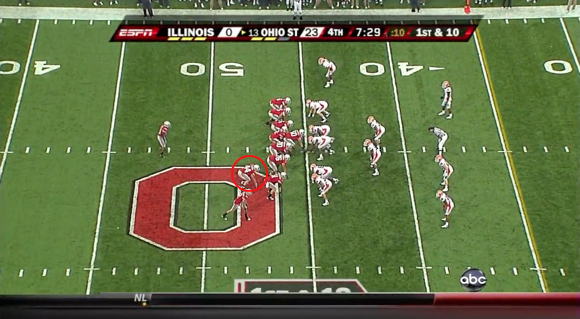 INDIANA
Set One Back, Pryor Under Center - Single WR, Double-TE and Boren offset
Result Play action boot by TP.  Stoneburner runs shallow route and Boren follows but more up the hash.  Stoneburner draws linebackers leaving Boren free to glide into the endzone.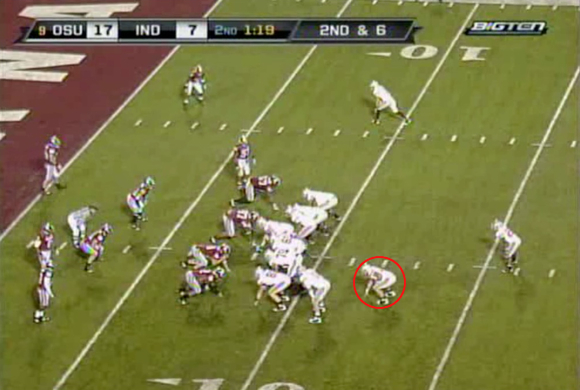 PENN STATE (two plays)
Set Two back, Pryor in shotgun, 3 WR
Result Play seemed to be designed for either Boren or Herron out of the backfield as both turn quickly looking for the ball.   Although held for only 4 yards, there is a lot of space between Boren and the linebackers upon reception.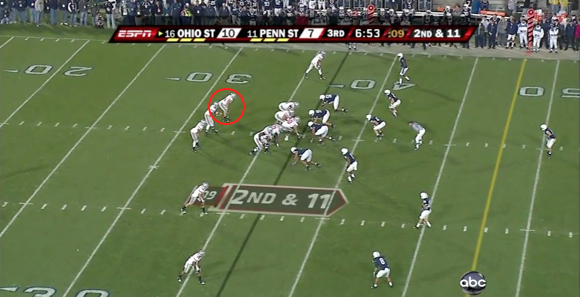 Set I-Formation, 2 WR
Result Playaction.  Pryor hestitates because Penn State linebacker Sean Lee reads run and tries to close the gap on Boren quickly.   Zach throws him off (vid: 3:07 mark) at which time TP delivers the pass for a crucial first down pick up.   Saine would score shortly thereafter on another short little pass.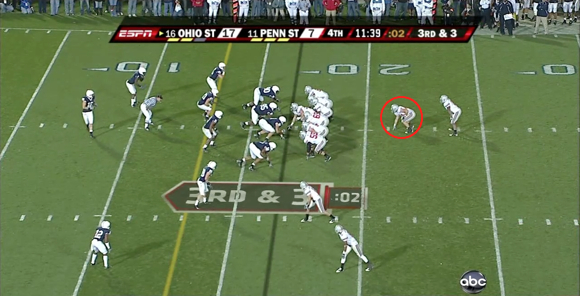 A few things jumped out at me when I was watching these plays.  The first is they are all different formations.  He catches the ball really well.   Additionally, the staff has clearly made a point to make sure Boren is always in motion when he's receiving a pass.  They know he's effective when running downhill so you never see him release beyond the line of scrimmage, turn and stop for a reception.  Lastly, all but one was playaction and the one that was was his shortest gain.
There's no question the sample size is small but his spring game performance did nothing to squelch the wonder and offered another sign of maturation.   He caught four passes in limited action and pinballed off several would-be tacklers.  I genuinely got the sense the defense has a hint of fear when they have to tackle him.
Perhaps most importantly, Boren's effectiveness should resonate in others areas of Ohio State's offensive attack.  By virtue of being on the field, most defenses will read run initially but defenders will be less enthusiastic to fill when they know Boren is apt to release.  This should help Saine and Herron.   His lead blocking is also kryptonite for smaller linebackers; oddly enough, the kind used in many defenses to combat the advent of the spread.  It eventually wears on a defense.
It's not that Ohio State will suddenly reformat its proverbial hardrive and go fullback overload, but Boren's ability does give one the feeling he could be a factor this year, unlike what we've seen in past.  His effectiveness is spread in different ways and his impact was often larger than the post game statistics.