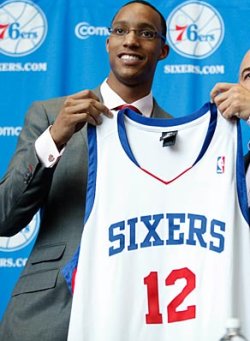 The good news is its become a ho-hum occurrence for a Thad Matta recruit to find himself going early and high in the NBA Draft. The bad news, unfortunately, is those first rounders are not panning out right away, albeit for a myriad of reasons.
This year proved no different as Evan Turner joined previous Buckeyes Mike Conley, Greg Oden, Daequan Cook, Kosta Koufos and Byron Mullens as a first round selection, #2 overall, to the Sixers. So, what comes next? Will Turner be the guy that is able earn a starting spot, avoid injury and produce as expected at the world's most elite level? Or will he underachieve, suffer from injury or fall flat from the get go?
Another query centers around just how necessary it is for Matta to have one of his blue chips excel at the next level before recruits question his role in any of this. Certainly, one argument is that recruits are really just looking for a chance to improve their draft stock and aren't concerned about how guys before them turned out. A counter-argument, however, is that blue chips could look elsewhere if a guy like Turner flames out at the next level after three years of tutelage from Matta. It's never quite that simple, of course, as evidenced by the uniqueness of each former first rounder drafted after Matta brought them to Columbus. Throw in that Matta was rumored to have relationship issues with at least three of his six first rounders and things get even more cloudy but the great news is any such drama hasn't negatively impacted Thad's recruiting prowess to date as this years class might evolve into his second best behind the Oden, Conley, Cook and David Lighty haul of 2006.
Matta's Ohio State Players in NBA

| Player | Seasons | Games | PPG | RPG | AST | FG% | 3FG% |
| --- | --- | --- | --- | --- | --- | --- | --- |
| Mike Conley | 3 | 215 | 10.9 | 2.8 | 4.7 | 44.0% | 38.5% |
| "Leg" Oden | 2 | 82 | 9.4 | 7.3 | 0.6 | 57.7% | N/A |
| Daequan Cook | 3 | 179 | 8.0 | 2.5 | 1.1 | 36.8% | 35.8% |
| Kosta Koufos | 2 | 84 | 3.3 | 2.2 | 0.3 | 50.0% | N/A |
| Byron Mullens | 1 | 13 | 1.1 | 0.8 | 0.1 | 36.8% | N/A |
So far, Conley is the only Matta pick to break double digits in career points per game though he endured his fair share of criticism early on before starting 80 games last year to the tune of 12.0 points and 5.3 dimes per contest. Interestingly enough, he was viewed by some as a package deal to make sure Oden came to Columbus but he's had more early success than his OSU peers. To Matta's credit, he didn't try to harness Conley, letting him run the show and learn on the fly.
Oden's injury woes have been well chronicled ranging from folks calling him unlucky but young to being labeled as a bust after just 82 games in three years. After sitting out year one, Leg played 61 games in '08-'09 averaging 8.9 points and 7.0 boards in his second year. He then bettered those numbers in 21 games last season (11.1 pts, 8.5 reb) before another injury things early. Thus far, he's taken some jabs for not having much of an offensive repertoire but it's impossible to pin any of that on Matta considering Oden spent just one abbreviated year in Columbus, much of it playing left-handed due to wrist surgery.
Koufos simply got to big for his britches according to many but there was also considerable chatter about Matta and Koufos never seeing eye to eye. Obviously, the stats indicate what we all thought at the time - he needed at least one more year of seasoning - but he chose to bail on OSU and his coach so he could hang out in the D-League or on Utah's bench. Who knows if the Matta/Koufos relationship comes up when opposing coaches are recruiting against Thad, but I wouldn't rule it out. Mullens was a similar case study in that he clearly needed at least one more year of preparation and there were hints of issues with Matta, however Byron's situation was largely influenced by the need to cash in as soon as possible to help his family.
Cook's family situation also played a part in his leaving early however there were also consistent ripples of discontent coming out of Dayton as Matta adopted a tough love approach to dealing with the inconsistent defense, sometimes questionable practice habits and poor shot selection showcased by Cook during much of his one and done campaign.
There's no question time is on the side of these guys but there's still ample room for doubt in a few cases. I personally expect Conley to post the best career stats with Oden turning into a defensive force if he can stay healthy. Meanwhile, Cook has shown he can keep a roster spot for the time being but Koufos and Mullens still have plenty to work to do before they can say the same. Potential is the NBA buzz word but most teams seem to tire of players if they don't reach potential by age 25-ish. So, what does all this mean for Turner, Matta and Ohio State?
For Turner, there's a chance to be the best OSU player in the league. Sure, Oden remains a huge unknown due to injury and could blossom at some point, and Conley seems to be on the right track to being a successful NBA point guard but with Redd on the downside of a career hampered as of late by injuries and the combo of Koufos/Mullens still a long way off, it's Turner's time to shine.
For me, the perfect scenario sees Turner evolve into the best Buckeye in the league because he stuck around, improved his game each year, and loved every minute of it as he represented the school in a first class manner. Nothing against Oden and Conley - I heart those guys too - but Turner is more of a working class throwback serving as a great example to future Buckeyes.
For Matta, Turner's success would serve as a recruiting tool for both players and parents looking to have their kid prepared for life during and after the league. There's no denying the growth in ET's game. Matta could also point to their close relationship as a counter argument to anything negative mentioned about Cook, Koufos and Mullens.
The university could also use a current legit NBA star to hype up the historical impact of the program. Below is a snapshot of all Buckeyes who averaged at least 10 points per game during their NBA career.
Ohio State Players Averaging 10+ PPG in NBA History

| Player | Seasons | Games | PPG | RPG | AST | FG% | 3FG% |
| --- | --- | --- | --- | --- | --- | --- | --- |
| John Havlicek | 16 | 1270 | 20.8 | 6.3 | 4.8 | 43.9% | N/A |
| Michael Redd | 10 | 568 | 20.3 | 4.1 | 2.3 | 44.9% | 38.4% |
| Neil Johnston | 8 | 516 | 19.4 | 11.3 | 2.5 | 44.4 | N/A |
| Clark Kellogg | 5 | 260 | 18.9 | 9.5 | 2.9 | 49.7% | 33.8% |
| Gary Bradds | 6 | 254 | 12.2 | 5.5 | 0.9 | 47.5% | 5.6% |
| Derek Anderson | 11 | 615 | 12.0 | 3.2 | 3.4 | 40.8% | 34.1% |
| Arnie Risen | 10 | 637 | 12.0 | 7.9 | 1.7 | 38.1% | N/A |
| Tony Campbell | 11 | 690 | 11.6 | 3.1 | 1.5 | 45.6% | 25.2% |
| Mike Conley | 3 | 215 | 10.9 | 2.8 | 4.7 | 44.0% | 38.5% |
As you can see, of the 15 guys on the list, only Conley and Redd are active with Redd possibly winding it down thanks in large part to injuries (he'll only be 31 at the start of this season, however). Also, aside from one all-star selection for Redd, the top accolades have not been achieved by OSU alums since Havlicek (HOF, 13 AS, 4 NBA 1st Team) and Lucas (HOF, 7 AS, 3 NBA 1st Team).
With what we know today, it appears up to Conley, Oden and Turner to put Ohio State back on the map from an NBA relevancy standpoint. Which, if any, of the trio can meet the challenge of evolving into a perennial all-star? Why or why not?