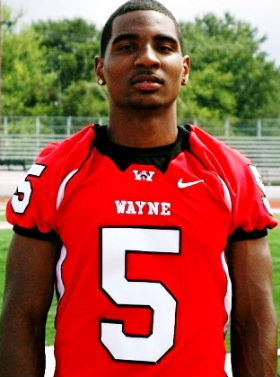 Recruiting has been the hot topic this week, putting conference expansion on the back-burner for at least the time being. Braxton Miller kicked things off last week for Jim Tressel to become commitment number 12 in this class, and was shortly followed by Evan Spencer, who decided to keep Buckeye tradition in the family. Joel Hale then followed suit as the 14th member of the 2011 recruiting class and Ohio State fans were left wondering who would be next to decide they want to don the scarlet and gray in future years.
There has been speculation that this class will number around 22 players, but with possible transfers and scholarships opening up (see: Jamel Turner), that number could be closer to 24 or 25. While 25 may seem a little high, keep in mind that Erick Howard spurned Akron to enroll at Fork Union in hopes to make it to Columbus next season. Either way there are only about 8 to 10 spots left for the staff to fill and time is running short for some of the elite prospects this year.
In this segment we will break down the list of prospects who have committed to the Buckeyes and those who are still in the board, dividing them into those likely to come on board and those who may be more of a long shot in the position analysis and predictions. Recruiting is a crazy game and is often very hard to predict, but with summer camps and senior seasons around the corner we can tap a little bit more into what some of the nation's best players are thinking.
QUARTERBACK
Committed: Braxton Miller
Who's Left: Cardale Jones, Jerrard Randall
Analysis: The Buckeyes seem to only want one quarterback in this class and Miller is and was always their guy. A lot of people want to see Jones get an offer and he seems to think one will eventually roll in, but I don't see it coming unless something changes last minute. I feel Jones's ceiling might be higher than Miller's, but Cardale is much more raw than the Wayne signal caller. Randall's high school coach has a relationship with JT and an offer was thought to once be there, but that is not the case.
Prediction: The Bucks take Miller only in this class. Randall goes to Oregon, LSU, or Florida State unless the Gators offer. Jones picks Sparty over Penn State, Michigan, Iowa, and others, but if a Buckeye offer comes in it's a guarantee he'll be in Columbus.
RUNNING BACK
Committed: None
Who's Left: Erick Howard
Analysis: Basically Howard has not committed, but as long as he gets his act together at Fork Union, he will get an offer and join this class. He was a two-time Mr. Ohio Football and highly regarded as the best back in the state this past year. He's got the talent, but does he finally have the maturity?
Prediction: Howard hasn't been mentioned by most sites and is kind of the forgotten man in this class. He will be a Buckeye next signing day and could enroll in January or March if all goes well at FUMA.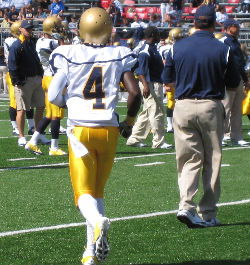 WIDE RECEIVER
Committed: Evan Spencer
Who's Left: Shane Wynn, Phillip Dorsett, Darius Jennings, Ja'Juan Story, Devin Smith, Brandon Phelps, AJ Sebastiano, AJ Jordan
Analysis: Spencer was a big pick up for the Bucks who are looking to take two to three players in this group. Word is Shane Wynn will be a Buckeye after he's done flirting with Miami and other schools and Story is pretty high on the Buckeyes as well. Jennings and Phelps are both from Maryland and hold offers, but it is looking likely they will stay on the east coast. Dorsett is a wild card in that he has OSU in his top five, but likes Miami and UNC just as much as the Bucks. He is coming to campus in a few weeks in what should be a big visit. Smith, Sebastiano, and Jordan don't have offers and I don't see that changing. Sebastiano is my favorite out of the group and is good friends with Jeremy Cash, while Smith is probably the most talented and could be a dark horse for an offer if there's room.
Predicition: Spencer and Wynn are the only two that end up as Buckeyes. Dorsett goes to UNC, Story heads to one of the Florida schools (FSU), and Phelps and Jennings end up somewhere like Penn State. As of now I say Sebastiano gets a Rutgers offer and heads there, while Smith heads to a school like MSU or WVU and Jordan goes to Michigan or Louisville.
TIGHT END
Committed: Jeff Heuerman
Who's Left: Nick Vannett, Ray Hamilton
Analysis: The Bucks want two in this class and unless something changes in the next few weeks, Vannett will be their guy. The combination of the receiving threat in Vannett and the blocking end in Heuerman will provide great depth to a position thin on talent and numbers. Hamilton is a decent back-up option, but this one is basically wrapped up.
Prediction: Heuerman and Vannett are the only ones that make it in this class, while Hamilton goes on to play for West Virginia.
OFFENSIVE LINE
Committed: Chris Carter, Antonio Underwood, Tommy Brown, Brian Bobek
Who's Left: Aundrey Walker, Angelo Mangiro
Analysis: The Buckeyes are going to take both Walker and Mangiro if they both want to come on board because they are just too good to pass up. Ideally I think they only want five linemen in this class and Chase Farris could eventually switch sides of the ball and join this group as well. Carter and Underwood are likely to play guard, while Brown is looking like a tackle, and Bobek is Brewster's replacement at center. Walker makes an ideal fit for this class as a left tackle, but Mangiro could be the country's best guard prospect.
Prediction: Walker chooses OSU over Michigan State in the end and Mangiro decides distance is a factor and chooses Penn State over Ohio State and Rutgers. There is still a shot the Bucks end up with both, but it seems to me Mangiro is a family guy and Rutgers is down the road, while Penn State is half the distance to home compared to OSU.
DEFENSIVE LINE
Committed: Chase Farris, Joel Hale, Michael Bennett, Kenny Hayes, Steve Miller
Who's Left: Kevin McReynolds
Analysis: The five players the Bucks have along the line is a great group and the staff can call it quits there, but McReynolds is a special player in his own right. He owns offers from everyone across the country and he really liked OSU when he came for a visit in the spring. He definitely wants to consider the Buckeyes until the end, but will they wait for him now that Hale has committed?
Prediction: The Bucks close the door on McReynolds who goes on to play at Oregon for Chip Kelly or at UNC for Butch Davis. I think if the Bucks say there is a spot for McReynolds he will choose OSU, but with the limited space available with the recent verbals, it doesn't look good for the Washington D.C. prospect ending up in the 614.

UPDATE: Kevin McReynolds has told us the OSU staff still has a spot open for him right now.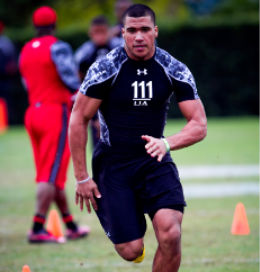 LINEBACKER
Committed: None
Who's Left: Trey DePriest, James Vaughters, Andre Sturdivant, Connor Crowell, Ejuan Price, Ryan Shazier, Michael Caputo
Analysis: DePriest is down to OSU, Alabama, and Florida and it will be interesting to see how his recruitment plays out. Vaughters has OSU in his final five and I am hearing good things about the Bucks' chances. This could be a Stanford-UGA-OSU fight for the stud prospect. Sturdivant will get an offer if his grades are in order and could be a wild card to be the next great Tarblooder in Columbus. Crowell recently picked up a PSU offer and it's hard to beat Larry Johnson Sr. for Maryland prospects. Shazier is a teammate of Jeremy Cash, but likes the Gators a lot, while Caputo and Price seem more likely to remain in Western Pennsylvania than in Columbus, Ohio.
Prediction: The Buckeyes land Sturdivant and DePriest in this class, as Braxton Miller convinces the latter to stay home rather than going down to Tuscaloosa. I think Vaughters will select Stanford despite Buckeye ties and Crowell will go play for Joe Pa (or whoever his successor is). Shazier picks the Gators and Caputo and Price go to Pitt. Overall a solid haul for OSU if they get DePriest or Vaughters in addition to Sturdivant if he gets everything hn order academically.
DEFENSIVE BACK
Committed: Jeremy Cash, DerJuan Gambrell
Who's Left: Wayne Lyons, Doran Grant, Ron Tanner, Damian Swann, Jabari Gorman, Dondi Kirby
Analysis: The Buckeyes need to reload at both safety and corner and this is a great class to pick from. Cash and Gambrell provide a solid foundation for this unit and could be joined by Grant, Tanner, Gorman, and Kirby, all who have OSU high on their list. Swann seems a little less likely and has not been buzzing about the Bucks of late, while Lyons has serious interest, but has so many offers that it is hard to get a read on him right now. All of these players will have the opportunity to wait as long as they want to make their decision, so this could be a group Buckeye fans have to be patient with in terms of verbal commitments to this class.
Prediction: The Bucks end up with Gambrell, Grant, and Gorman at corner and land Cash, Tanner, and Kirby at safety. This group is going to be unreal and will help push this class toward a top ranking in the country. Swann stays close to home and heads to UGA, while Lyons picks Florida, where his sister currently goes to school. The Bucks seal up an excellent class in the secondary where they definitely need help following this season.