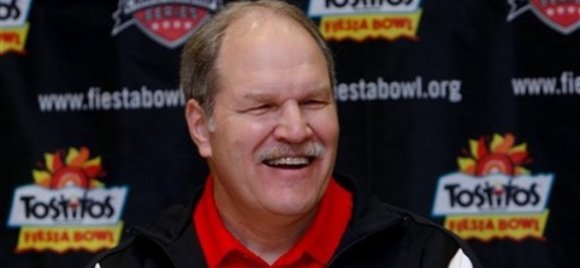 It wasn't long ago that much of the fan base was clamoring for the ouster of Jim Bollman. After a chunk of years featuring less than stellar offensive line play when it mattered most combined with a laundry list of blue chip linemen who didn't appear to improve much during their careers in Columbus, 2009 was believed by many to be a make or break year in which Tressel's loyalty might reach the tipping point.
Bollman and Tressel were keenly aware of the sniping coming from the media and fed up fans but 2009 started with a whimper anyway:
2009 Game By Game Rushing Statistics

| Opponent | Attempts | Net Rush Yards | YPC | Sacks |
| --- | --- | --- | --- | --- |
| Navy | 38 | 153 | 4.0 | 1 |
| USC | 30 | 88 | 2.9 | 1 |
| Toledo | 46 | 247 | 5.4 | 1 |
| Illinois | 46 | 236 | 5.1 | 1 |
| Indiana | 46 | 212 | 4.6 | 3 |
| Wisconsin | 27 | 97 | 3.6 | 2 |
| Purdue | 28 | 66 | 2.4 | 5 |
In the close call versus Navy to open the season, a turnover on downs helped the Midshipmen make it close but it never should have come to that. Tressel went for a 4th and 2 that gained just one yard as the line failed to get a push igniting the comeback. The ill-fated series saw OSU gain one yard on 2nd and 3 then zero yards on 3rd and 2 setting up the 4th down calamity. OSU averaged a below average 4.0 ypc when they should have had their way against a small Navy front putting Bollman's kneecaps in jeopardy.
The angst kicked up a notch the following week as USC swallowed up the Buckeye line holding OSU to 88 rush yards on 2.9 per carry. While difficult to stomach, this failure went beyond the offensive line as USC smartly stacked the line daring Pryor to be a factor through the air. He wasn't (11/25, INT). Play calling and getting plays in extremely late also led to a disjointed offensive effort across the board. Feeling is that it's probably not safe for Jim Bollman to walk down High Street.
Weeks three, four and five saw the offensive line attack poor defensive teams in Toledo, Illinois and Indiana to the tune of a combined 231 average rush yards per game, good for 5.04 ypc, but those numbers did little to inject confidence in a fan base refusing to be fooled by good numbers against bad teams.
The following week against Wisconsin, in a weird 2nd half featuring a Ray Small KO Return for a TD and a Jermale Hines pick-six, the OSU offense didn't even see the field until just two minutes remained in the 3rd quarter. That was probably just as well as the rushing attack wasn't dismal but only managed 3.6 yards per carry on 27 totes for 97 yards. The line also gave up two sacks but most of the aftermath centered on the big plays and a 5/13 stinker out of Pryor. Bollman can walk High Street, but must do so before it gets dark.
Bollman's brief respite in the shadows didn't last long as his offensive line collapsed, in conjunction with Pryor, at Purdue Harbor. At the time, I referred to the o-line's performance as a "steaming log" and seven months later it still seems on point. Purdue stacked the line but that wasn't a completely valid excuse as missed one-on-one assignments, false start penalties and five sacks contributed to the Boiler jailbreak. Cordle looked crippled in his first game back from injury and Ballard also struggled mightily. Bollman is hung in effigy in the minds of many.
Trying to hang on to a season with the potential to spiral out of control, the schedule Gods did Bollman and company a favor in the form of Minnesota and New Mexico State. The thought was OSU had two games to find their offensive identity, get healthy up front and establish some cohesion for a line being maligned from coast to coast before closing the season with a final three of @ Penn State, Iowa and @ Michigan. Low and behold, the light turned on:
2009 Game By Game Rushing Statistics

| Opponent | Attempts | Net Rush Yards | YPC | Sacks |
| --- | --- | --- | --- | --- |
| Minnesota | 49 | 270 | 5.5 | 1 |
As expected, the line controlled both the Gophers and Aggies rolling up 580 yards on the ground (5.92 ypc) as the Buckeyes got back to their power game roots. Those outings instilled some confidence internally and it showed as Ohio State wore down the PSU front seven in Happy Valley the following Saturday rushing for 228 yards even though the Lions knew it was coming. The Buckeyes ran on 25 of 27 first down plays and 49 of 66 total offensive snaps averaging 4.7 yards per rush in a physically dominating 24-7 victory. Bollman wasn't off the hook, however, because many wondered if Penn State was a paper tiger (they were) who had now lost to the only legit teams they had played.
Looking to lock up a trip to Pasadena, Bollman's boys stepped up again, this time facing Iowa, recording 229 yards (4.5 ypc) against a tough Hawkeye front seven led by Adrian Clayborn. Once again, the whole country knew what the Buckeyes were going to do on offense - OSU rushed on 51/68 snaps, or 75% - with Boom getting 32 carries for 97 yards and Saine going off for 11/103 and 2 TD. Saine's 49 yard burst to pay dirt skewed the YPC stats a tad but his run was made possible by a constant push up front that helped fatigue the Iowa defenders. Bollman can now visit a restaurant without fear of arsenic making its way into the salad dressing.
Poised to drop some corn on top of the turd-cake that was Michigan's '09 campaign, the Buckeyes racked up 251 yards (4.7 ypc) featuring two key drives directly after Michigan scores resulting in a 21-10 victory. After a Michigan field goal cut the OSU lead to 7-3, the line ignited a six play, 80 yard scoring drive featuring a 14 yard run by Saine on 1st down, a 25 yard gallop by Pryor on a textbook read/option triggered by a splendid kickout block from Stoneburner, and a 29 yard TD run by Saine around left end sprung by an excellent block from Cordle.
Later in the 3rd quarter, the line again helped OSU regain momentum immediately after a Michigan TD cut the Buckeye lead to 14-10. My comments in Five Things following the win sum up that drive:
"After an illegal block forced OSU to start at their own 11, the offensive line buoyed an 11 play, 89 yard TD drive taking over 5 minutes off the clock in the process allowing the Buckeyes to once again seize control of momentum – and a 21-10 lead. With the hogs opening lanes, Boom, Zoom and TP had gashes of 13, 17, 13, 12 and 23 yards before a perfectly executed – and unexpected – screen pass to Boom on 3rd and goal allowed him to find the endzone for the third time in 2 games against Michigan. The drive was straight up bully material thanks to spirited efforts from Cordle, Browning and Boren, in particular."
The win capped a five game rushing blitzkrieg that registered 1,288 yards (5.13 ypc) against defenses armed with the knowledge Ohio State was going to run the ball nearly 75% of the time. That impressive reality wasn't solely due to the resurgent (and more healthy) offensive line as both the emergence of Saine and Pryor's improved decision making were two major factors but even Bollman's biggest detractor would likely admit strides were made.
In the Rose Bowl, the line would help produce pedestrian rushing numbers as the Buckeyes installed a more balanced attack (51 rush, 38 pass) but they still stepped up when it mattered most - the 4th quarter. Leading 19-17 entering the final 15 minutes, Ohio State possessed the ball for 11:24 including a 13 play, 81 yard TD drive (TP's perfectly thrown back shoulder fade to Posey) that gobbled up 6:01 and gave OSU a 26-17 lead. Following an unconventional Oregon 3 and out (missed FG) Bollman's crew helped salt away the victory by running out the final 5:10 via nine straight running plays totaling 45 yards (3 1st downs) before taking a knee on two snaps to end it.
Now, Bollman's line heads into 2010 with lofty expectations. The group features seasoned vets like Boren, Brewster and Browning with Adams looking to finally lock down a spot and Shugarts hoping to build on his learnings of a season ago. Marcus Hall also lurks as a starter-quality player (wouldn't shock me to see him supplant Shugarts or Adams in due time) and younger guys like Mewhort and Linsley provide depth along with senior Miller. The rub is that inconsistent line play, especially in big games, looms large over the offense.
So what do you say? Is this the year the line lives up to the potential all season long or will it evolve into another year of line breakdowns and calls for Bollman to be removed?