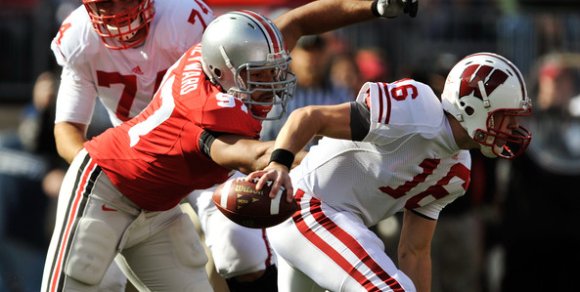 A few days ago, Cameron Heyward mentioned that he wants to be "the most dominant who ever played" when discussing his plans for the upcoming season. After playing what Heacock estimated as 60% of the plays a season ago, Heyward hopes to play more than 90% of the snaps this fall.
That's surely good news for Buckeye fans as Heyward has proved his worth at both tackle and end thanks to a relentless motor, raw power and surprising agility for a man of such girth. Though the Buckeyes lost Gibson, Worthington, Wilson, Rose and Denlinger, the line still features proven guys like Williams, Larimore and Simon with up and comers like Goebel, Fellows, Thomas and Wells hoping to add rotational depth.
This year, Heyward plans to not only dominate but also to be more of a vocal leader in what should be an incredible swan song on his way to a top five selection in the 2011 NFL Draft. He should be able to showcase his skills both at tackle and end based on down/distance and personnel matchups and easily better his 2009 stats including 46 tackles (6th on team), 10 TFL (2nd) and a team leading 6.5 sacks.
Since Cam is talking about being the "most dominant ever", it got me thinking where Heyward might rank amongst the all time greatest Buckeye defensive linemen in history if he does indeed blow up like we expect this year. What's your take? How far up the ladder can Cam climb?
Below is a quick glance at the best OSU has to offer from a DL perspective. From what I've read, I think it would take a Suh-season to give Cam a shot at unseating Jim Stillwagon as the most dominant OSU defensive lineman of all time but maybe you think Cam can do it. Or maybe you give the nod to one of the others on the list?
Jim Stillwagon
Probably the gold standard for OSU D-liners, "Wagon" won both the Outland and Lombardi Awards in 1970 becoming the first player to accomplish the feat. He was a unanimous All-American his final two seasons and won two national titles. Stillwagon's squads went 27-2 from '68-'70.
Interestingly, Stillwagon wasn't drafted until the 5th round (Packers) and instead took his talents to the CFL where he played five seasons earning "all star" status three times and a runner up defensive player of the year honor in 1972.
Bill Willis
Another blast from the past, Willis was a three year two-way starter from '42-'44. As a sophomore starter, he helped OSU to the 1942 AP national title. He also led OSU to an undefeated 1944 campaign and earned a spot on the UPI team. Amazingly, Willis did all this at a slight 215 lbs.
Willis really blew up in the pros winning five titles with the Browns while earning eight Pro Bowl nods. His exploits led to enshrinement into both the college and pro football halls of fame.
Dan "Big Daddy" Wilkinson
A freakish talent at 6'5", 300 lbs., Wilkinson played only two seasons at OSU. Upon enrollment, Wilkinson was a 348 pound offensive lineman in need of a red shirt. He then lost nearly 50 pounds and became a dominant defensive tackle as a sophomore with 10.5 TFL and 6.5 sacks. Those numbers earned him all conference honors and set the stage for a brilliant junior campaign in which he logged 44 tackles and 13 TFL. He was deemed the best DL in college, earned first team All-American accolades and became the #1 pick in the NFL Draft.
Mike Vrabel
Another strong candidate for best defensive lineman in OSU history, Vrabel earned his stripes as a pass rushing phenom. The two time All-American is Ohio State's all time leader in sacks with 36 and held the single season mark of 13 until Vernon Gholston broke it with 14 in 2007. Vrabel also recorded TFL numbers of 20, 26 and 18 over his final three seasons to finish with an OSU best 66. Beast mode. For realz.
Vrabel has also been a dominant pro racking up three Super Bowl rings with the Pats plus he's got a great set of hands out the backfield near the goal line.
Will Smith
Whether you know him as "Fresh Prince" or "Summertime", there's no denying Smith was a beast during his time in Columbus. He had a monster 2003 with 10.5 sacks and finished with 22 during his career, good enough for 6th on the OSU all time list. Smith also registered 20 TFL during his dominant '03 campaign and wound up 7th on the all time list with 45.5.
Vernon Gholston
Ohio State's all time single season sack leader with 14 in 2007, The Gun Show racked up 22.5 sacks in a 25 game career. Though he sometimes disappeared, when he was on he was unstoppable as evidenced by his four sacks against Wisconsin and three more against Michigan in that draft stock catapulting '07 campaign.
Vern was probably too inconsistent to rank in our top four but the physical specimen sure was fun to watch during stretches in 2007.
Some other names of note include Matt Finkes, Jason Simmons, Jerome Foster, Thaddeus Gibson, Bob Brudzinski and Van DeCree. So, who you got? Who is OSU's most dominant defensive lineman ever?