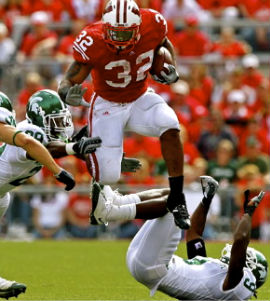 In a conference where cold weather creeps into the picture in week four of the season and a physical brand of defense is common place, there may be no more important position in the Big Ten than the running back. That statement is particularly true in Columbus, where Jim Tressel has been perfectly fine employing Woody Hayes's "three yards and a cloud of dust" offense and allowing his backs to dominate the time of possession statistic, while his defense and special teams units perform to their standard elite levels. Last week we broke down the conferences best quarterbacks heading into the 2010 season and the response was generally agreeable, with only a couple discrepancies towards the bottom half of the rankings. This week we take the next step in this off-season series, and take a look at the conferences best running back units, once again, breaking it down from #11 to #1 in the Big Ten.
11. Northwestern While Dan Persa seems to have taken control of the offense behind center, he won't have much help when it comes to the running game in Evanston. Arby Fields has emerged as the starter and the sophomore returns as the team's top back after appearing in all 13 games last season (started three). Fields was impressive in a back-up role last year, tallying 302 yards and 5 touchdowns, but after him there really is nothing in the cupboard. Stephen Simmons is the Wildcats' primary back-up, but it is more likely he will be used in the return game, if recurring injuries don't haunt him throughout 2010.
10. Purdue Ralph Boldin is a really good player and the Boilermakers would be higher on this list if his 2010 season wasn't in jeopardy after he suffered a torn ACL this spring. Although he could return midway through the season, Al-Terek McBurse becomes the guy for Danny Hope's team, leaving those fans in West Lafayette with little hope on offense when it comes to their ground attack. McBurse is just a sophomore whose redshirt was burned last year for apparently no reason. The Florida native rushed for zero yards on four attempts in 2009 and appeared in only two games against Illinois and Wisconsin. He is going to have to grow up really quick if Purdue plans to do anything meaningful with their legs this season, or the black and gold faithful are going to have to hope that their prayer for Boldin's early recovery are heard and granted.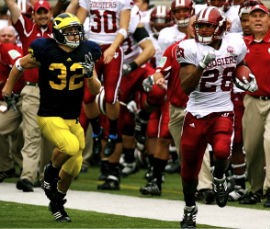 9. Indiana Darius Willis actually impressed many last season, as he rushed for 607 yards and 6 touchdowns, while averaging 4.9 yards per carry in his 2009 redshirt freshman campaign. Willis put up those numbers while splitting carries, but now is first on the depth chart and is expected to see an expanded role. Backing him up is senior Trea Burgess, who averaged just 2.8 yards per carry on 47 touches last season. The lack of depth at the position leaves Indiana towards the bottom of the list, but Willis could be a bright spot for a 2010 Hoosier team that is expected to miss out on bowl season once again.
8. Minnesota Hype is the theme of the running back unit in the Twin Cities and the question once again remains "Will DeLeon Eskridge and Duane Bennett live up to it?". Bennett and Eskridge combined for just 670 yards and 9 touchdowns in 2009, and neither of the two reached 100 carries on the season or 100 yards in a single game. To be fair to the duo, back-up quarterback MarQueis Gray was used to run the ball 47 times for 265 yards last season and recently departed back Kevin Whaley ran for 367 yards on 88 carries with two scores, but this year there are no excuses. The unit is ranked above NU, Purdue, and IU because of the talent that exists within the two backs, but they are only eighth on the list because of failed expectations.
7. Michigan Michigan loses it's top two rushers in Brandon Minor and Carlos Brown, but returns Michael Shaw and Vincent Smith, both who saw a lot of snaps last season. Shaw ran 42 times for 185 yards and 2 scores last season, while Smith, who missed spring practice to recover from a torn ACL, tallied 276 yards on 48 touches with one touchdown. The duo will get some help on the ground from redshirt frosh and Youngstown native, Fitzgerald Touissant, and will also see some yards on the ground come from Denard Robinson, who ran for 351 yards and 5 touchdowns in 2009. Kelvin Grady and Michael Cox also supply some support in the ground game, but don't expect Rich Rod to stray far away from the promising duo of Shaw and Smith.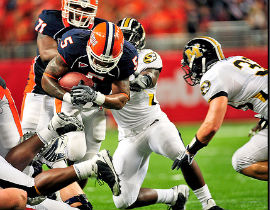 6. Illinois Illinois' placing on this list is due to another talented duo of backs who were able to show many football fans their impressive abilities last season. The starting job looks to be property of Mike LeShoure, who ran for 734 yards and 5 touchdowns, but impressively averaged 6.8 yards per carry. LeShoure is joined by Jason Ford who had a pretty good 2009 himself with 588 yards and 4 touchdowns to go along with a 6.1 yard per carry average. The tandem is supported by OSU fan favorite, Justin Green, and Troy Pollard, who likely will see more time on the pine than on the turf. With the quarterback situation featuring inexperience and uncertainty, look for Zook to use his two talented horses early and often throughout the upcoming season.
5. Michigan State While it seems like every team listed has a talented stable of backs, maybe no team is better set up for the future in the sophomore class than the Spartans. Edwin Baker and Larry Caper starred as freshman last season, combining for 895 yards and 7 touchdowns (even though Baker spent the first half of the season sitting on the bench), and their sophomore campaign promises to be even better due to gained experience going through a full season and spring practice, as well as the fact that Glenn Winston is off the team thanks to last year's off the field incidents. Incoming freshmaen Nick Hill, Jeremy Langford, and LeVeon Bell could get a look from Mark Dantonio as well, and all will likely compete for a shot at the third spot on the depth chart when fall camp rolls around.
4. Iowa Some may say Iowa's running game was a strength last year, and if that's the case, 2010 could be even stronger. Adam Robinson was the team's leading rusher last season with 834 yard and 5 touchdowns and he returns to the starting role once again this year. Brandon Wegher will also get plenty of reps, as his successful 2009 season included 641 yards and 8 scores. Where the unit gets stronger is the return on last year's projected starter in Jewel Hampton. Hampton missed all of 2009 with a knee injury and, when healthy, could be considered the Hawkeyes' most talented back of the three. This should be a dangerous unit once again, even behind a reloaded offensive line, and should help Kirk Ferentz's team to the top of the conference for the second consecutive season.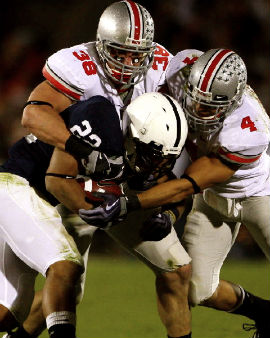 3. Penn State I know to expect some Penn State backlash by putting the Nittany Lions third on this list, but I honestly believe that both Wisconsin and Ohio State deserve to be ahead of PSU. Evan Royster is the type of horse that almost every team in the country wants, but I feel that there is no real depth of talent behind him and I wasn't impressed by his performance in 2009. Last year Royster was a pre-season Heisman candidate, but rushed for only six scores, despite racking up 1,169 yards and a 5.7 yards per carry average. His yardage and average certainly impress anyone, but I think he should have found pay dirt a bit more often and his numbers against big time opponents were mediocre at best. Against Iowa and Ohio State (PSU's two losses), Royster combined for just 105 yards on 30 carries and 0 touchdowns, and in their bowl win against LSU, had just 65 yards on 17 carries and once again, 0 touchdowns. He is going to need to step up against these big time opponents in 2010 if PSU wants any chance to compete in the Big Ten now that Darryl Clark is gone. Behind Royster is Stephfon Green, Brandon Beachum, Brent Carter, Curtis Dukes, incoming freshman Silas Redd, and fullback Joey Suhey, a cast that hasn't proven anything yet to anyone outside of Happy Valley and until they do so, leaves the Blue and White third on this list.
2. Ohio State By far the league's deepest unit, Ohio State enlists seven backs this year that could possibly tote the rock. Brandon Saine (145-739-4) and Boom Herron (153-600-7) lead the group that also includes Jordan Hall (48-248-1), Jaamal Berry, Carlos Hyde, Jermil Martin (11-84-1), and incoming freshman star, Rod Smith. Also included in this group is fullback Zach Boren (4 rec. for 23 yards and 1 TD in 2009), who has shown the ability to be a pass catching threat out of the backfield this spring. I think this is a unit that could leap to the top of this list when it's all said in done after the 2010 season, especially if Saine continues to develop and either Jaamal Berry or Carlos Hyde can provide some additional production to the already steady trio of Zoom, Boom, and Jordan Hall.
1. Wisconsin Yes, Penn State was third on this list with an elite back and thin depth, but John Clay is a different beast all together. Clay, who I put in a class with greats like Beanie Wells et. al, was the Big Ten Offensive Player of the Year in 2009, rushing for 1,517 yards and 18 touchdowns on a 5.3 average. Clay returns for his redshirt junior season after running through the Miami Hurricanes for 121 yards and 2 TDs in the Badgers' Champs Sports Bowl victory. The best part for Brett Bielema in regards to his star running back is that all five offensive linemen return in 2010, as well as quarterback Scott Tolzien, making John Clay's potential to best his eye-opening numbers from last season an extreme possibility. Clay is backed up by Montee Ball (98-391-4), who provides a solid second option for Bucky. UW also has support with Zack Brown (66-279-3), and incoming freshmen James White (St. Thomas Aquinas-Ft. Lauderdale) and Jeff Lewis (Central HS-Brookfield, WI).