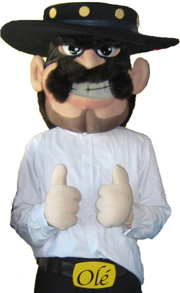 We learned it would be against the UC Santa Barbara Guachos on Friday about five minutes into the selection telecast. Now, we have an approximate tipoff time: 9:45ish.
Technically, the game is scheduled to start "30 min fol." the conclusion of the 6:15 Oklahoma State/Georgia Tech tilt.
Also, in terms of festive mascots the Buckeyes have faced, I think this is the guy I want to party with most.