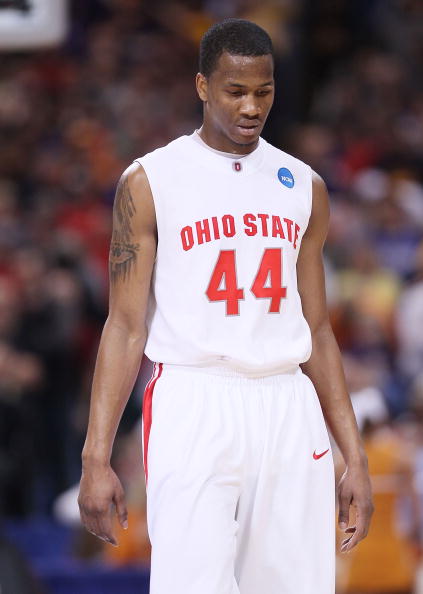 When I'm not able to attend games in person, I prefer to watch them at home, in solitude, so I can replay Ed Hightower's theatrics or the subtle beauty of the power behind the "Dave" run depending on the season. The DVR-powered replays, absorbing the commentary of open threads and Twitter and the ability to take notes on the action in a sober fashion all play important roles as well.
But every now and then, I get this crazy idea to meet up with my friend Zach, also a Columbus transplant living in the Windy City, to take in the game at McGee's, Moran's or another Buckeye-friendly environment up here. To date, we've met up to watch three games: two USC football games and the Sweet Sixteen tilt against the Volunteers Friday night. Needless to say, Zach and I will not be watching anymore games together (sorry, man).
The loss stung and still does a bit. Anytime your season ends in that manner, it's liable to -- especially when your season ends at the hands of an SEC school. But really, the team finished about where we thought they would (at least prior to the nine game tear the team win on to end the year). With the Kansas loss and ET's stellar play, we began hedging our bets a bit, eyeing a final four, but if you checked our pulse at the beginning of the season, "Sweet Sixteen" is the phrase most used to discuss the team's upper bounds. (Considering we also called a loss-to-USC followed by a Rose Bowl finish ahead of the football season, I think it's fair to say both teams had remarkably successful, if not predictable campaigns.)
Luckily, spring football begins in these parts on Thursday, so I have a feeling most of us will be able to put the tough loss in the rearview and move on. But before jumping into football, it's worthwhile to assess the future of Buckeye basketball.
The first order of business will be waiting to see if Turner decides to leave after his junior season for the NBA. While this is almost a certainty -- he's projected to go in the top three of just about every mock draft on the interwebs -- there's a sliver of hope that he'll return. He has already made comments about how difficult it will be to leave on the note he was served up Friday, one of his stated goals is to lead the team to the Final Four and, by all accounts, he's just a different type of dude than most lottery selections, but going with official 11W policy with projecting early departures out of the great ones -- assume they're gone, if they come back it's a bonus -- it's probably practical to start envisioning the starting five without him in 2010-11.
If Turner bolts, his role as go-to scorer will be assumed by William Buford, already on record saying he'll be back for his junior season. Also returning will be David Lighty, Jon Diebler and Dallas Lauderdale. Not a bad cast at all. Lighty will have another year of offensive confidence (and hopefully an improvement at the stripe), Diebler, the career leader in bombs at Ohio State already, will be damn near unstoppable on open threes next season and Lauderdale, if he works on his hands, defense and rebounding, could see a similar evolution to what Ken Johnson witnessed from his junior to senior seasons when he developed a slick jump hook and the maturity to stay out of foul trouble on the defensive end.
If Dallas doesn't make the improvements needed, incoming frosh Jared Sullinger, two-time winner of Ohio's Mr. Basketball, will be a force to reckon with right away and DeShaun Thomas, a 6-7 scoring machine from Fort Wayne, should also contribute solid minutes as a freshman. Both will be in action Wednesday night at Nationwide Arena in the McDonald's All-Star game and we'll have Jared there to cover their performances. The game will also be televised and if you tune in, pay attention to the Sullinger/Harrison Barnes (future Tar Heel) duel as both players have already captured several national PoY awards and are considered the top two prospects in this class.
Regardless, the fatal flaw of the 2009-10 team, the lack of a serious post presence, should be remedied next season. If you thought the run this year was fun, wait until next year. If Turner shocks us all and comes back, we could be looking at a top spot in the preseason polls.
Etcetera
Iowa has tabbed Siena coach Fran McCaffery to replace Todd Lickliter. You might remember McCaffery as the guy that coached the team to the heart-destroying buzzer-beater that topped the Buckeyes last March in the first round of the tournament. He brings an up-tempo approach (Joe Tiller of hoops!) and was nicknamed "White Magic" at one point in his playing career, so there's that. No word on if he'll keep the amazingly talented John Lickliter on the roster... Thanks to bracket chaos, OSU wound up playing three of the four teams headed to Indy, going 1-2. There was the loss at Butler early in the season without Turner, a tough loss on the road to the Mountaineers after taking a big lead to the locker room at halftime and the win over Sparty in East Lansing at the tail end of the Big Ten season... Speaking of bracket chaos, comoprozac is still killing it in the 11W Tournament Challenge. If my wobbly math is correct, it looks like he has things wrapped up, too... In this most terrible of seasons in Michigan athletics, the hockey team had surged lately, giving the Michigan Men something to finally rally behind, but alas, it was an Ohio team, Miami, that dropped the hammer on their season in a double overtime thriller. O-H.