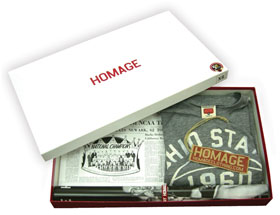 It's that time of the year again. Time to fill out brackets based on who has the tougher mascot and/or better uniform colors as you try to compete with the one woman in our pool that will enter and win using those techniques.
Or you could just take The Villain and his gang all the way like anyone with any semblance of a basketball IQ would do.
At any rate, the cool bracket handles are going fast, so head over, sign-up and compete for a chance to win the beautiful 1960s championship box set graciously sponsored by Homage.
The relevant bits:
Group Name: 11W
Password: waynewoodrow

Rules:

Must be 18 or older to enter.
One entry per person.
Any entries submitted with the Buckeyes not making at least the Sweet Sixteen will be mocked mercilessly.
Good luck.