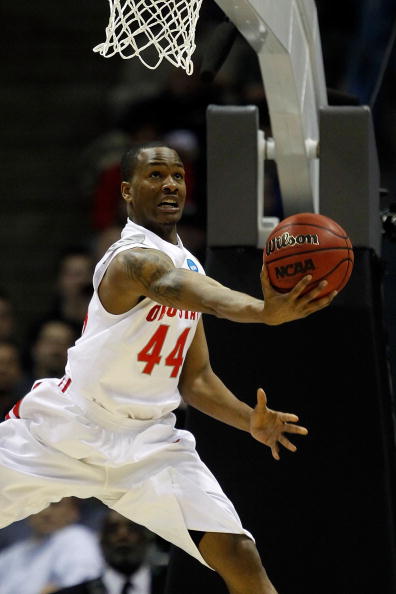 Note: This post assumes Turner is NBA bound even though Matta said last night its not the slam dunk some of us think it is. I'm just trying to prepare myself for the likelihood so bear with me.
Though Jon Diebler was clearly the poster boy for roller coaster production, Wil Buford took his share of flak in the comments 'round these parts for what's been viewed as somewhat inconsistent performance during his just completed sophomore campaign. In my estimation, most of the criticism is unfounded as he's still a work in progress that made considerable strides this season.
In looking at his strengths and "areas of opportunity" (yeah, my real job relies heavily on this phrase), there are components of his game that require some attention but I don't think there's any question Buford made more improvement this year in his all around game than any other player on the roster.
To keep this simple, let's review some of the improvements and opportunities that still exist in both his offensive and defensive arsenal.
OFFENSE
Probably the most frustrating feature of WB's offensive repetoire this season was his strange disappearance in games from one half to the next with
Tennessee
(12 pts in 1st, 3 in 2nd (0/5 FG) serving as the most recent example. This was compounded by the scoring inconsistencies of Diebler and David Lighty, however Buford took some knocks because most of us felt he was clearly the second best scorer on the team. If nothing else, he was the one guy besides Turner that could at least create his own shot whereas Diebler was really at the mercy of how athletic the opposing defense was and could largely only attempt a shot if it was created by teammates. Lighty could get his own shot, too, but not with the same consistency as Buford thanks to what was sometimes a liquid midrange game. Still, the problem was if Buford went cold the born scorer in him took over and he began forcing bad shots because he knew it was often on him to complement Turner's production.
To this, I say you gotta take the good with the bad when it comes to pure scorers. For every ill-advised shot Buford took, he still showed a much higher basketball IQ than he did as a freshman when it came to shot selection. Plus, when Buford was on, he showed the ability to carry a team, an ability that could be needed much more often next season as OSU welcomes in a crop of highly touted but still unproven freshmen. If Turner is gone, I have to imagine Buford will be the go to guy, especially in the clutch unless Sullinger is truly off the charts nasty. Second in points per game, Buford hit for double figures in 29 of 37 games (78%) overall and 20 of 25 games once Big Ten play started (includes NCAA tourney and WVU).
Now, it can't be overlooked that while Buford increased his scoring average from 11.3 as a frosh to 14.4 this season, he saw dips in both FG% and FT% meaning his points per shot stayed relatively flat (1.18 TY, 1.17 LY), good for last in this stat compared to the other five in the rotation. This stat reflects on some ill-advised shots that had little chance of dropping so he'll need to improve shot selection next season in order for his scoring efficiency to reach the next level (Diebs, Lighty and ET all ranged between 1.38 and 1.42 PPS).
One stat that did reach the next level is something OSU fans be should excited about considering the studs coming in next year and that's Buford's amazing improvement in looking for and finding the open man. He willingly (see what I did there) shared the rock with a purpose, something he was never asked to do up til college and boosted his assists from 1.1 as a frosh to 3.1 this year. If Craft doesn't immediately emerge as the PG (which is hard to expect), at least WB has shown he can penetrate the lane and kick out to for jumpers or on the block to baseline cutters. He finished 2nd on the team in dimes dropped this year compared to 5th last year amongst guys who played regular minutes.
Finally, despite the miniscule drop in FG% to 44% (45% LY) and significant FT% slump to 75% (85% LY), Buford did improve from deep connecting on 38% of his triples compared to 36% a season ago. With another summer seasoning that smooth stroke - and finally a low post presence that will force perimeter defenders to collapse - his long distance accuracy should continue to climb.
DEFENSE
As a frosh, Buford rarely played with the defensive intensity Matta demands and often found himself lost in switches in the rare instances in which the team played man while notoriously losing track of opposing deep threats when OSU featured the 1-3-1 matchup zone. He wasn't active registering just .8 steals and 3.7 boards per game while Diebler managed 1.0 steals and 3.6 boards by comparison. That's not a knock on Diebler, just saying dude isn't counted on to D it up whereas Buford had the athleticism as a frosh, thus producing less than expected.
This year, however, Buford committed himself at the defensive end of the floor and despite some shortcomings, the numbers speak volumes about his all-around evolution. First and foremost, he became someone Matta could count on to rebound from the wing ranking second to Turner with 5.6 rips per contest. Basically, he outrebounded our one and only big with the 7'2" wingspan by .4 a night and even bettered Lighty's 4.5 per game. He also had four games of 10+ rebounds against the likes of Michigan (13), Wisconsin (12), Sparty (10) and Illinois (10). Meanwhile, the combo of Lighty (0), Diebler (0) and Lauderdale (2) combined for two 10+ glass efforts. Impressive.
Proving he can rebound with the big boys, the one major defensive hurdle still left for Buford is the cerebral aspect of using his feet to be in better position to help. This won't be as big an issue next year if Sully and Lauderdale see extended minutes together but when they don't, Buford needs to improve his recognition and help side rotations. Again, the loss at the hands of the Vols serves as exhibit A as he was slow to rotate and provide help side defense as Chism and Williams punished OSU in the paint.
Overall, it's hard to argue that Buford didn't grow leaps and bounds this season. He took on the challenge to become an all-around player, not just a scorer. If he improves near the same level as we witnessed from year one to year two, his junior campaign could be something special. Maybe not Turner special, but significant enough that combined with an infusion of talented depth he could be the go to guy on a team in position to make a run at the Final Four. I'll take that.