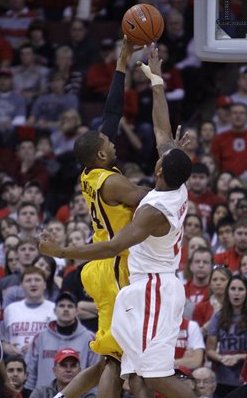 Looking to impress Knight, Havlicek and the rest of the 1960 national championship squad being honored at halftime, the current crop of Buckeyes rode scorching shooting to flame Minnesota 85-63 this afternoon in the Schott.
Once again flashing superior ball movement, the Buckeyes shot 73% in the first half, hit 15 of 17 shots during one stretch overlapping the halves and shot 63% for the game as they won their fifth straight conference tilt allowing them to move into a 2nd place tie (6-3) with Wisconsin, Illinois and likely Purdue as they entertain lowly Penn State at 3pm.
Ohio State jumped on Minnesota right from the start handling the trap much better than the first meeting triggering countless wide open looks at the rim. A balanced attack fueled a 15-4 run turning a 27-22 lead into a 42-26 bulge with 2:17 left in the half with Wil Buford scoring eight and David Lighty four. Evan Turner closed out the half with two buckets and an assist on a Jon Diebler three to give OSU a healthy 49-35 cushion at intermission.
The white hot first half attack saw Turner score 15 on 7/9 shooting with Buford adding 13 on 5/7 and Diebler chipping in 13 of his own on 3/5 from the floor. Turner and Diebler also had two steals apiece as OSU posted a 15-6 points off turnovers edge.
Impressively, the Buckeyes came out of the locker room with designs on burying the Gophers peeling off a 17-2 run giving them an insurmountable 68-41 lead with with 13:27 to play. Tubby's boys would get no closer than 18 the rest of the way as the Buckeyes coasted to a lopsided victory.
Evan Turner was his usual player of the year self posting a stat line of 19 points (9/14), eight dimes, four steals and three rips but Buford was just as impressive this afternoon with 26 points (10/14), five boards and five assists in 34 minutes. The kid has really grown since Turner's injury as he continues his evolution into a complete player. Buford had just one turnover today and played an aggressive defense helping the Buckeyes force Minnesota into 17 turnovers.
Jon Diebler also had a strong showing moving effectively without the ball leading to a 19 point effort (5/10) and he also pulled down six caroms in 40 minutes. Lighty had his right thumb wrapped once again but still managed 11 points (5/9), six assists, four boards and three steals following up his 18 point second half against Iowa in fine fashion.
Dallas Lauderdale was again the recipient of a few alley-oop's leading to six points and he tied his season high with eight boards to go along with three blocks in an active afternoon. Interestingly, Thad chose not to give the bench much playing time even with the game well in hand. Kyle Madsen picked up 12 minutes and Jeremie Simmons six but P.J. Hill, Nikola Kecman and Big Z only received one minute each.
For the game, the Buckeyes hit 45% from distance (9/20) and won the board battle 26-22 while recording 22 assists on 34 field goals showcasing just how unselfishly efficient the offense can be. Defensively, the Bucks recorded 10 steals but somehow Minnesota managed to hit 51% of their shots. Watching the game, it appeared Minnesota was forced to work much harder for their shots than OSU so I was a bit surprised to see their final shooting percentage. Still, the D neutralized Blake Hoffarber this time around holding him to 10 points after he burned the Buckeyes for 27 a few weeks ago.
Rodney Williams led Minnesota with 13 while Ralph Sampson III added 11 on 5/5 shooting. The Gophers were without the services of Al Nolan.
The win moves OSU to 16-6 overall with three very winnable games upcoming starting with a homer against Penn State on Wednesday at 6:30pm. After that, the Buckeyes take on Iowa next Sunday before traveling to Bloomington the following Wednesday. As I mentioned earlier in the week, it's definitely movin' time and the Buckeyes are clearly poised to stay in contention for regular season conference runner up status.