As we wind down the days of 2009, it's time again to look back at the top moments of Buckeye athletics for the year. 2007 brought us a #1 draft pick after a NCAA finals run out of the hoops team, the return of Gordon Gee and Beanie's dominance of Ann Arbor among other moments. In 2008, we had Coop entering the HoF, Pryor's signing and a season full of #28 and #2(s) moments to look back on. This year the good times were just as abundant, so let's cut to the chase.
11. So Close. Again.
It doesn't rival the soul-crushing twelve months of 2007, when the Buckeyes dropped football, basketball and soccer national championship games, but the men's tennis and wrestling teams continued the program's recent string of runner-up finishes. In that context it's bittersweet, but let's take nothing away from the fine seasons turned in by each squad.
After dropping an early season match, the Buckeye tennis team reeled off 28 straight wins all the way into the finals of the NCAA Championship. Unfortunately, a hot UCS team would prevail 4-1 for the title. Coach Ty Tucker (style points for having a name that sounds like he's a tennis coach) was named Wilson/ITA Coach of the Year and senior Bryan Koniecko earned Big Ten Player of the Year honors.
The wrestling team did the tennis team one better by finishing runner-up for the second-straight season at the NCAA championships. Just like the previous year, it was the fabled Hawkeyes coming out on top, but unlike '08, it wasn't a runaway Hawkeye win. In fact, they had to sweat one out before emerging with a 96.5-92 win. Ohio is to high school wrestling what Florida is to football and coach Tom Ryan is building a juggernaut by roping in more of the in-state kids.
10. KC4 Sticks Around
Shortly after the Fiesta Bowl loss to Texas, the faithful were bracing themselves for the early departure of four talented juniors. Beanie was definitely gone, while the CW in mid January was that Donald Washington, Brian Hartline and Kurt Coleman would likely follow him into the NFL. Though Washington and Hartline would eventually make the move, but Coleman surprised us when he announced he would come back for his senior season.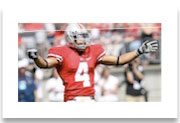 Saying he had a lot to prove to himself and accomplish, the safety did just that, captaining a defense that was the strength of a 10-2 team. "Hurt" finished third on the team with 64 tackles and was a veritable turnover-producing machine accounting for a team high five interceptions and four forced-fumbles. Five if you reverse a terrible call in West Lafayette.
By returning for his senior season, Coleman earned himself quite a bit more money at the next level and as a bonus, he'll join the elite group of former Buckeyes that are universally recognized as being complete badasses.
9. Spiels Gets the Nod
Speaking of complete badasses, perhaps the one player that best defines the label at Ohio State is Chris Spielman. His career in Columbus includes a Lombardi Award, multiple all-Big Ten and all-American nods and a mind-boggling 29 tackles against the Wolverines in '86. In May, he was elected to the College Football Hall of Fame and our Chris summed up the greatness of Spielman's moment well:
He becomes the 28th Buckeye to receive the honor and I can't stress enough how happy I am personally to be able to post the news on our site. Besides being my favorite Buckeye of all time (by a mile) he's also easily the most humble, classy, honest and giving of them all.

Throw in all the work he and Stephanie have done to raise money and awareness in their very personal battle with cancer and you've got a guy who is also a first ballot selection in the Human Being Hall of Fame.
Amen.
8. Turner Passes on the Lottery
Okay, so Turner didn't leave much to suspense by insisting all along that he would return for his junior season, but the fact that he honored those statements after playing himself into lottery pick status after his sophomore season is just as huge. The Villain was coming off a season in which he averaged 17.3 points, 7.1 rebounds and 4.0 assists per game and was taking a pass on sure millions for a chance to play for an experienced squad and enjoy some more of those sweet, sweet college years.
Unfortunately, the back injury he suffered earlier in the month complicates the evaluation of his decision from a financial standpoint, but his early season play on the court left little doubt that he was back as a man amongst boys.
7. The Thad Six
For the second time in five years, Thad Matta pulled in the nation's top recruiting class when he signed a super six for 2010. The last class Thad put together like this made a run to the NCAA Championship game, so we're grinning quite a bit thinking about a loaded hoops team next season.
Headlining the class were Jared Sullinger, rated second and Fort Wayne's DeShaun Thomas, rated ninth in the class. Jordan Sibert (50), Aaron Craft (56), Lenzelle Smith and Sullinger's Northland teammate J.D. Weatherspoon add sick depth to the group. I'd even go so far as to say Sullinger and Thomas could be getting serious minutes on this year's Ohio State team.
It's just a shame these supremely talented teams have to play in a supremely morgue-like building.
6. Silencing Happy Valley
Coinciding with the fall of the Michigan football program has been a return to prominence of sorts out of Penn State. The Game is still huge in Columbus, but the Penn State matchup is the one that brings conference title implications these days. With this, comes the chirping of the conference crier, your resident Penn State fan.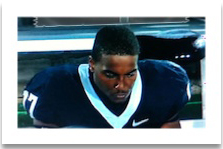 Our quarterback throws arm punts, our linebackers steal trophies from better qualified Nittany Lions and Columbus is definitely, definitely just as country as State College, Pennsylvania. And don't we dare ever consider the 2008 conference football championship ours because we merely shared it with a team that beat us head to head.
Hmm. What Penn State fans don't get is that conference championships are just trinkets the Buckeyes collect on the path to bigger things. When Ohio State drops a conference game and shares the title, we're distraught because the good guys didn't annihilate everyone else in the conference, not because there's any sort of asterisk next to the mark.
That's why it was especially sweet to march into Happy Valley and punch the Lions right in the mouth 24-7. Pryor, mocked incessantly by the Penn State fanbase in the year leading up to the game, got his with two passing and one rushing touchdown and the Buckeyes sealed the '09 narrative on the Nittany Lions: a decent team that folds when it runs into toughness.
5. Wimmers Tosses a No-No
Sophomore pitcher Alex Wimmers had perfect timing when he decided to drop the first nine-inning no-hitter in 126 seasons of Ohio State baseball. The Wolverines were in town.
Behind a 14 strike-out performance, Wimmers and the Buckeyes took the opening game of a double-header 6-0 and handed Michigan their first hitless outing since 1982.
4. Red House Over Yonder
The Wolverines put up a fight, but the result was the same as Tressel and the Buckeyes rolled to their sixth-straight win (8 of 9 if you're counting with a purpose like we are) in Ann Arbor. While the 21-10 final wasn't a shock (the line was OSU -12), nor were the rivalry unis which had been unveiled earlier in the week, the thousands of Buckeye fans rocking Michigan Stadium was.
Some estimates put the number upwards of 20,000 and the traveling horde was felt most when they got O-H-I-O going in the Big House. IN THE BIG HOUSE. And who could forget the loving, heartfelt signs encouraging the embattled Rich Rodriguez? Next time, Tate gets a sign!
If you were a witness to the Cooper era, you realize just how incredibly unbelievable the 12th man was for Ohio State in Ann Arbor last month.
3. Turner Goes Off. Twice.
We knew Evan Turner was good. We heard the stories of how Turner had been shooting 200 three-pointers per day and throwing rocks with his left hand in the offseason, but I don't think any of us realized he was tuning up for an assault on the OSU record books.
Ohio State basketball has a long and storied history, but despite the best efforts (or lack of proper record keeping for some of the old-timers) of John Havlicek, Jerry Lucas, Jim Jackson, Michael Redd, Greg Oden and others, only one player, Dennis Hopson, had recorded a triple-double, when he got one way back in 1986. That was until Turner jumped out of the gates, collecting 14 points, 17 boards and 10 assists (in just 30 minutes) in the season opener against Alcorn State.
The event was big news within the OSU basketball community and raised The Villain's national recognition, but two weeks later he followed it up with his second triple-double of the season in a 20 point win over Lipscomb. The line this time: 16 points, 10 rebounds and 11 assists. We bow before you, Evan Turner.
2. MVP
We're extending the scope of this countdown a bit here, but the catch Santonio Holmes made in the right corner of the endzone with 35 ticks on the clock was pretty damn sweet. The catch, reminiscent of an old Cris Carter number with the way he planted his feet and seemed to levitate while grounded, gave the Steelers a 27-23 victory over the Cardinals in Super Bowl XLIII.
It was a pretty incredible moment for a guy like me, a near neutral party when it comes to NFL fandom, but from talking to quite a few Browns and Bengals fans that also backed the Buckeyes, the play was good enough to suspend any AFC North-inspired hatred.
Holmes' huge catch was part of a big night in general as he finished with nine catches for 131 yards (four on the final drive) and he was rewarded with the Super Bowl MVP trophy.
1. Barclay's Premier Leg
The Iowa game was a lot of things. It was a battle of two conservative coaches, huge momentum-shifting plays late in the affair and smashmouth Big Ten football to name just a few. In the end, though, it was all about a walk-on kicker hitting a clutch game-winner to lock up the team's first Rose Bowl trip in 13 years.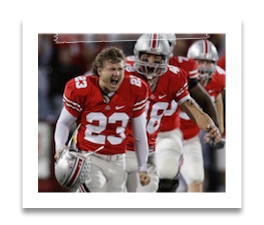 Pressed into duty after Aaron Pettrey had his knee blown out by a block in the New Mexico State game, the former MLS prospect got off to a shaky start, going just 1/3 on field goals in a low pressure outing. He nailed a 37-yarder the following week at Penn State to build a little bit of confidence, but heading into the matchup with the Hawkeyes, you'd probably have to look pretty hard to find a fan with any type of confidence in Barclay from 35 and out.
After connecting early in the game, Barclay missed from 47 after a promising Ohio State drive started in Iowa territory with a little under 11 remaining. When the fourth quarter ended with the teams tied at 24, Tressel was heading into an overtime session with the Rose Bowl on the line and an unproven kicker. The defense hit the field first and turned in the series of the game, forcing a desperation 4th and 26 that was intercepted by Anderson Russell. Needing only a field goal for the win, the offense ran a total of three times for seven yards before bringing Barclay out for a 39-yarder to win it.
Barclay celebrated the game-winner like he was still on the pitch, bursting into a solo sideline celebration scamper. He must have known that one swift boot would etch his name in Buckeye lore.