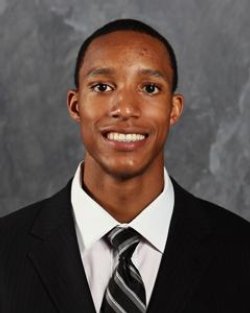 Ohio State used a stifling defensive effort in the second half and another all around display from Evan Turner to bury James Madison 72-44 tonight in the Schott.
This one was actually tied at 16 as the Buckeyes struggled to match the early defensive intensity shown in Monday's blow out of Alcorn State but Evan Turner capped an 11-5 run with a triple giving the Buckeyes a 34-25 lead at intermission. After an assumed verbal beat down in the locker room, the Buckeyes came out smoking to start the second half unleashing a 34-13 run over the first 16 minutes of the final stanza. The burst was the product of tightened up man to man defense that forced the Dukes into 4/22 shooting.
For the game, OSU held James Madison to 31% from the floor (16/52) while forcing 16 turnovers including 11 steals. Though Lauderdale returned to the lineup, he played just 13 minutes and the Dukes held their own on the glass as OSU won the glass battle but only by a 35-30 margin.
Turner once again led the way pacing the defense with 14 DRB's (17 total reb) as well as the offense with 24 points (11/19) and 4 assists. Running the point, he and his backcourt mates had little trouble breaking the JMU full court press as the Buckeyes committed just 9 turnovers.
David Lighty (14) and Wil Buford (12) also reached double figures while Jon Diebler added 7 points and 3 dimes.
In sharp contrast to Monday's 3 point shooting demonstration (14/33, 42%), the Buckeyes seemed more focused on driving the lane especially early in the contest. The Buckeyes attempted just 7 triples in the 1st half (33 total FGA) after launching 19 in the first half versus Alcorn (40 total FGA). For the game, OSU shot a dismal 4/17 from downtown (24%). Even with the low percentage from deep, I continue to be impressed with the unselfish ball movement seen largely as a result of having 4 perimeter guys on the floor at a time.
The pivot remains a question mark though it was nice to get Lauderdale back. He did pull down 4 boards, block 2 shots and slam one home in spot duty but he looked understandably winded at times. He's got a week to get in better game shape because Matta's going to need more than 13 minutes next week against UNC followed up by either 'Cuse or Cal. It's not like Madsen is a total stiff but I don't think 19 minutes a game from him is a winning formula against better competition though he did pick up 3 points and 4 boards tonight. Meanwhile, Zisis played just 8 minutes adding 2 points, 1 board, 1 assist and a block.
The win moved Ohio State to 65-1 in their last 66 home games against against unranked opponents (61 VCA, 3 St. John's, 1 Nationwide Arena). The lone defeat came last year in the form of a 76-48 spanking by Huggy Bear's Mountaineers.