In what is now the biggest game of the year and the start of a new three-game November season for Ohio State, the Buckeyes travel to Happy Valley to take on Penn State in a game that will have a highly significant effect on determining the Big Ten Champion and recipient of a 2010 Rose Bowl bid.
It will be the 300th time a football game is played in the fifty years of football at Beaver Stadium, and the 25th time the Buckeyes and Nittany Lions will tangle. The series is all knotted up at 12-12, but the Buckeyes do hold a 10-6 record against PSU since they joined the Big Ten in 1993 and have won five of the last seven contests. Unfortunately, last year was one of those losses, as Penn State defeated the Buckeyes 13-6 in a heartbreaking homecoming loss in the Shoe, a game which spawned awesome stuff, this like this. Penn State will look to win two consecutive games against OSU for the first time since joining the conference, but it will not be easy as the Bucks will certainly be motivated after last year's folly.
With both defenses at full steam and offenses that have struggled many times throughout the 2009 campaign, it should be a battle of who can force their opponent to make more mistakes, a battle Penn State was able to win last year. Will Terrelle Pryor and the Buckeyes be able to rebound from last year's gut-wrenching prime time loss? Will Darryl Clark and the Nittany Lions be able to finally win back to back games against the Buckeyes? It's too early to tell, but at 3:30 PM ET on Saturday afternoon, you better believe both teams will be bringing it.
Opponent
Darryl Clark returns this season to lead the Spread HD and leads the conference in passer efficiency with a 149.3 rating. He has been inconsistent at times when pressured, and if the Silver Bullets can get some heat on the Youngstown native, they should be able to shut him down like they did in much of last year's contest.
Evan Royster is the Robin to Clark's Batman, and while he has done well this year, he has not put together the Heisman-like season many PSU fans expected out of him. Royster is second in the Big Ten with just over 95 yards per game, as he has gained 759 yards (5.23 avg.) and 5 touchdowns on the ground in 2009. He is certainly a threat and will tote the ball plenty as Joe Paterno will try to control the clock in what should be a very defensive game.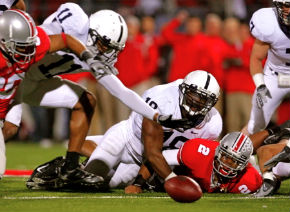 Derrick Williams, Deon Butler, and Jordan Norwood are all gone, but enter Derek Moye, Keystone state cult hero Graham Zug, and Chaz Powell, who have done a fine job filling in for the departed stars. Moye, who has 39 receptions for 648 yards and 5 touchdowns, has been Clark's go to guy in clutch time, so look for the Lions to call his number on 3rd down situations.
Linebacker U comes back strong on defense yet again, and as usual the front seven is a big reason why. Defensive Tackle Jared Odrick (33 tackles, 6 sacks) and Defensive End Jack Crawford (28 tackles, 5.5 sacks) have been nightmares for opposing offensive lines to handle and the Bucks' front five will have to play as well as they're capable to give Pryor time to throw. Linebackers Navarro Bowman (53 tackles, 9 for loss), Sean Lee (45 tackles, 8 for loss), and Josh Hull (82 tackles, 2 sacks, 2 INTs) will not help Pryor's cause either. All three are tremendous play makers that are solid against both the run and the pass and should give the Buckeye offense headaches all day.
Defensive backs may be an area of weakness for Penn State, but like the Buckeyes, the defensive line creates enough pressure to hide any inadequacies that may exist. AJ Wallace is the veteran leader of the group and is solid for the most part, but if Pryor has time to throw, look for him to try and burn sophomores Drew Astorino, Nick Sukay, and D'Anton Lynn on the deep ball.
Buckeye Breakdown
The defense will show up, but will the offense produce enough to get a big road win? This game can play out very similar to the USC game and if the Buckeyes can move the chains and put some points on the board they will be in pretty good shape come the final whistle. The Buckeyes are 53-0 when scoring 30+ points under Jim Tressel, and while 30 will be a hard number to hit, it may be safe to say that if the Bucks can reach the mid 20s they will have a good shot to win in Happy Valley.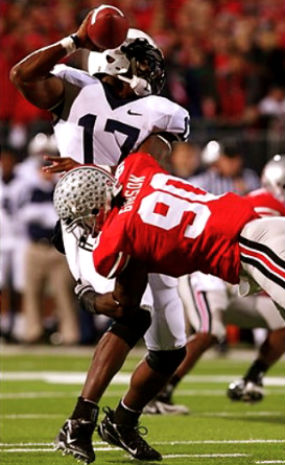 With the team mostly cured of injuries, it may be on Terrelle Pryor to come up big in his home state and get the job done. If there was ever a game for TP to make the leap we've all been waiting for, it is this one, but he cannot do it alone. Getting the captain nod this week would be a boost, but the Lions will have a gameplan in place to neutralize him as best as possible.
With Boom Herron healthy to team-up with Saine, Hall and Martin, the running game needs to get back on track. Clock control was huge in last year's matchup and if the Buckeyes want to open up the pass, as well as keep the clock in their favor, they will have to run successfully. This won't be an easy task against a stout Penn State front, meaning the offensive line will need to step up big time. The hogs up front may be the key to this game and if they are able to create some running lanes and give Pryor time to throw, Saturday could be very pleasant.
The defense has proven to be the strength of this team and if they continue to do what they've been doing, the Spread HD will be firing on vacuum tubes. Penn State's offensive line has had plenty of trouble of their own this season (cough, Hawkeyes), as they adjust to some new personnel, and Thaddeus Maximus, Williams and Co. should be able to bring consistent heat. If the line, reinforced with a returning Larimore, can get pressure on Clark and the linebackers can shed tackles to get to Royster, the defense should be able to help out an offense that's still prone to quick three-and-outs.
Special teams will definitely play a part and with Aaron Pettrey out for the year with a blown knee, Ohio State will count on Devin Barclay to come to the rescue. It's very possible the former Columbus Crew player will be called on in a big spot and it will be interesting to see what kind of confidence Tressel has in him. That confidence could have an effect on how JT calls the game on Saturday, especially on fourth and short situations in Penn State territory. Will he have the trust in Barclay, will he play it safe and punt it, or will he be aggressive and trust his line to push for a couple extra yards?
Prediction
It's going to be a slugfest on Saturday afternoon and with a tough environment, including a white out and some extra flack from PSU students for Terrelle Pryor, it will be a very tough game for the Buckeyes to win. The last three close big games (PSU, Texas, USC) have not faired well for the Buckeyes and it will be interesting to see how they respond in a hostile environment like Beaver Stadium.
With a conference title, Rose Bowl, and national respect on the line, it is a must-win for the Buckeyes if they want to save their 2009 season. This may or may not be the game in which Terrelle Pryor evolves, but a tough defense and capable running game gives the Buckeyes a very good standing chance. We at the 11W headquarters certainly think so and will take the good guys in a close one.
Ohio State 17, Penn State 14