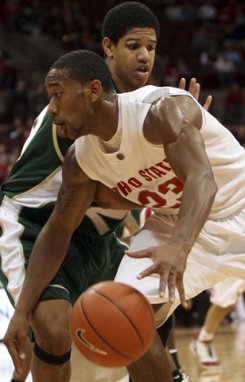 If the Pryor Monologues have gotten the best of you this week, it might be time to take a moment and catch up on the happenings of the Basketball Buckeyes. Sadly, we know many of you don't hit your hoops stride until football season is complete but considering the state of Tressel's squad combined with what Matta has brewing, maybe you'll get the hoops itch a little sooner than usual.
Believe it or not, the cagers are less than two weeks away from tipping off the season. First up is a November 4th exhibition with Walsh then the regular season begins the following Monday against Alcorn State. Once again, the non-conference schedule has some quality matchups including a trip to the Garden to face UNC and either Cal or Syracuse in the Coaches v. Cancer classic. Turner and company will also take on Florida State in the ACC/BigTen Challenge plus Butler and finally a shot at redemption against West Virginia in late January.
Though the Buckeyes will be without the services of Dallas Lauderdale until at least the season opener, if not two weeks beyond, they'll feature a truly veteran lineup (0 freshman?!) for the first time in what feels like forever. Losing Lauderdale for an extended period could be a blessing in that it'll put some pressure on Kyle Madsen and Zisis Sarikopoulos to show us something in extended minutes. Unfortunately, I'm worried those minutes will also give us reason to have tempered enthusiasm about either one of them as key contributors on the block this year.
If you are scratching your head, you either have dandruff or you are struggling to remember Zisis as the 7'0", 265 lb. transfer from UAB who sat out last season. We've only seen glimpses in open practice last year and we know he didn't do much in two overseas tournaments this summer thanks to a left knee sprain. Thus far in '09, all we know is Baptist thinks he looks a little out of shape after catching his act in the recent open practice. Bottom line, Dallas needs to have improved tremendously over the summer but even if that's the case, Matta will once again depend on the wings - and the return of David Lighty - to put OSU back in the NCAA's.
Ironically, Lauderdale's injury was caused by none other than the legendary P.J. Hill as he attempted a steal. It's no secret Hill was my favorite whipping boy in the early going but he eventually filled a role on a team desperate for better-than-terrible PG play. I still view Hill as a liability if he's forced to play more than 10 minutes per game but the good news is Matta appears very comfortable with Evan Turner running the point, allowing OSU to put their five best players on the floor. Assuming Turner initiates the offense the majority of the game, your starters will be ET, Diebler, Buford, Lighty and Lauderdale. Assuming some summer growth, that's a legit starting five though they'll need significant contributions from the bench because the Big Ten is flat out stacked this year. As many as seven teams could go dancing with Sparty and Purdue once again expected to be top 10 programs.
Good news for the bench is Jeremie Simmons has a year under his belt after a sketchy '08-'09 campaign, Hill might have found an outside shot to make defenders at least keep an eye on him versus sagging in the lane and Walter Offut has caught some attention after showing athletic flashes a season ago. The lack of depth in the frontcourt, however, could be the Buckeyes undoing. Spelling Dallas and Lighty will be the aforementioned Zisis and Kyle Madsen with Nicola Kecman as the wild card. Hopefully, Turner's rebounding isn't lost with his PG minutes. I'm assuming his PG duties will consist of bringing the ball up the floor while Matta will make Diebler or Buford cognizant of getting back on defense so ET can crash the glass.
Defensively, Matta contends the Buckeyes will play more man to man this year after featuring almost exclusive zone defense the last few seasons. The return of Lighty certainly helps Matta transition back to man as does ET's crazy versatility. My guess is Offut's minutes will increase because of this defensive change as he proved tough, long and quick last year in spot duty.
We'll ramp up the coverage as tip off draws closer so stay tuned for updates on what should be an exciting season of Buckeye hoops.