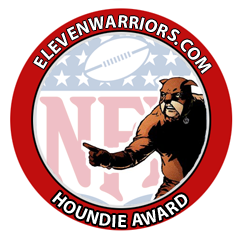 The Houndie is an award formerly known as the Buckeye NFLer of the Week. After 2 years of existence, we searched for a catchier name, so with the help of a well placed typo and the ensuing 11W comments, the current title was created.
Santonio Holmes backed up his Houndie win of week one, with 5 catches for 83 yards, but let a TD slip through his hands late in the fourth. His stats didn't help my fantasy team that much, but I took great satisfaction in watching my Bears take down the Steelers. After 2 weeks, Holmes is leading the league in receiving with 214 yards, as it is clear the Steelers have intentions of passing more this season.
Staying with the receivers, we knew Ted Ginn was going to play this year, but Brian Hartline is also making some waves down in Miami. He caught 2 balls early for 23 yards, but didn't make any plays beyond that, although he lined up with Teddy numerous times and was the target on the final play. I had to come back and rewrite my entry for Ted Ginn, after he posted a career high 11 catches for 108 yards in Miami's ball control, horrible 2 minute drill offense. Ginn did drop a couple of potential touchdowns, including one in the final minute, but Ginn looks much improved in his route running and Pennington is staring him down frequently.
Michael Jenkins caught just 3 balls for 33 yards, as Tony Gonzalez has taken some of his targets, however Atlanta is off to a 2-0 start and look forward to a matchup at New England on Sunday, where he will face Joey Galloway, who caught 5 for 53 in NE's loss.
Beanie Wells has shown some flashes in Arizona through 2 games, tallying 44 yards on 7 carries Sunday, including this 17 yard burst. But he laid the ball down twice (losing one) and will have to hold on to the football if he wants more chances to increase his 5.2 YPC.
With no TD's to speak of on the offensive side, a few guys on the defensive side seized their opportunity for the Houndie. Nate Clements was one of them, posting 5 solo tackles and an assist in the 49ers 23-10 win over Seattle. Clements sealed the win when he knocked away a pass intended for TJ Houndmanzadeh in the end zone with just over 2:00 left.
Malcolm Jenkins helped jump start the Saints by forcing a fumble on the second half kickoff. The Saints recovered at the 22 yard line and punched it in 3 plays later to increase their lead to 24-13. Jenkins recorded 3 tackles on the day, continuing to back up Jabari Greer and seeing most of his action on special teams. Another rookie, James Laurinaitis recorded 6 solo tackles and 2 assists in the Rams 9-7 loss in Washington. Little Animal ranks fourth in tackles with 22, as St. Louis is off to an 0-2 start.
Antione Winfield made a strong push with 8 tackles (7 solo) in Minnesota's 27-13 win over Detroit. For me, he was the lone bright spot in a lame game that was force fed to us in central Ohio. And even though Ted Ginn made me reconsider, I'm sticking with Donte Whitner, who made 5 solo tackles, 3 assists and returned an interception 76 yards in Buffalo's 33-20 win over Tampa. Whitner has had a good start to the season, on the field, ranking 12th in the league with 18 stops. Hopefully the pride of winning the Houndie will take away some of the sting for Donte, who had $400,000 worth of bling lifted from his house after the game.