Dallas Clark, Dustin Keller, Owen Daniels, Travis Beckum.
Let's let these names simmer for a minute and recall how absolutely beast mode each of these pass catching tight ends were dialing it up Saturdays in the Fall in Bigtentopia.
Clark, with his ability to make a play on the ball, then promptly up shift to that OMGGOODBYE gear typically reserved for receivers, Beckum (NOTE: No video could be found that didn't use an Ohio State defense's image in vain, so instead we go to this clip, which we'll leave up to you to determine the attributes Beckum possesses worthy of our praise)'s penchant for making catches in the narrowest of windows while anticipating monster shots coming from his blind side (his poor knee not withstanding), or Keller and Daniel's innate ability to bring down virtually every 3rd down conversion their teams needed.
The 21st century big-time playmaker tight ends of the Big Ten have pretty sorely lacked a Buckeye representative up to this point in time, and perhaps it's the combination sleep deprivation and our retinas over exposure to LED light by way of NCAA '10, but Jake Stoneburner's off-season move to tight end has visions of scarletplum fairies in #11 jerseys dancing into end zones over the course of the next 3 seasons overriding my normal weeknight thinking patterns.
How do these potential delusions of tight ends having greater than single digit receptions grandeur relate to the schwag you need to don this football fall? Well we here at 11W are recycling conscious; we have to be, if nothing else to make up for my lack of carbon credits flying some 2700 miles every time I want to catch a Buckeye game this fall. But more so than just being "Think Green" minded, we're committed to cost conscientiousness. Why drop another $59.99 when that perfectly good double 1's jersey is collecting dust behind your K2/Houshmanzadeh gear and could be resurrected?
So what other jerseys of yesteryear can you dig deep into your embarassingly unmasculine-sized assortment of potential Saturday wear and give new life for the '09 season?
#10 - Devon Torrence.
For me this is a no-brainer: Troy was an absolute icon, but Devon is the first human being to ever rep both my favorite professional baseball team and the college of my, uh, nourishing mother'dom. With his freak athletic ability, and apparent 2-years-in-the-making Operation Shutdown retirement plan to focus exclusively on football, Torrence has a legitimate chance to establish himself as the #2 corner opposite Chimdi Chekwah by season's end. If nothing else his speed should provide something on special teams, and help me make amends for the last time I wore the #10 while at attendance at a similar Operation Shutdown-inspired performance.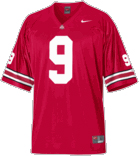 #9 - Rob Rose
So what if Rose's struggled to find his way amidst weight concerns, his inability to establish himself at either end or d-tackle, and completely up to this point failed to live up the promise he showed in the Army American Game of a fews back? It's not like that #9 can really go down any more pegs at this point. Worst case scenario: you erase the lockerroom rancor of 2008, Rob is a competent role player, and you buy yourself another year to figure out what alternative to the #2 jersey 105,000 of your closest friends already have you want to invest in. In a perfect world: Rob breaks out and establishes himself as a force to be reckoned with as a hybrid DE/DT, you look prescient as ever, and the ladies of Chittenden know you on a first name basis.
#7 - Jermale Hines
Speed kills, or so we've allegedly heard, and while Teddy's race horse act was unquestionably something to behold, Hines keeps the Glenville tradition going strong. His versatile ability to man both a roving safety type role and also step up and play linebacker should help account for no shortage of playing time this fall. Plus, who doesn't want to seem like a total football prophet when JH7 comes down with a game clinching INT agains the Nittany Lions or sends Tate Forcier to Sam McGuffie concusion induced SuperJail?