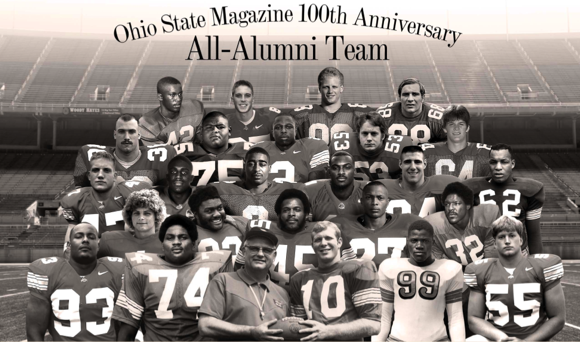 The image above, besides conjuring up the sweetest fantasies in any Buckeye fan's mind, represents the Ohio State Alumni Magazine's latest all-time team. But this just isn't any all time Buckeye team, it is the 100th anniversary edition, meaning it's badass in triplicate.
After pondering the roster and then trying to think of any players I feel got the shaft, I have to admit that I really can't think of any. Spiels, check. Archie, check. Winfield, check. Eddie, Rex, Willis, Pace, Parker: check, check, check, check, check. It's not that some amazing players didn't make the list, because there are a handful that were probably close, but the players that were chosen were just a tad better.
The magazine was kind enough to break down the votes1 for the players that placed and therein we find out that Spielman led the team with 1,240 votes (Nugent finished second with 1,229 votes -- which doesn't mean he's more valuable than Archie, just that he's more unrivaled at his position). One thing I did find interesting was Doss placing second in that crazy-stacked secondary. Tatum led the group, but I personally would have moved Winfield ahead of Doss. Though Doss does have a ring...
The coaching spot went to Woody and rightfully so. If Tressel stays for another 10 years, he might make a run at the old man, but he probably won't. In the end, though, the Magazine said it best when they said "In many instances it was like choosing between $1,000 worth of gold or $1,000 worth of silver".
1 Players from last season's team that might figure to make the top ten in voting like Laurinaitis, Wells and Jenkins were ineligible due to fact that the ballots went out last winter.