(Presenting the first annual 11W House Odds for the upcoming football season. Print these off and take them to your nearest book -- they will surely honor them.)
Pryor Passes for at Least 2,000 Yards: 2-1
TP finished a sometimes bumpy freshman campaign with a little over 1,300 yards in the air. When you look at just the games he started (and we're counting the Fiesta Bowl though Boeckman technically started that outing), he was good about 122 yards per game. Assuming he has an injury-free sophomore season, he'll get 13 games and just matching the numbers from '08 puts him around 1,600 yards.
The 400 remaining yards are certainly within reach, especially if Pryor makes the kind of leaps we're expecting this year. However, achieving the mark isn't a given. Although the leading passer on the team has only failed to crack 2,000 yards three times in the past decade, Smith only had 2,282 yards as a junior and Krenzel turned in seasons of 2,110 and 2,040 as a junior and senior.
Boom Cracks 1,000 on the Ground: 4-3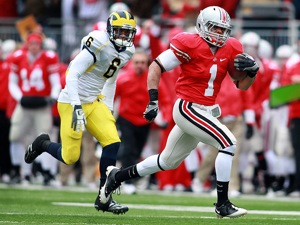 If you're the starting running back at Ohio State, a 1,000 yard season is never out of the question. It's the home of Archie, Eddie and Beanie and this staff finds nothing more arousing than seeing a back bust through a two-lane hole and into daylight. Unfortunately, it's not automatic -- twice in the Tressel era, in 2003 and 2004, the Buckeyes did not have a back top 1,000 yards. Lydell Ross led the team with 826 in '03 and then followed it up with just 475 the following season. Thank you, Maurice.
While Boom will definitely get the bulk of the handoffs this season and his rumored terrorizing of the weights at WHAC bodes well for him, Pryor and Saine will eat into his carries a bit. In the end, though, we like his chances.
Ray Small Plays in Every Game: 4-1
We love Ray around these parts, but he's in summer school fighting for eligibility. Still, he can't be dumb enough to kiss a contract season goodbye, can he? We have a hunch Small gets eligible, but his frequent stays in the doghouse have us too concerned to imagine he'll be in good standing for every game this season.
Thaddeus Gibson Records 10 or More Sacks: 2-1
Despite Gibson's abilities and all thoughts we have of him single-handedly destroying other teams, getting double digits in sacks is a difficult thing to do. Only six players have done it and their names are: Simmons, Smith, Finkes, Vrabel, Katzenmoyer and Gholston. Elite company. Making matters more difficult is the fact that Gibson will see twice as many double-teams as he saw last year.
Still, the prospect of Gibson, the beast, just a bit more seasoned is delightful and if Gholston can get 14, surely Thad can make a run at 10. Especially when you consider he had nine sacks last season. We're just worried the sacks will be a little more evenly distributed this year as opposed to when Vern was a one-man show.
A Linebacker Tops 100 Tackles: 2-1
A Buckeye linebacker has topped 100 tackles in each of the past seven seasons, but six of those seasons belonged to AJ Hawk and James Laurinitis (the seventh, Matt Wilhelm and his 121 tackles in '02). So... if you're an NFL-bound linebacker, patrolling the middle of the Buckeye defense, your odds are great. We're just not so sure Spitler, the likely MLB, is NFL-bound.
Rolle may have a shot at 100 if he gets enough playing time as spring practice showcased his nose for the ball. Still, that's tough to do from the outside. Moeller also ends up near every pile, so maybe he has a chance, but how many first downs against running teams will he be on the field for? Homan and other linebackers find themselves in a similar situation as Hines will eat into their snaps, especially against the pass-happy teams.
Other Odds
Pryor Has a 300 Yard Game: 5-1
A Receiver Tops 1,000 Yards: 5-2
A Defensive Back Tops Five Interceptions: 10-1
The Defense Holds USC to Under 100 Yards Rushing: 4-1
A Kicker Kicks a 50+ Yard Field Goal: 2-1
Tressel Rocks a Visor: 500-1
The Buckeyes Pass on First Down More Often Than They Run: 750-1