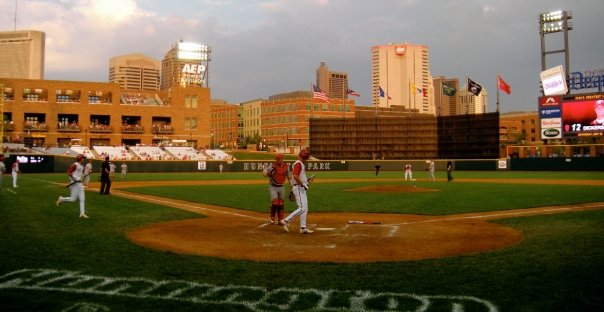 In front of another 4,000+ crowd at Huntington Park, the #1 seed Ohio State Buckeyes decided to make things difficult for themselves in the 2009 Big Ten Baseball Tournament as they fell to Indiana 13-3 on Friday night.
Things started off well for Ohio State as they jumped out to a 2-0 lead after three innings, but a three-run fourth inning and a seven-run fifth inning off Buckeye pitcher Dean Wolosiansky (11-1, 5.52 ERA entering the game) and releiver Jared Strayer gave the Hoosiers a lead that they would not squander.
The Buckeyes now fall to the losers bracket where they will have to take on Minnesota at 3:35 PM today. If they win that game they will face Indiana in Game 1 of the championship tonight at 7:05 PM. They must win that game to force a Sunday 12:05 PM match-up that would decide the winner of the tournament.
No matter what the Buckeyes do they are in good shape to qualify for the NCAA Tournament field of 64, but a tournament win would cement them as a higher seed in the bracket. Eric Best will most likely be the Buckeyes starter on the mound today vs. Minnesota and the fate of the Buckeyes' tournament hopes lays in his hands.
You can catch all the Big Ten tournament games on the Big Ten Network, at Huntington Park ($10 a ticket), on Ohio State's flagship network, Ohio State Student Radio, or on the live blog put up by Buckeye Banter's Matt Barker.