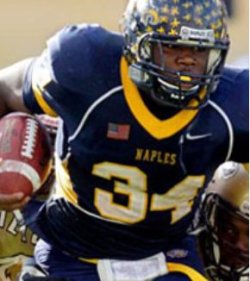 With the departure of Beanie Wells to the NFL, the Buckeyes were left with the unfortunate circumstance of losing a one-of-a-kind power back that trucked over defenders at will on his way to the end zone. Lucky enough for JT and his staff, there was a player in the same mold waiting to become a Buckeye, and when Naples (FL) running back Carlos Hyde received his Buckeye offer he jumped on the opportunity to don the Scarlet and Gray as he takes his game to the college level next year.
Originally from Cincinnati, Hyde discusses with 11W if there was any competition for the Buckeyes in his recruitment, what position he will play at the next level, who he likes to compare himself to, and what fans can expect to see in the next few years that will put smiles on the faces of all across Buckeye Nation.
Originally being from Ohio, was it OSU all the way or were you tempted to check out other programs?
It was Ohio State all the way.
A lot of scouting services have you listed as a full back, but Buckeye fans talk about you as the next great power back at Ohio State. What position/role will you play in Columbus?
I'll be playing running back. I'm an every down back too, not just a short yardage back.
What do you plan to study in Columbus?
I'm not sure about that right now.
Obviously Ohio State has a great tradition of hard running, strong backs. What's your favorite part about being a power back?
I love trucking people that get in my way.
What current/former NFL player does your game compare to? What current/former Buckeye does your game compare to?
I'd have to say for the NFL, Herschel Walker and for Ohio State, Beanie Wells.
When will you enroll at OSU? What do you need to do to prepare to bring your game to the next level?
I enroll June 21. Before I come, I need to hit the weight room hard. I haven't worked out in three months because I have been playing basketball.
What is one thing you want Buckeye fans to know about you that they don't already know?
That they have a special player coming to run the ball for them.
---
We'd like to thank Carlos for taking time out of his busy schedule to let Buckeye fans know what type of player they are getting next year. Best of luck to Carlos in finishing up his senior year at Naples and for the start of his Buckeye career in June.
And now for some highlights: